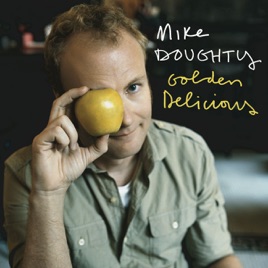 EDITORS' NOTES
For a reason best known by Mike Doughty himself, he put the best songs on Golden Delicious at the album's end. "I Got the Drop on You" starts the trip into a "second side" that plays together as a perfectly constructed suite, unlike the start-up/shut-down feel of the first half, where the previously heard "27 Jennifers" gets a cool, modern-rock facelift. Again with Semisonic's Dan Wilson producing, Doughty saved his bullets for the nearly hidden midnight rumble of "Wednesday (Contra La Puerta)" and the smooth, sleek electric piano-electric guitar poppin' "Like a Luminous Girl," which highlights everything about Doughty's vocal delivery that kicks things into a higher gear. "Nectarine (Part One)" adds nearly a Steely Dan atmosphere with its calculated riffs and carefully crafted arrangement. Upon reaching "Navigating by the Stars at Night," the effect is complete. There's a sense of seeing everything happening in the rear window, starting with "Fort Hood" and its interpolation of "Let the Sunshine In."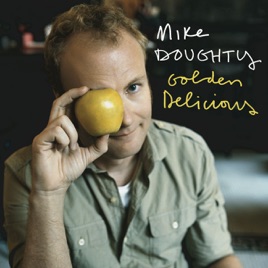 EDITORS' NOTES
For a reason best known by Mike Doughty himself, he put the best songs on Golden Delicious at the album's end. "I Got the Drop on You" starts the trip into a "second side" that plays together as a perfectly constructed suite, unlike the start-up/shut-down feel of the first half, where the previously heard "27 Jennifers" gets a cool, modern-rock facelift. Again with Semisonic's Dan Wilson producing, Doughty saved his bullets for the nearly hidden midnight rumble of "Wednesday (Contra La Puerta)" and the smooth, sleek electric piano-electric guitar poppin' "Like a Luminous Girl," which highlights everything about Doughty's vocal delivery that kicks things into a higher gear. "Nectarine (Part One)" adds nearly a Steely Dan atmosphere with its calculated riffs and carefully crafted arrangement. Upon reaching "Navigating by the Stars at Night," the effect is complete. There's a sense of seeing everything happening in the rear window, starting with "Fort Hood" and its interpolation of "Let the Sunshine In."
| | TITLE | | TIME |
| --- | --- | --- | --- |
| | | | 3:12 |
| | I Just Want the Girl In the Blue Dress to Keep On Dancing | | 3:49 |
| | | | 3:54 |
| | More Bacon Than the Pan Can Handle | | 1:39 |
| | | | 3:10 |
| | I Wrote a Song About Your Car | | 3:23 |
| | | | 2:08 |
| | Wednesday (Contra la Puerta) | | 4:03 |
| | | | 3:24 |
| | | | 3:15 |
| | Navigating the Stars At Night | | 5:21 |
11 Songs, 37 Minutes
Released:

Feb 19, 2008

℗ 2008 ATO Records, LLC. All Rights Reserved.
About Mike Doughty
Before emerging as a solo artist, Mike Doughty (known as M. Doughty during the early stages of his career) was best known as the frontman of the unique avant-garde group Soul Coughing. Formed in 1992, Soul Coughing took shape after Doughty met Yuval Gabay, Sebastian Steinberg, and Mark de Gli Antoni while working as a doorman at the Knitting Factory, a staple of New York City's underground music scene. The four musicians signed with Slash/Warner Bros. in 1993 after making a name for themselves on the local scene with a fusion of rock, Doughty's beatnik-inspired lyrics, and elements of hip-hop and electronic music. Releasing their first of three albums the following year, Soul Coughing enjoyed only moderate commercial success over the next six years with the singles "Super Bon Bon" and "Circles." However, their unclassifiable style kept them apart from the mainstream, which became beneficial as the initial boom of alternative rock in the early '90s subsided considerably.

In March 2000, the members of Soul Coughing split up to work on their own side projects. Shortly after the breakup, Doughty -- who had been writing as a columnist for New York Press on the side -- embarked on a solo acoustic tour, playing material from a then-unreleased solo album recorded in 1995 entitled Skittish. After bootleg copies of the album surfaced on the file-sharing network Napster, Doughty released an official version of Skittish on his website in October 2000. A stripped-down acoustic effort, Skittish featured some of Doughty's most direct and personal lyrics, accompanied by his signature, syncopated guitar-playing style.

In addition to overcoming drug addiction and beginning work on a second solo album, Doughty continued to do solo tours and was heard contributing vocals to BT's club hit "Never Gonna Come Back Down," and collaborating with John Flansburgh of They Might Be Giants for a CD that accompanied an issue of McSweeney's Quarterly Concern. He also composed the soundtrack to a trailer for New York City's Gen Art Film Festival.

In July 2002, Doughty released the limited-edition live album Smofe + Smang: Live in Minneapolis. It featured a large selection of solo material as well as Soul Coughing classics. A book of poetry entitled Slanky, which was initially self-released in 1995, also coincided with the live album. In 2003, more solo work surfaced in the form of the Rockity Roll EP, which was then combined with the Skittish album and re-released with a handful of bonus tracks when Doughty signed to ATO Records in 2004. In 2005, Doughty released his first solo effort to feature a band, Haughty Melodic, which contained fleshed-out studio versions of several songs debuted on Smofe + Smang, and 2008's Golden Delicious followed suit. The latter album cracked the Billboard 100, Doughty's first solo release to do so, and he quickly returned in 2009 with another record, Sad Man Happy Man.

In 2011, he released the full-length Yes and Also Yes on his own Snack Bar label. In 2012, Doughty released a second book,The Book of Drugs, a memoir about his life with Soul Coughing and his struggles with addiction, as well as the live album The Question Jar Show and The Flip Is Another Honey, which featured Doughty covering artists from Thin Lizzy to Randy Newman. Hip-hop producer Good Goose helped Doughty revamp a set of Soul Coughing material following a successful spring 2013 PledgeMusic campaign, which helped him raise funds for the sessions. The lengthily titled release, named after every track that appears on the album, arrived in September of that year. The singer returned in 2014 with a pair of releases, including Live at Ken's House, which featured the versions of the Circles Super Bon Bon... songs Doughty played with a full band on tour, and Stellar Motel, an album of new material that found him continuing to fuse dance music and hip-hop into his singer/songwriter sound. He followed it in 2016 with The Heart Watches While the Brain Burns, his first album from Memphis, Tennessee after leaving New York, which he'd called home since the '80s. ~ Lee Meyer
HOMETOWN

Fort Knox, KY

GENRE

BORN

June 10, 1970
45 million songs.
Three months on us.
New subscribers only. Plan automatically renews after trial.