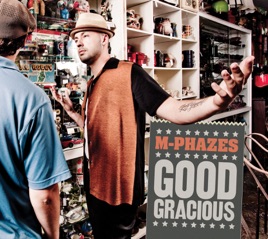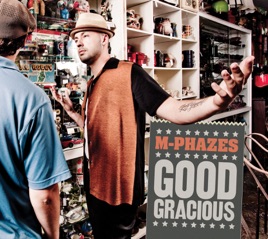 | | TITLE | | TIME |
| --- | --- | --- | --- |
| | For What It's Worth (feat. Solo) | | |
| | Where's Elvis? (feat. Drapht) | | |
| | The Freak Show (feat. Mantra) | | |
| | Goodbye Gravity (feat. Muph & Plutonic with Candice Monique) | | |
| | | | |
| | | | |
| | Long Winding Road (feat. Spit Syndicate) | | |
| | | | |
| | The Club Song (feat. Forthwrite [360 & Pez]) | | |
| | | | |
| | | | |
| | Walk On Clouds (feat. Bliss n Eso) | | |
| | The Facilitator (feat. Dialectrix) | | |
| | That's What We On (feat. Nine High) | | |
| | Take It from Me (feat. Illy) | | |
| | Turn Their Backs (feat. Haunts) [Bonus Track] | | |
16 Songs, 1 Hour 10 Minutes
Released:

Feb 26, 2010

℗ 2010 Obese Records
Ratings and Reviews
M-PHAZES....GOOD GRACIOUS!!!
M-Phazes has quickly risen to become one of the best producers in the game, hands down. Although you might not be familiar w/ the line-up of Australian emcees, the production value alone makes buying this a no-brainer. This should hold me over until he drops a album w/ American artists.....gooood gracious!!!
Good Gracious!
This is hands down one of the best albums from one of the best producers on the scene. While it doesn't have known emcees from the U.S., it gives well deserved shine to some of the best from down under.

If you're gonna spend money on a Hip-Hop album, this is the one to spend it on.
Thank you
I love this song