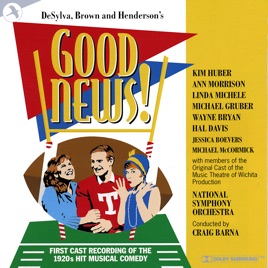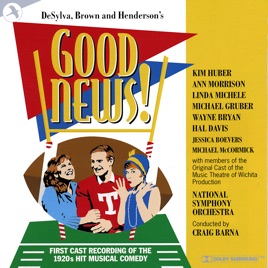 Good News! (Original Cast / The Music Theatre of Wichita)
Ann Morrison
TITLE
TIME

Ann Morrison & Wayne Bryan

Hal Davis, Kim Huber & Linda Michele

The Best Things In Life Are Free

Kim Huber & Michael Gruber

You're the Cream In My Coffee

Hal Davis & Linda Michele

Ann Morrison, Kim Huber, Michael Gruber & Wayne Bryan

The Girl of the Pi Beta Phi

Jessica Boevers

Ann Morrison & Wayne Bryan

Life Is Just a Bowl of Cherries

Ann Morrison, Kim Huber & Linda Michele
18 Songs, 52 Minutes
Released:

Apr 9, 1996

℗ 1996 JAY Productions Ltd.
Ratings and Reviews
Oh Wow!
I recently appeared in this musical as Patricia Bingham. Not only was it one of the best plays I have ever been in, it was one of the best times I have ever had. The songs in this musical are wonderful, as well as the story. It happens to be a story about the big man on campus "Tom Marlowe" and how he fails his astronomy test and can't play in the big game. Tom falls in love with his girlfriend [Patricia]'s cousin, who is tutoring him, and spends the majority of the play figuring out how to break the news to Pat. The songs really are just amazing and showcase the voices of the characters. It may seem like a story you've heard before, but you havent heard anything until youve seen this musical. The songs are catchy and stick in your head for days after. The showstopper at my school was "keep your sunny side up" which featured the football players and pooch, doing an INCREDIBLE dance. Songs to buy are

"Lucky in Love" - features almost all the leads, gives you an idea of the story.
"He's a Ladies Man"- best song in the show, very catchy, and hilarious.
"Keep your Sunny Side up" - great song that will make you smile, everytime you hear it!

Don't miss out on this musical, it is amazing!
AMAZING!!!
We just performed this musical at our school and it was so much fun!! The best songs were definately Sunny Side Up and Lucky in Love...oh and Varsity Drag!!! this is an amazing musical and is sooo much fun!! :)
Wonderful!!
Our school recently did this musical and it was a blast! The whole cast had so much fun performing all the songs! It was the best musical I've ever been in!