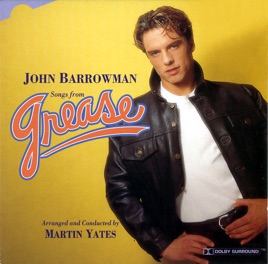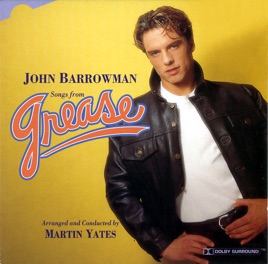 Grease (Songs from the Broadway Play)
TITLE
TIME
2:56
3:15

Paul Manuel

2:18

Sally Ann Triplett

3:18

Paul Collis

2:06

Andrew Halliday

2:23

Look At Me I'm Sandra Dee

Clare Burt

1:33

Hopelessly Devoted to You

Shona Lindsay

3:08

Company

2:24

Shakin' At the High School Hop

Company

2:02

It's Raining On Prom Night

Helen Hobson

2:28

Alone At the Drive-In Movie

2:32

Ethan Freeman

3:06

Mark Wynter

3:01
2:41

Rock and Roll Party Queen

Paul Manuel

1:42

There Are Worse Things I Could Do

Clare Burt

2:23
2:55

You're the One That I Want

2:53

Company

1:05
20 Songs, 50 Minutes

℗ 1996 JAY Productions Ltd
100% Disagree!!!!
This recording is 100% better than the Broadway Revival Cast recording. First off John Barrowman (Danny Zuko) can actually sing! This has all the songs from the Broadway production and a select few from the movie that are ocassionally used in some productions. If you are looking for a recording other than the movie soundtrack to enjoy your favorite Grease songs, this is an excellent choice. Great singing from the whole cast, most specifically John Barrowman.
not really even 1 star.
I guess i don't really have a problem with THIS broadway version of Grease specifically. I just think that Grease's sound track is imitable You Can NOT possibly repeat their singing and it be even half as good. hmmm....wait. now that i listen to the song i realize that i DO have a problem with this. it just sounds so FAKE. if u are a true fan of Grease then buy the ORIGINAL soundtrack.
love this CD
I think this is a great version of the classic songs from the movie. And I love how the songs that aren't in the movie (All Choked Up) are here. I love the broadway show, and I love this CD.
About John Barrowman
John Barrowman was one of few musical theater personalities to make a successful foray into a recording career. Though many stage stars release an album at some point in their careers, seldom are they met with chart success and longevity. Barrowman was born in Glasgow but raised, from the age of nine, in Illinois. Throughout his high-school years, Barrowman performed in musicals, which set him on the path he followed in college and beyond. Throughout college he worked as a performer at Opryland in Nashville before he landed a role in London playing Billy Crocker in Anything Goes. This was the first of several leading roles for Barrowman. He starred in U.K.-based productions of Miss Saigon, The Phantom of the Opera, Hair, and more. As he became a West End star, Barrowman also developed a presence on television. It was the latter that brought him back to the States, as he was featured on the CBS series Central Park West.

The path that would led him to the recording studio began with the Magic of the Musicals concert series, in which he performed Broadway classics backed by the likes of the Boston Pops, the London Symphony Orchestra, and the National Symphony Orchestra. His debut full-length album, Reflections from Broadway, was released in 2000. The album that followed, Swings Cole Porter, earned him a slot on Billboard's jazz charts. While maintaining a busy theatrical and television acting career -- in 2005, he took on the role of Dr. Who's Captain Jack Harkness, which led to a starring role in a spinoff, Torchwood -- Barrowman continued to make his mark on the recording industry. Released in 2007, Another Side, featuring covers of the Police, Elton John, Bryan Adams, and Chicago, enjoyed a lasting presence on the U.K. album chart. The following year's Music Music Music didn't fare quite as well, but an interpretation of Barry Manilow's "I Made It Through the Rain" reached number 14 on the U.K. chart. Despite being formatted like his previous releases, his self-titled 2010 album debuted just outside the Top Ten. ~ Evan C. Gutierrez & Andy Kellman
ORIGIN

Glasgow, Scotland

BORN

March 11, 1967