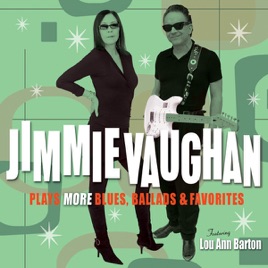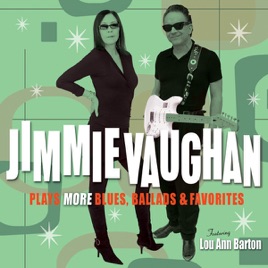 Plays More Blues, Ballads & Favorites (feat. Lou Ann Barton)
Jimmie Vaughan
| | TITLE | | TIME |
| --- | --- | --- | --- |
| | | | |
| | No Use Knocking (feat. Lou Ann Barton) | | |
| | | | |
| | | | |
| | | | |
| | Breaking Up Is Hard to Do (feat. Lou Ann Barton) | | |
| | | | |
| | | | |
| | I'm In the Mood for You (feat. Lou Ann Barton) | | |
| | I Ain't Gonna Do It No More | | |
| | | | |
| | | | |
| | | | |
| | | | |
| | Bad Bad Whiskey (Bonus Track) | | |
| | Shake a Hand (feat. Lou Ann Barton) [Live] {Bonus Track} | | |
16 Songs, 53 Minutes
Released:

Jan 1, 2011

℗ 2011 JLV Productions, under license to Shout! Factory LLC, 2034 Armacost Ave., Floor 1, Los Angeles, CA 90025. All Rights Reserved.
About Jimmie Vaughan
As a founding member of the Fabulous Thunderbirds, Jimmie Vaughan was one of the leading Austin, Texas guitarists of the late '70s and '80s, responsible for opening the national market up for gritty roadhouse blues and R&B. Influenced by guitarists like Freddie King, B.B. King, and Albert King, Vaughan developed a tough, lean sound that became one of the most recognizable sounds of '70s and '80s blues and blues-rock. For most of his career, Vaughan co-led the Fabulous Thunderbirds with vocalist Kim Wilson. It wasn't until 1994 that he launched a full-fledged solo career.

Born and raised in Dallas, Texas, Jimmie Vaughan began playing guitar as a child. Initially, Vaughan was influenced by both blues and rock & roll. While he was in his teens, he played in a number of garage rock bands, none of which attained any success. At the age of 19, he left Dallas and moved to Austin. For his first few years in Austin, Vaughan played in a variety of blues bar bands. In 1972, he formed his own group, the Storm, which supported many touring blues musicians.

In 1974, Vaughan met a vocalist and harmonica player named Kim Wilson. Within a year, the pair had formed the Fabulous Thunderbirds along with bassist Keith Furguson and drummer Mike Buck. For four years, the T-Birds played local Texas clubs, gaining a strong fan base. By the end of the decade, the group had signed a major label contract with Chrysalis Records and seemed bound for national stardom. However, none of their albums became hits and they were dropped by Chrysalis at the end of 1982.

At the same time the T-Birds were left without a recording contract, Jimmie's younger brother, Stevie Ray Vaughan, came storming upon the national scene with his debut album, Texas Flood. For the next few years, Stevie Ray dominated not only the Texan blues scene, but the entire American scene, while Jimmie and the Thunderbirds were struggling to survive. The T-Birds finally received a new major-label contract in 1986 with Epic/Associated and their first album for the label, Tuff Enuff, was a surprise hit, selling over a million copies and spawning the Top Ten hit title track.

The Fabulous Thunderbirds spent the rest of the '80s trying to replicate the success of Tuff Enuff, often pursuing slicker, more commercially oriented directions. By 1989, Jimmie Vaughan was frustrated by the group's musical direction and he left the band. Before launching a solo career, he recorded a duet album with his brother, Stevie Ray, Family Style. Following the completion of the record, Stevie Ray Vaughan died in a tragic helicopter crash in August of 1990. Family Style appeared just a few months later, in the fall of 1990.

After Stevie Ray's death, Jimmie took a couple of years off, in order to grieve and recoup. After a couple of years, he began playing the occasional concert. In 1994, he returned with his first solo album, Strange Pleasures, which received good reviews and sold respectably. Vaughan supported Strange Pleasures with a national tour. Out There followed in 1998. Released in 2010, Plays Blues, Ballads & Favorites found Vaughan covering songs by Jimmy Reed, Little Richard, Roy Milton, Roscoe Gordon and others who inspired him when he was first starting out as a musician. The like-minded Plays More Blues, Ballads & Favorites followed in 2011. ~ Stephen Thomas Erlewine
HOMETOWN

Dallas, TX

GENRE

BORN

March 20, 1951
50 million songs.
Zero ads.
New subscribers only. Plan automatically renews after trial.