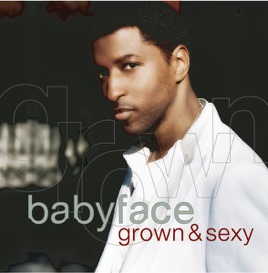 | | TITLE | | TIME |
| --- | --- | --- | --- |
| | | | |
| | | | |
| | | | |
| | | | |
| | | | |
| | Drama, Love & 'Lationships | | |
| | Sorry for the Stupid Things | | |
| | | | |
| | | | |
| | | | |
| | | | |
| | | | |
| | | | |
13 Songs, 52 Minutes
Released:

May 19, 2003

℗ 2005 Arista Records, LLC., a unit of SONY BMG MUSIC ENTERTAINMENT
Ratings and Reviews
Fantasy
MAD SEXY COOL so nice , I love it !
Top 20 Albums
This is an old school artist but with new hits on the charts, a great writer/producer and not a bad singer...!
Grown & Sexy
I have been a fan for a long time. This album is wonderul.
About Babyface
As a singer, producer, and songwriter, Babyface was an inescapable presence in virtually every major facet of pop music during the '90s. His own recordings helped rejuvenate the R&B tradition of the smooth, sensitive, urban crooner and made him a staple of urban contemporary radio. Yet their considerable success was eclipsed by his songwriting and production work for other artists, which linked him with some of the biggest stars and hit singles of the decade (and not just in the realm of R&B). You'd be hard-pressed to name a '90s hitmaker with a track record more consistently successful and versatile than Kenny "Babyface" Edmonds.

Kenneth Edmonds was born April 10, 1959, in Indianapolis and began playing in local R&B bands as a teenager. He served a stint in Bootsy Collins' backing unit (where he earned his nickname) and subsequently joined the funk outfit Manchild, who signed a record deal in 1977 and released three albums. After their breakup, Babyface and partner Antonio "L.A." Reid formed an urban funk group called the Deele in the early '80s, who scored a few sizable hits on the R&B charts. Babyface and Reid began producing and writing for other artists on the side, landing hits in Pebbles' "Girlfriend" and the Whispers' "Rock Steady"; following the Deele's third album in 1988, the duo left to continue their outside activities full-time, co-founding the LaFace label in 1989. Further hits followed in Bobby Brown's "Every Little Step," Sheena Easton's "The Lover in Me," and Karyn White's "The Way You Love Me" and "Superwoman," all of which performed well on both the pop and R&B charts.

Babyface had actually recorded a little-noticed solo album in 1986, titled Lovers, but with his newfound success having marked him as one to watch, his solo career now began in earnest. Released in 1989, Tender Lover caught fire, spinning off four singles over the next year, including the R&B chart smashes "It's No Crime" (number one) and "Whip Appeal" (number two; both also reached the pop Top Ten); the album also went double platinum. Now firmly established as a powerhouse, Babyface went on to co-write hits for Johnny Gill ("My, My, My," nominated for the Best R&B Song Grammy), Whitney Houston ("I'm Your Baby Tonight"), and Madonna ("Take a Bow"); his biggest success, however, came with Boyz II Men, whose recording of "End of the Road" became one of the longest-running number ones in pop history (the Babyface-penned follow-up "I'll Make Love to You" was also pretty successful in its own right). He was co-nominated for an Album of the Year Grammy for his production on the Bodyguard soundtrack and went on to work with artists like Celine Dion, Mariah Carey, Gladys Knight, Aretha Franklin, En Vogue, and Mary J. Blige. As if that weren't enough, LaFace had become a highly successful and lucrative imprint, breaking artists like Toni Braxton, TLC, OutKast, and Usher (often with input from Reid and Babyface).

It's no wonder Babyface wound up taking a break from his own career as a singer during the early '90s, releasing only a remix album, A Closer Look, in 1991. The proper follow-up to Tender Lover didn't appear until 1993; even so, For the Cool in You was an even bigger hit than its predecessor, going triple platinum and producing Babyface's first Top Five pop hit, the change-of-pace acoustic guitar ballad "When Can I See You Again" (which won him his first Grammy as a performer for Best Male R&B Vocal). In 1995, he scored another major success with the Waiting to Exhale soundtrack, not only producing it but scoring the film itself and writing nearly all of its songs, including the Whitney Houston smash "Exhale (Shoop, Shoop)." The same year, he won the first of three consecutive Grammys as Producer of the Year. Successes just kept coming in 1996; the guest-laden album The Day spawned another Top Ten pop/R&B hit in "Every Time I Close My Eyes," and he solidified his crossover credentials once and for all by winning a Grammy for Record of the Year as producer of Eric Clapton's "Change the World."

Encouraged by the success of Waiting to Exhale, Babyface and his wife, Tracey Edmonds, formed their own film production company, which debuted in 1997 with the acclaimed urban family comedy/drama Soul Food. Babyface, naturally, masterminded the soundtrack. The next year, he contributed lyrics to the animated musical The Prince of Egypt, which went uncredited on the soundtrack album. With the movies taking up more of his time, his next musical releases were quick one-offs: an MTV Unplugged album in 1997 and the seasonal Christmas with Babyface the next year. His production and songwriting activities continued, though he remained silent as a performer for a few years. In 2000, Epic released the best-of compilation A Collection of His Greatest Hits, marking the end of his tenure with the label; he had elected to move to Arista, where L.A. Reid had been a high-ranking executive.

In 2001, Babyface released a new album, Face2Face, and also produced the punk-pop soundtrack for the film Josie & the Pussycats. The back-to-basics Grown & Sexy came in July 2005, also the year he and Tracey Edmonds announced their divorce. September 2007 brought the covers-oriented Playlist for Mercury. During the next several years, he worked with the likes of Lil Wayne, Vanessa Williams, Whitney Houston, Kristinia DeBarge, and Boyz II Men, as well as Anthony Hamilton, whose "Pray for Me" was nominated for a 2013 Grammy in the category of Best R&B Song. He co-wrote and co-produced several songs on Ariana Grande's Yours Truly, a number one album in the U.S. Love, Marriage & Divorce, an album of duets with Braxton, was released on Motown in February 2014. It debuted at number four and won a Grammy for Best R&B Album. Near the end of the following year, Babyface released Return of the Tender Lover (titled in reference to his second solo album), inspired by the "feel good" performing approach of touring partners Charlie Wilson and Maze. ~ Steve Huey
HOMETOWN

Indianapolis, IN

GENRE

BORN

April 10, 1959