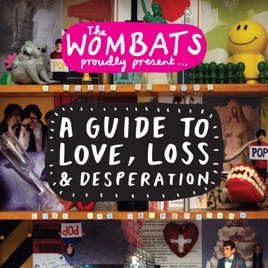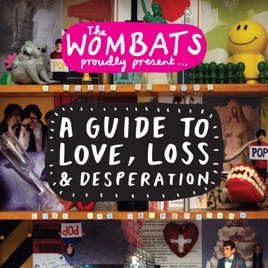 A Guide to Love, Loss & Desperation
| | TITLE | TIME | PRICE |
| --- | --- | --- | --- |
| | Tales of Girls, Boys and Marsupials | 1:09 | $1.29 |
| | | 2:41 | $1.29 |
| | | 3:30 | $1.29 |
| | | 3:06 | $1.29 |
| | Party In a Forest [Where's Laura?] | 3:26 | $1.29 |
| | | 3:14 | $1.29 |
| | | 2:31 | $1.29 |
| | Let's Dance to Joy Division | 3:11 | $1.29 |
| | | 3:12 | $1.29 |
| | | 4:12 | $1.29 |
| | | 3:32 | $1.29 |
| | | 4:01 | $1.29 |
| | | 6:37 | $1.29 |
13 Songs

℗ 2008 14th Floor Records Issued under license to Roadrunner Records from Warner Music International Roadrunner Records is a registered trademark of The All Blacks B.V.
Customer Reviews
A Guide to Love, Beats, and Happiness.
The Wombats finally have an LP that has been awaited for since our toes started tapping to "Joy Division". This ultra-catchy and super-flashy group has dazzled with strong beats and down-to-earth lyrics. Infectious guitar riddles into the mix quite nicely as well. Every song on the album creates a new dance as it creeps into your skin. Future success story? I think so. If you're looking for a grin on your face and something different to put into your system then look no further, the Wombats are here.
Reallly Amazing
So i've been waiting for this album for some time now since itunes released "let's dance in joy division" as a free single. It tooke me some time to actually listen to the song but when i got around to it, i really loved it. The Wombats' songs are catchy and i can't believe it took this long for itunes to release it for the U.S.
About The Wombats
British indie rock trio the Wombats make driving guitar post-punk and electronic-influenced pop. Formed in Liverpool in 2003 while the members were all attending the Liverpool Institute of Performing Arts, the Wombats feature vocalist/guitarist Matthew Murphy, drummer Dan Haggis, and Norwegian-born bassist Tord Øverland-Knudsen. In 2006, the Wombats released their debut single, the Japan-only "Girls, Boys and Marsupials." Several singles followed before the release of the band's 2007 debut album, A Guide to Love, Loss & Desperation. A year later, they released the Wombats EP on Bright Antenna. In 2011, the Wombats released their sophomore album, This Modern Glitch, featuring production from such modern rock stalwarts as Eric Valentine, Butch Walker, and Jacknife Lee, and in 2015, they returned with their third full-length album, the synth-heavy Glitterbug, which featured production from Mark Crew and included the singles "Greek Tragedy" and "Give Me a Try." ~ Matt Collar
ORIGIN

Liverpool, England

FORMED

2003
Top Music Videos by The Wombats
See All