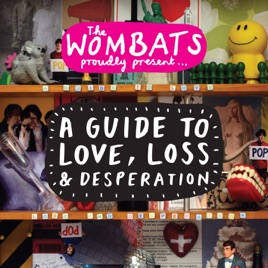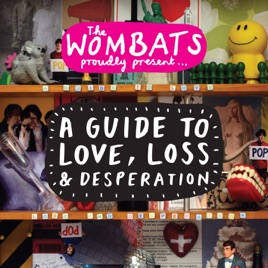 A Guide to Love, Loss & Desperation
| | TITLE | | TIME |
| --- | --- | --- | --- |
| | Tales of Girls, Boys and Marsupials | | |
| | | | |
| | | | |
| | | | |
| | Party In a Forest [Where's Laura?] | | |
| | | | |
| | | | |
| | Let's Dance to Joy Division | | |
| | | | |
| | | | |
| | | | |
| | | | |
| | | | |
13 Songs, 44 Minutes
Released:

Jul 9, 2007

℗ 2008 14th Floor Records Issued under license to Roadrunner Records from Warner Music International Roadrunner Records is a registered trademark of The All Blacks B.V.
Ratings and Reviews
Yay!!!!!
After seeing their music video, Let's Dance for Joy Division, more than six months ago in England, I have been hooked to this band. Unfortunately, I didn't have the common sense to buy the album there so I have been waiting in anguish ever since. This is a terrific buy. Their catchy rhythms and fun lyrics are sing along fun. The Wombats have managed to create their own distinct sound while never letting go of this beautiful thing called music. They pep you up in Let's Dance for Joy Division and create lighthearted joy with School Uniforms. Definitely check this out if you haven't already.
Reallly Amazing
So i've been waiting for this album for some time now since itunes released "let's dance in joy division" as a free single. It tooke me some time to actually listen to the song but when i got around to it, i really loved it. The Wombats' songs are catchy and i can't believe it took this long for itunes to release it for the U.S.
YES!!
Wahoo finally the Wombats CD is in the US store. Their style is so unique and awesome. It gives an awesome new look to the alternative style of music. Tales of Girls, Boys and Marsupials shows the versatility of all the band members (how they can all sing) and is how they start off their concerts. Glad they started off with that song!
About The Wombats
British indie rock trio the Wombats make driving guitar post-punk and electronic-influenced pop. Formed in Liverpool in 2003 while the members were all attending the Liverpool Institute of Performing Arts, the Wombats feature vocalist/guitarist Matthew Murphy, drummer Dan Haggis, and Norwegian-born bassist Tord Øverland-Knudsen. In 2006, the Wombats released their debut single, the Japan-only "Girls, Boys and Marsupials." Several singles followed before the release of the band's 2007 debut album, A Guide to Love, Loss & Desperation. A year later, they released the Wombats EP on Bright Antenna.

The band's sophomore album, This Modern Glitch, appeared in 2011 and featured production from such modern rock stalwarts as Eric Valentine, Butch Walker, and Jacknife Lee. Included on the album was the Top 40 single "Tokyo (Vampires & Wolves)." In 2015, they returned with their third full-length album, the synth-heavy Glitterbug, which featured production from Mark Crew and included the singles "Greek Tragedy" and "Give Me a Try." Somewhat of a breakout, the album was a commercial success in the U.K. and Australia, and also marked the band's first chart entry in the U.S.

In December 2017 the Wombats released "Turn," the first single from their fourth LP, 2018's Beautiful People Will Ruin Your Life. Produced by Mark Crew (Bastille, Rationale) and Catherine Marks (the Killers, Wolf Alice), the album also included the singles "Lemon to a Knife Fight" and "Cheetah Tongue." ~ Matt Collar
ORIGIN

Liverpool, England

GENRE

FORMED

2003