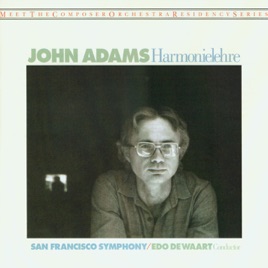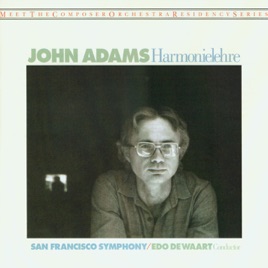 | | TITLE | | TIME |
| --- | --- | --- | --- |
| | | | |
| | Haarmonielehre: Part II - The Anfortas Wound | | |
| | Harmonielehre: Part III - Meister Eckhardt and Quackie | | |
3 Songs, 40 Minutes
Released:

Jan 23, 2007

℗ 2007 Nonesuch Records, Inc., manufactured and marketed by Rhino Entertainment Company, a Warner Music Group company
Ratings and Reviews
Thee famous recording and work that catapulted Mr. Adams to Fame!
This is thee famous recording and work* that catapulted John Adams to the very forefront of the contemporary Classical music scene today! It has been said of Stravinsky's: "Rite of Spring" to be "the Atomic Bomb" of all music, of the early half of the Twentieth century. I'd go on to say Adams': "Harmonielehre" as the nuclear warhead of the later [this all coming from someone who considers Tchaikovsky the greatest of all composers –LOL!!!] While the title might translate to mean "Book of Harmony"; it is a piece that parallels the many emotions we feel "while on life's journey" –culminating with an accent "into the light". It is also important to note, that this piece was written after Adams' had a terrible bout of "writers block". I'd like to think of it as Adams' own maturing into his art. Many would argue "Harmonielehre" to be Adams' "First Symphony", and "Naïve and Sentimental Music" to be his "Second" -but who are we to say. As far as sound is concerned (albeit there are much more recent accounts available), the Nonesuch early digital still holds its own.

*"The Chairman Dances" arguable had had a hand in it as well. (Adam's had discarded it from his opera "Nixon in China" to stand on its own, due to length limitations).

I love this
This is scored for massive orchestra, and i love the textures. The SF Symphony is always a great orchestra. not a single bad performance to their name.
Remarkable Work
From the start, this is something different. Not different in a bad way, but clearly DIFFERENT. The opening chords, the rhythms, the rapid changes of time signature, accompanied by pattern, rhythm, and repetition signal both clear departure and solid grounding. This piece is not simply a collection of interesting sounds or sound sequences: it takes us on a musical journey.

Throughout--and especially in the finale--the driving rhythms propel the listener inexorably forward with the music.

Yet, the piece is not without its surprises, including a wonderful lyric development in the violins.

Adams considers this not a "teaching" (lehre) of harmony, but as a way to show his own "learning" on the subject.

To have a recording by conductor and orchestra that gave the piece its premier in March, 1985 is particularly fitting.
About Edo de Waart
Edo de Waart established a notable conducting career in the last third of the 20th century, becoming known for clear, exciting performances in a wide range of repertory. He came from a musical family, being the son of a choral singer. He studied oboe with Haakon Stotijn and also conducting at the Music Lyceum in Amsterdam. He became co-principal oboe of the Amsterdam Philharmonic in 1961 and associate principal of the Concertgebouw Orchestra in 1963. Meanwhile, he studied conducting, including a course with Franco Ferrara at Hilversum in 1964. This led to a debut with the Netherlands Radio Philharmonic in 1964. That same year he won the prestigious Dimitri Mitropoulos Conductors' Competition in New York, which resulted in a year-long appointment as an assistant conductor of the New York Philharmonic (1965-66). He became assistant conductor of the Amsterdam Concertgebouw under Bernard Haitink in 1966. He made an impressive recorded debut with the Netherlands Wind Ensemble, which he founded in 1967, including classic recordings of Mozart wind music. He was also appointed co-music director of the Rotterdam Philharmonic with Jean Fournet, becoming sole music director when Fournet vacated his appointment in 1973. His association with the Rotterdam Philharmonic, which lasted until 1979, became noted for firm, exciting orchestral performances and intriguing choices of repertory. In 1975 he became principal guest conductor of the San Francisco Symphony Orchestra, and was elevated to music director in 1977. Although the orchestra was often capable of fine performances, it was variable and had weaknesses. De Waart lifted its standards, turning it into a consistently fine orchestra. In 1985 he conducted an acclaimed series of the complete Wagner Ring operas in San Francisco.

Over the years he has made many appearances as an opera conductor, including Bayreuth, Covent Garden, the Santa Fe Opera, Paris' Bastille Opera, and the Metropolitan Opera. He conducted the first recording of Adams' Nixon in China, which won a Grammy Award in 1988. In 1996 he debuted at the Salzburg Festival with Mozart's The Marriage of Figaro.

In 1993 he was appointed chief conductor and artistic director of the Sydney (Australia) Symphony Orchestra, and in August 1995 led it on its first European tour in 20 years. In 1996 he took it on its first tours of Japan and Taiwan, and in 1998, on an American tour. He was appointed artistic director of the Netherlands Dutch Radio and Television Organization, and chief conductor of the Netherlands Radio Philharmonic. At the beginning of the 1999-2000 season he began his tenure as chief conductor of the Netherlands Opera. In that year de Waart became music director of the Hong Kong Philharmonic, with his contract extended until 2012.

He assumed responsibilities as musical director of the Milwaukee Symphony Orchestra in 2009. An advocate of modern and contemporary music, he has conducted the work of Reich, Torke, Wuorinen, and Britten.
HOMETOWN

Amsterdam, The Netherlands

GENRE

BORN

June 1, 1941