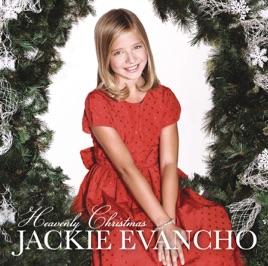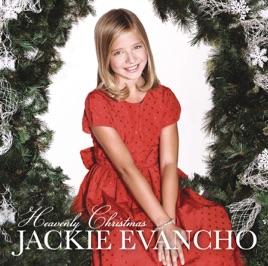 | | TITLE | TIME | PRICE |
| --- | --- | --- | --- |
| | I'll Be Home for Christmas | 3:52 | $1.29 |
| | | 4:39 | $1.29 |
| | | 3:14 | $1.29 |
| | | 4:08 | $1.29 |
| | | 3:56 | $1.29 |
| | | 3:28 | $1.29 |
| | | 3:47 | $1.29 |
| | O Little Town of Bethlehem | 4:00 | $1.29 |
| | | 3:32 | $1.29 |
| | Ding Dong Merrily On High | 3:01 | $1.29 |
10 Songs

℗ 2011 Sony Music Entertainment
Customer Reviews
I
With everything that's wrong with the world, Jackie is the epitome of everything that is right and beautiful!
All I want to Hear at Christmas is Jackie!
This is a beautiful album! Christmas music can sometimes be annoying, but not with Jackie! She is the angel you want to hear all season long! Get this CD now and listen till New years! It's that good!
About Jackie Evancho
A gifted soprano singer who appeared on the fifth season of America's Got Talent, Jackie Evancho is best known for her work in the classical crossover genre. Like Hayley Westenra and Charlotte Church before her, Evancho's vocal talents were evident from a young age. A Pittsburgh, Pennsylvania native, Evancho (who also plays violin and piano) began taking vocal lessons in 2008 at the age of eight. By 2010, she had already breezed through a local singing contest; started her own YouTube channel; released her independent debut album, Prelude to a Dream; and held the record as the world's youngest opera singer.

It was on the heels of such achievements that Evancho won a spot on the fifth season of NBC's America's Got Talent. While on the show, the then-ten-year-old wowed audiences and judges alike with a technical skill, lyricism, and stage presence that belied her age. Ultimately, however, she finished in second place behind Michael Grimm. Following her run on America's Got Talent, Evancho released the holiday EP/DVD O Holy Night via Columbia Records.

In spring 2011, Evancho delivered Dream with Me, her full-length (non-seasonal) debut, which was produced by David Foster and featured a mix of arias, show tunes, and pop classics. Jackie Evancho: Dream with Me in Concert, a live performance of the songs that first captured the hearts of her audiences, along with new classical crossover selections, followed that fall. Released just a few months after Dream with Me, the ten-track Heavenly Christmas revisited the Yuletide splendor of 2009's O Holy Night.

In 2012, Evancho returned with Songs from the Silver Screen, featuring her renditions of classic movie themes. Her fifth full-length album, 2014's Awakening, was preceded by the singles "Think of Me" and "The Rains of Castamer," the former from Phantom of the Opera and the latter a take on the brooding Game of Thrones ballad. The LP debuted at number 17 on the Billboard 200 chart and number one on the Billboard Classical Albums chart. In 2016, Evancho released her second collection of holiday music, Someday at Christmas. Arriving in the spring of 2017, her next album, Two Hearts, consisted of two discs. The first included ten classical crossover tracks of the type she'd become known for, while the second disc was in the form of a five-song EP of more pop-oriented originals, four of which were co-written by Evancho. ~ James Christopher Monger & Matt Collar
ORIGIN

Pittsburgh, PA

BORN

Apr 9, 2000
Top Songs by Jackie Evancho
See All
Top Albums by Jackie Evancho
See All
Top Music Videos by Jackie Evancho
See All