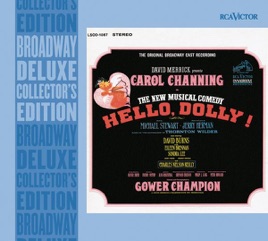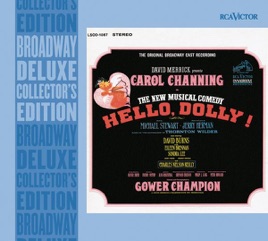 Hello, Dolly! (Original Broadway Cast Recording) (Deluxe Edition)
TITLE
TIME
1:15

Carol Channing & Hello, Dolly! Ensemble

3:06

David Burns & Hello, Dolly! Ensemble

2:32

Put on Your Sunday Clothes

Charles Nelson Reilly, Jerry Dodge, Carol Channing, Igors Gavon & Hello, Dolly! Ensemble

4:16
2:39

Carol Channing, Eileen Brennan & Sondra Lee

1:46

Carol Channing, Charles Nelson Reilly, Jerry Dodge & Eileen Brennan

4:24

Before the Parade Passes By

Carol Channing & Hello, Dolly! Ensemble

3:16

Eileen Brennan, Charles Nelson Reilly, Sondra Lee & Jerry Dodge

2:24

Carol Channing & Hello, Dolly! Ensemble

5:42

Charles Nelson Reilly, Eileen Brennan & Hello, Dolly! Ensemble

3:39
2:58

David Burns, Carol Channing & Hello, Dolly! Ensemble

4:11

I Put My Hand In (Bonus Track)

Mary Martin & Hello, Dolly! Ensemble (London) (1965)

3:35

Before the Parade Passes By (Bonus Track)

Pearl Bailey & Hello, Dolly! Ensemble (1967)

3:20

Hello, Dolly! (Bonus Track)

Pearl Bailey & Hello, Dolly! Ensemble (1967)

5:48

So Long Dearie (Bonus Track)

Mary Martin

2:56

Love, Look in My Window (Bonus Track)

Ethel Merman

3:40

World, Take Me Back (Bonus Track)

Ethel Merman

3:43

Carol Channing Interview: On Recording Hello, Dolly!

Carol Channing

1:55

Carol Channing Interview: When Did You Sense That Hello, Dolly! Would Be a Hit

Carol Channing

1:08

Carol Channing Interview: On the Title Number

Carol Channing

2:27

Carol Channing Interview: Dolly Changed Me / The Book

Carol Channing

1:57

Carol Channing Interview: The Plot

Carol Channing

1:41

Carol Channing Interview: Optimism, And Finding One's Character

Carol Channing

1:21

Carol Channing Interview: The Prime of Life

Carol Channing

0:16
26 Songs, 1 Hour, 15 Minutes
Released:

Aug 5, 2008

℗ 2003 BMG / Originally Recorded 1964, 1965, 1967. All Rights Reserved by BMG Music / (P) 1999 Harbinger Records Ltd.
Ratings and Reviews
This is the one to buy !
Carol Channing is the first to say she is not a singer , but she is Dolly . From the top of her head to her toes . Would be wonderful to have her in the movie . Some times it's not the perfect voice that makes a show it's the person playing and doing the singing . Miss Channing IS that person . Was not there to see the original but did see the 1994 one . That would be a good one to buy also. She on stage was ageless and wonderful. If you want good show music and want to meet Dolly . This is the one to buy.