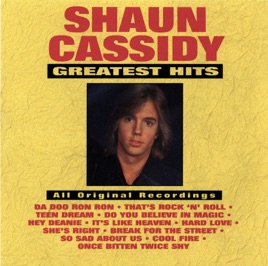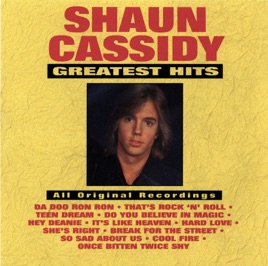 12 Songs, 40 Minutes
Released:

Jun 1, 1977

℗ 1992 Curb Records, Inc.
Ratings and Reviews
The Best ever!!!!;)
Once I started watching the Hardy Boys, I had to look up Shaun Cassidy! His songs are so amazing, it is as if he is still a teenager rocking it out! These albums area fantastic just like Shaun Cassidy!
Shaun is Amazing!!!!!
This album is fantastic! I'm only fourteen years old, but I became a Shaun Cassidy fanatic about two years ago when I started watching the Hardy Boys. After listening to all of his songs, I can honestly say that the first five tracks are some of his best. However, instead of including songs from the "Wasp" album, I wish they would have used songs such as "Our Night", which is one of my other favorites. However, it's still Shaun Cassidy, so that automatically makes it amazing!!! Now if only they would put his 1989 single "Memory Girl" on iTunes!!!! :D

<3 SHAUN CASSIDY FOREVER <3
Shaun Cassidy
Had this on cd. Few years ago looking for Shaun Cassidy music came across The Shaun Cassidy Collection, 48 songs all the albums excep the live album on this one. I got it from itunes, now they want you to pay for each album. Cover doesn't show because it was deleleted from itunes but songs still on my computer and ipod.