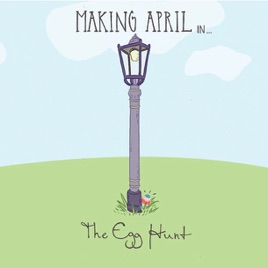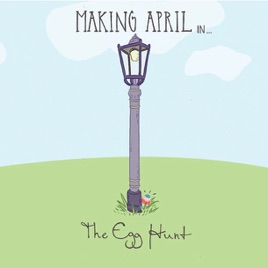 | | TITLE | | TIME |
| --- | --- | --- | --- |
| | | | |
| | | | |
| | | | |
| | | | |
| | | | |
| | | | |
| | | | |
| | | | |
| | | | |
| | | | |
| | So Bad (Acoustic Version) | | |
11 Songs, 45 Minutes
Released:

Mar 2, 2009

℗ 2009 mudhutdigital.com
Ratings and Reviews
A "Must Have" For Your Music Collection
"The Egg Hunt" is the Debut [and only full length] album from New York States' own "Making April". Unfortunately, with the band now split, it seems it will also be thier only album.

Lead vocalist (and pianist) Sean Scanlon brings a unique voice to the modern sound of music. Each song is easily identifiable as "Making April".

"So Bad" is almost haunting with it's memorable lyrics and haunting piano melodies. (★★★★★)

"Brighter Bright" reaches completely across the musical spectrum from alternative to rock to an almost dance feel. (★★★★)

"Bailey" is an above average "tribute" song. (★★★★)

"Safe But Sorry" is another above average song musically which cleverly crafted lyrics. (★★★★)

"Stay The Night" is not a modern rehash of Benjamin Orr's 80's classic, but rather a story of one sided love; one person longing to hold on, while the other is ready to move on. (★★★★★)

"Streetlights" - a musical celebration of life (of sorts). (★★★★)

"Wide Awake" is the first Making April song that I had ever heard. It's also, possibly their best. A song of "realization", this rock ballad brings us through the pain of a relationship lost. [lyric sample: "Don't wanna get caught up, Dreaming of your love, cuz when I open my eyes, There's not a shot in this life"] (★★★★★)

"Let it Ride" has a slightly different feel than most of the album. That's not to say that it doesn't "fit", but rather there's a much deeper, fuller feeling to it musically. Another song about unrequited love (which Making April seems to do best), this alternative rock ballad is another five star treasure! (★★★★★)

"Hey Katie" - Have you ever been in love with an actor, actress, or other superstar? This song just might be the one you can relate to!
(★★★★)

"Don't Go" - Another "relationship" based ballad; Another great song! (★★★★★)

"So Bad (Acoustic)" - This version, while lyricaly identical to the original lacks the luster and "Build" which a non acoustic version can avoid. While still a good song, it's perhaps the one let down on the album (★★★½)

------------------------------------------------
------------------------------------------------

The Egg Hunt is a well above average album which deserves much more recognition that it has gotten. We can ony help that Sean Scanlon will continue to bring us this level of music through some other Non Making April release in the future.
Awesome
Never would have known about you guys if you hadn't of appeared on Howard! Music's awesome and I ended up buying both of your albums because of the appearance.
GREAT ALBUM!!!!!!!!
Just heard these guys for the first time today on Howard Stern and had to buy the album. They did Hey Katie, which the singer said was about wanting Kate Beckinsale, love the song, love the whole album, I can't believe these guys haven't made it big.