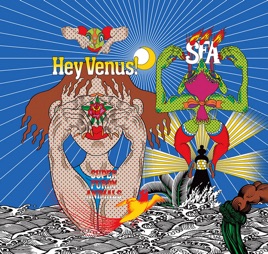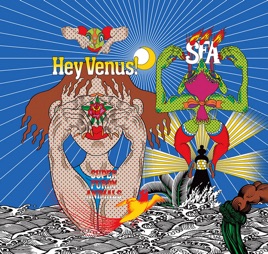 | | TITLE | | TIME |
| --- | --- | --- | --- |
| | | | |
| | | | |
| | | | |
| | The Gift That Keeps Giving | | |
| | | | |
| | | | |
| | | | |
| | | | |
| | | | |
| | | | |
| | Let the Wolves Howl At the Moon | | |
| | | | |
| | | | |
| | | | |
| | That's What I'm Talking About | | |
| 5 | | | |
| 6 | | | |
17 Songs, 1 Hour
Released:

Jan 22, 2008

℗ 2008 Rough Trade
Ratings and Reviews
PAR
Admittedly, SFA are not for everyone and this album fleshes itself out only after several patient listens to the fan familiar with all their work. To dismiss it as "dumb" (as stated by one reviewer) is to both not give it a chance and to not know who SFA are and what their sound is all about. There are definitely true gems on this album. "Show Your Hand" emerges in its buoyancy and could easily fit in with a soft rock genuine article of the 70s. "The Gift That Keeps on Giving" stands out in its 50s prom-theme meets lush 60s-psychodelia. "Baby Ate My Eightball" hooks the listener with its thumping bass & drum loop intro and doesn't let go until it's over. "Battersea Odyssey" is a bouncy, layered affair that becomes more and complex upon each listen. "Suckers" is the one song that should be accessible to any fan of British rock. It is a great example of Gruff Rhys's stellar vocals, which I count up there among my favorites. Check out his "Candylion" solo album if you'd like to investigate further. "Hey Venus" as a whole doesn't compete with "Radiator", "Guerrilla" or "Phantom Power", but it is a must-have for the SFA enthusiast, particularly now that this enhanced version is available.
2 Legit To Quit!
I have been listening to this band for ten years now and they have never disappointed me. Love Kraft took me a little more time to get into than most of their albums but now I consider it one of their best. This was not the case with Hey Venus! It grabbed me from the first track. Absolutely amazing! If you're a new fan it may not be the best one to buy, I would recommend Rings Around The World or Phantom Power however, for long time listeners it should make you smile.

Its a shame they haven't gotten more notice in the States, in fact, it saddens me greatly. But this country will never embrace anything like this in the mainstream.
Buy It
This album is really good especially for those who are not closeminded and can think and listen to music outside the realms of Justin Timberlake and Nickelback. If you are looking for a good listen then i recommend that you buy this along with their other albums. Although it is a weaker album for SFA it is still enjoyable to listen to.