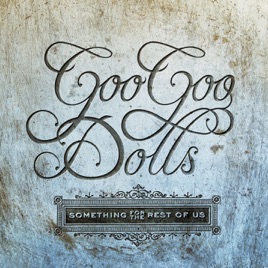 EDITORS' NOTES
The Goo Goo Dolls were born in '86 — the Buffalo brood's earliest records blended punk and classic rock (à la The Replacements), and the '90s saw them morph into one of the decade's top-selling bands. For their ninth studio album, Something for the Rest of Us, the gents team with a host of producers — including longtime collaborator Tim Palmer (U2, Pearl Jam) and Butch Vig (Green Day, Smashing Pumpkins) — to create a collection of warm, guitar-driven pop-rock. On the rollicking open cut, John Rzeznik sings about someone living the "Sweetest Lie," and this sense of disenchantment is a recurring theme — echoed on the crashing ballad "Nothing Is Real" and "Home," where Rzeznik paints a picture of a "crowded room full of empty faces." The most touching tune, "Notbroken," swells with emotion and tells the tale of a soldier returning from war — it's the type of poignant yet timeless subject matter that has endured throughout The Goo Goos' evolution. This version of Something for the Rest of Us features three bonus tracks, including an acoustic version of "Home."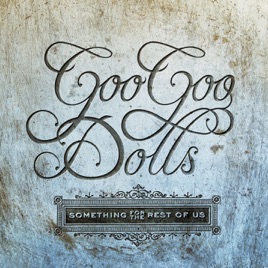 EDITORS' NOTES
The Goo Goo Dolls were born in '86 — the Buffalo brood's earliest records blended punk and classic rock (à la The Replacements), and the '90s saw them morph into one of the decade's top-selling bands. For their ninth studio album, Something for the Rest of Us, the gents team with a host of producers — including longtime collaborator Tim Palmer (U2, Pearl Jam) and Butch Vig (Green Day, Smashing Pumpkins) — to create a collection of warm, guitar-driven pop-rock. On the rollicking open cut, John Rzeznik sings about someone living the "Sweetest Lie," and this sense of disenchantment is a recurring theme — echoed on the crashing ballad "Nothing Is Real" and "Home," where Rzeznik paints a picture of a "crowded room full of empty faces." The most touching tune, "Notbroken," swells with emotion and tells the tale of a soldier returning from war — it's the type of poignant yet timeless subject matter that has endured throughout The Goo Goos' evolution. This version of Something for the Rest of Us features three bonus tracks, including an acoustic version of "Home."
| | TITLE | | TIME |
| --- | --- | --- | --- |
| | | | |
| | | | |
| | | | |
| | | | |
| | | | |
| | | | |
| | | | |
| | | | |
| | Something for the Rest of Us | | |
| | | | |
| | | | |
| | | | |
| | Postcards from Paradise (Bonus Track) | | |
| | | | |
| | Home (Acoustic) [Bonus Track] | | |
15 Songs, 59 Minutes
Released:

Aug 27, 2010

℗ 2010 Warner Bros. Records Inc. for the U.S., Canada and Mexico and WEA International Inc. for the world outside the U.S.
Ratings and Reviews
TERRIFIC!
Hey, I never write reviews, but this new record is great. You must listen to Notbroken. It's a classic with a great guitar/drum breakdown in the middle. Enjoy!
AWESOME!
Well worth the wait! I thought "Let Love In" was an amazing album but they really have outdone themselves with this one. They seem to get better with time and the give a great show, saw them in Philly a few years ago. Buy this album!
1st Review-Great Album
The Goo Goo Dolls have done it again! After 4 years they give us an album that is musically and lyrically masterful, uplifting, and inspirational. Listening to it takes you away to a place where you can overcome whatever obstacle you face and to a place of self acceptance and peace of mind. It gives us hope that just maybe, there is something for the rest of us out there.
About The Goo Goo Dolls
Early in their career, the Goo Goo Dolls were frequently dismissed by critics as mere imitators of the Replacements; however, they refined and mainstreamed their sound to become one of the most popular adult alternative rock bands of the 1990s, selling millions of records to audiences largely unfamiliar with their influences. That's no knock on the band, either — the music simply improved in craft and accessibility as the years progressed, and radio happened to be receptive to a style that, one decade earlier, would have been considered collegiate power pop. Thus, the band landed two huge hits with the acoustic ballads "Name" and "Iris," followed by a string of Top Ten singles.

The Goo Goo Dolls formed in 1985 in Buffalo, New York. Guitarist/vocalist Johnny Rzeznik, bassist Robby Takac, and drummer George Tutuska initially banded together under the name the Sex Maggots — their new moniker was chosen from an ad in True Detective magazine at the behest of a local club owner. Originally a cover band with a taste for power pop and classic rock & roll, the group soon began writing original songs. Their early sound recalled the Replacements' origins as a bratty punk band: melodic, snotty, and a little bit thrashy. That sound was the reason the band attracted the interest of the heavy metal label Metal Blade, which issued their debut album in 1987 (known either as The Goo Goo Dolls or First Release). Released in 1989, the follow-up album, Jed, continued in a similar vein, and the band's college radio breakthrough came with 1990's Hold Me Up, a Replacements-ish power pop record.

Released in 1993, Superstar Car Wash was the Goo Goo Dolls' artistic breakthrough; though it did nothing to quell the Replacements comparisons, it was a finely crafted pop/rock record, and its lead single, "We Are the Normal," was even co-written by Replacements leader Paul Westerberg himself. Still, Superstar Car Wash wasn't the commercial force the band hoped it would be, especially in light of the success of similar bands like the Gin Blossoms. That all changed with 1995's A Boy Named Goo, when an L.A. rock station put the acoustic-driven ballad "Name" into heavy rotation. It was eventually released as a single and climbed into the Top Five later that year; platinum sales for the album followed close behind. Unfortunately, drummer Tutuska was no longer around to enjoy the band's success; prior to the album's release, he'd been sacked and replaced by Mike Malinin.

Dissatisfied with the royalty rates in their Metal Blade contract, the Goo Goo Dolls waged a legal battle that wound up allowing them to jump to parent company Warner Bros. Somewhat drained, Rzeznik and the band shook off a case of writer's block to contribute a new ballad, "Iris," to the soundtrack of the 1998 Nicolas Cage/Meg Ryan romance City of Angels. Appearing that April, the song became a monster smash, although it was never released as a single (so its official Top Ten pop chart status doesn't convey how popular it was). For a better indicator, "Iris" spent nearly a year on Billboard's airplay charts, including an astonishing 18 weeks at number one, and was nominated for three Grammys.

The band's next album, Dizzy Up the Girl, was released during the middle of "Iris"'s marathon airplay run and eventually sold over three million copies. Its clean, polished sound completed the Goo Goo Dolls' transformation into mainstream pop/rockers who happened to have alternative roots. Further hits from the record followed over the next year, including "Slide," "Dizzy," "Broadway," and the Grammy-nominated "Black Balloon." Although Dizzy Up the Girl quickly became the Goo Goo Dolls' highest-selling album ever, none of its singles appeared on the band's 2001's career retrospective, Ego, Opinion, Art & Commerce, which focused on earlier material and B-sides instead.

The Goo Goo Dolls' audience shrank a bit during the 2000s, although the band still managed to go gold with its seventh studio album, 2002's Gutterflower. A concert recording, Live in Buffalo: July 4, 2004, appeared two years later and helped fans endure the long wait for the band's next studio effort, Let Love In, which didn't appear until 2006. It, too, went gold, as did three of its singles: "Better Days," "Stay with You," and a cover of Supertramp's "Give a Little Bit." A traditional greatest-hits album, Greatest Hits, Vol. 1: The Singles, was released in 2007, followed one year later by Vol. 2, which followed Ego, Opinion, Art & Commerce's lead by compiling rarities, B-sides, cover songs, and live performances.

Recording sessions for the band's ninth album began taking place in spring 2009 with producer Tim Palmer. Although a release date was scheduled for February 2010, the band headed back into the studio in January to make several last-minute changes to the album, with longtime producer Rob Cavallo — who also worked on Dizzy Up the Girl and Gutterflower — lending his help. Something for the Rest of Us was ultimately released that summer. The album debuted at seven on the Billboard 200 but generated no hit singles. The Goo Goo Dolls supported the album into 2011 and in 2012, then turned their attention to recording a new album. The resulting Magnetic was released in June of 2013, preceded by the single "Rebel Beat." Magnetic peaked at eight on the Billboard charts. Following its release, drummer Mike Malinin departed the band; Rzeznik and Takac chose not to replace him. The pair released Boxes, their first album as a duo, in May 2016; it was preceded by the single "So Alive." The next year, they issued a five-song EP titled You Should Be Happy. ~ Steve Huey & Andrew Leahey, Rovi
ORIGIN

Buffalo, NY

GENRE

FORMED

1985