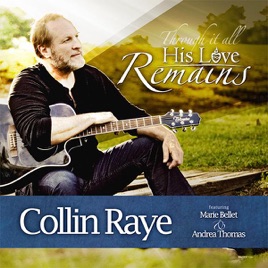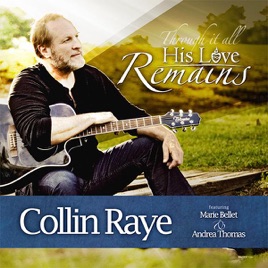 | | TITLE | | TIME |
| --- | --- | --- | --- |
| | Come Thou Fount of Every Blessing (feat. Andrea Thomas) | | |
| | | | |
| | | | |
| | | | |
| | How Beautiful (feat. Andrea Thomas) | | |
| | | | |
| | | | |
| | | | |
| | O Lord, I Am Not Worthy (feat. Marie Bellet) | | |
| | | | |
| | | | |
| | Let All Mortal Flesh Keep Silence | | |
| | | | |
| | Joyful, Joyful We Adore Thee | | |
| | | | |
15 Songs, 53 Minutes
Released:

Jul 23, 1996

℗ 2011 Cradle Concepts
Ratings and Reviews
Thank you and God bless you, Collin.
This is a beautiful and special album for all Christians, especially Catholics. Collin's YES to the Lord and to the Blessed Mother's calling is so evident here, having produced an album to sustain and increase the faith of all who listen. May you receive many graces for this wonderful album and all the lives you touch with it, Collin.
+Ave Maria+
What a beautiful album, beautiful voice
I just saw an episode of EWTN's World Over with Raymond Arroyo and Collin happened to be on. I liked his voice and came over to iTunes to check him out. Wow, I am blown away by how beautiful his voice is and how beautiful these songs are. God blessed him with the gift of singing and Collin has used this gift well.

Thank you for making me heart soar. God bless!
Amazing
This album is soo beautiful. It's like Collin is singing peace directly into my soul. You really can feel his heart in every word he sings. If you have ever liked any of Collin's music you will LOVE this!
About Collin Raye
Contemporary country star Collin Raye burned up the sales charts in the '90s, thanks to a blend of country-rock and smooth balladry, and a willingness to record socially conscious material in between the dance and romance tunes. Raye was actually born Floyd Collin Wray in DeQueen, AR, in 1959, and his mother, Lois, was a locally popular singer who opened concerts for various Sun Records stars in the '50s. She sometimes brought Collin and his older brother Scott on-stage to harmonize with her, and so Collin first performed publicly at the age of seven. As teenagers, he and Scott formed a country-rock outfit called the Wray Brothers Band, and Collin adopted the stage name Bubba Wray. They first played in Texas roadhouses and honky tonks and later found regular gigs in Portland, OR, and Reno, NV; the group also recorded several independent-label singles starting in 1983. Shortening their name to the Wrays, they signed with Mercury in 1986 and released two singles over the next two years, but nothing came of them, and the group broke up. Raye contemplated leaving music in favor of a factory job that would support his new family but elected to stick it out, changing the spelling of his name and ultimately landing a deal with Epic in 1990.

Raye released his debut album, All I Can Be, in 1991, and it really took off with the release of the second single, "Love, Me." A tearjerker about the death of a loved one, "Love, Me" zoomed to the top of the country charts in early 1992, becoming a popular funeral song among fans. The follow-up single, "Every Second," went to number two, and All I Can Be went platinum -- as did its follow-up, 1992's In This Life, whose title track became Raye's second number one hit and a popular wedding ballad. In This Life also spun off three additional Top Ten hits in "I Want You Bad (And That Ain't Good)," "That Was a River," and "Somebody Else's Moon." Raye notched his third straight million-selling album with 1994's harder-rocking Extremes, whose number two hit "Little Rock" was Raye's first big message song, taking on the subject of alcohol abuse. He also hit the Top Ten with "That's My Story," "Man of My Word," and "If I Were You" and landed another number one with "My Kind of Girl." 1995's I Think About You returned to his trademark ballad-heavy style and became his fourth platinum album in a row, helped by the Top Five hits "One Boy, One Girl," the anti-domestic-violence title track, the anti-racism "Not That Different," and "On the Verge."

Having cranked out hits for the last four years, Raye relaxed a little bit, issuing only the holiday album Christmas: The Gift in 1996 and the compilation The Best of Collin Raye: Direct Hits the following year; the latter's newly recorded "What the Heart Wants" and "Little Red Rodeo" both went Top Five. Finally, Raye issued another full album of new material, The Walls Came Down, in 1998. "Someone You Used to Know" and "Anyone Else" both made the Top Five, and "I Can Still Feel You" became Raye's fourth number one hit; the album also contained an anti-child-abuse statement in "The Eleventh Commandment." Perhaps Raye's recent divorce had turned his attention to children even more than usual, for he followed that with an album of lullabies for kids, Counting Sheep, in 2000. Later that year, he issued the proper album Tracks, which featured the Top Five hit "Couldn't Last a Moment" but didn't produce the usual number of massive singles. The follow-up, 2001's Can't Back Down, confirmed that Raye was hitting a sales slump, as it became his first album to miss the country Top Ten. The newly independent Raye took nearly five years to release his studio follow-up--Live at Billy Bob's Texas arrived in 2004. The resulting Twenty Years and Change marked a return--for better or for worse-- to the ballad-heavy style that won him acclaim in the late-nineties. ~ Steve Huey
HOMETOWN

De Queen, AR

GENRE

BORN

August 22, 1959