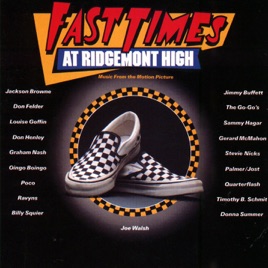 EDITORS' NOTES
Many credit the soundtrack for 1982's Fast Times At Ridgemont High to be the first great rock 'n' roll-based soundtrack of the '80s (on par with Heavy Metal at least) with contributions by Sammy Hagar, Stevie Nicks and Don Felder. Fast Times leans harder on pop — most notably with its infectious opening hit single "Somebody's Baby" by Jackson Browne. Paying tribute to the iconic checkerboard, waffle-treaded, slip-on Vans shoes gracing the cover (and the feet of Sean Penn's character Jeff Spicoli), Joe Walsh follows with the slick boogie of "Waffle Stomp" before Ravyns "Raised On Radio" provides a nugget that's equal parts classic-rock and power-pop. Although the Go-Go's "We Got the Beat" is curiously absent (it punctuated the teen scene at Ridgemont Mall), their Farfisa organ-laden "Speeding" turns up before Jimmy Buffett's "I Don't Know (Spicoli's Theme)" cooks up some tasty rock. Hagar recalls his Heavy Metal title-track with a similarly heavy "Fast Times At Ridgemont High."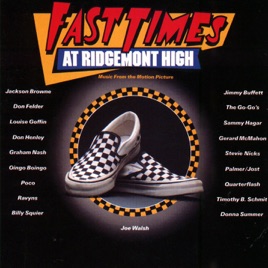 Fast Times At Ridgemont High (Music from the Motion Picture)
Various Artists
EDITORS' NOTES
Many credit the soundtrack for 1982's Fast Times At Ridgemont High to be the first great rock 'n' roll-based soundtrack of the '80s (on par with Heavy Metal at least) with contributions by Sammy Hagar, Stevie Nicks and Don Felder. Fast Times leans harder on pop — most notably with its infectious opening hit single "Somebody's Baby" by Jackson Browne. Paying tribute to the iconic checkerboard, waffle-treaded, slip-on Vans shoes gracing the cover (and the feet of Sean Penn's character Jeff Spicoli), Joe Walsh follows with the slick boogie of "Waffle Stomp" before Ravyns "Raised On Radio" provides a nugget that's equal parts classic-rock and power-pop. Although the Go-Go's "We Got the Beat" is curiously absent (it punctuated the teen scene at Ridgemont Mall), their Farfisa organ-laden "Speeding" turns up before Jimmy Buffett's "I Don't Know (Spicoli's Theme)" cooks up some tasty rock. Hagar recalls his Heavy Metal title-track with a similarly heavy "Fast Times At Ridgemont High."
TITLE
TIME

Somebody's Baby

Jackson Browne

4:03
3:42
4:07

Uptown Boys

Louise Goffin

3:04

So Much In Love

Timothy B. Schmit

2:19
3:45

The Look In Your Eyes

Gerard McMahon

3:49
2:13

Don't Be Lonely

Quarterflash

3:15

Never Surrender

Don Felder

4:25

Fast Times (The Best Years of Our Lives)

Billy Squier

3:41

Fast Times At Ridgemont High

Sammy Hagar

3:36

I Don't Know (Spicoli's Theme)

Jimmy Buffett

3:05

Love Is the Reason

Graham Nash

3:28

I'll Leave It Up to You

Poco

3:04

Highway Runner

Donna Summer

3:24

Sleeping Angel

Stevie Nicks

4:42

She's My Baby (And She's Outta Control)

Palmer/Jost

2:54

Goodbye, Goodbye

Oingo Boingo

3:54
19 Songs, 1 Hour, 6 Minutes

℗ 1982 Elektra Records for the United States and WEA International for the world outside of the United States.
Ratings and Reviews
An Audio Time Capsule
I loved the movie when I was a very young teen. It had everything, stoners, geeks, freaks, chicks who really dug carrots and the boy who really loved Phoebe's bazoombas. The songs on this CD bring the the memories of the movie and that time back all over again. I wonder if those actors ever went on do to anything else,especially that Spicoli dude. *grins*
Totally awesome
Great album, brings back memories from a tubular time!
Rock on!!
This movie totally frickin rules!! One of the best movies of ALL TIME!! Spacolli rules!!