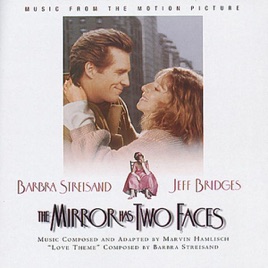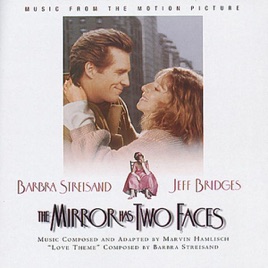 The Mirror Has Two Faces (Music from the Motion Picture)
TITLE
TIME

The Mirror Has Two Faces (Soundtrack)

3:44

The Mirror Has Two Faces (Soundtrack)

2:31

The Mirror Has Two Faces (Soundtrack)

0:43

The Mirror Has Two Faces (Soundtrack)

2:36

The Mirror Has Two Faces (Soundtrack)

0:42

The Mirror Has Two Faces (Soundtrack)

1:13

The Mirror Has Two Faces (Soundtrack)

1:51

The Mirror Has Two Faces (Soundtrack)

1:07

The Mirror Has Two Faces (Soundtrack)

0:31

The Mirror Has Two Faces (Soundtrack)

1:10

The Mirror Has Two Faces (Soundtrack)

1:33

The Mirror Has Two Faces (Soundtrack)

3:22
3:11

The Mirror Has Two Faces (Soundtrack)

1:01

The Mirror Has Two Faces (Soundtrack)

1:08

The Mirror Has Two Faces (Soundtrack)

0:47
3:06

The Mirror Has Two Faces (Soundtrack)

1:47

The Mirror Has Two Faces (Soundtrack)

3:15

The Mirror Has Two Faces (Soundtrack)

0:55

The Mirror Has Two Faces (Soundtrack)

1:28

The Apology / Nessun Dorma

Luciano Pavarotti & The Mirror Has Two Faces (Soundtrack)

3:16

I Finally Found Someone (Duet with Bryan Adams)

Barbra Streisand

3:41
3:36
24 Songs, 48 Minutes
Released:

Oct 15, 1996

℗ 1996 Sony Music Entertainment Inc.
Ratings and Reviews
Rent the movie!
I loved this movie and the music to go with it was brilliant. Marvin Hamlisch writes a beautiful score in which you can hear the love theme through out the movie, a recurring and playful melody. The songs "Nessun Dorma" and "I Finally Found Someone" are definatley a must have. With Barbra Streisand involved in so many aspects of the movie, it's no wonder that the soundtrack matches its' brilliance!
There really is nobody else like her, so enjoy the soundtrack!
Horrible!!!!!!!
This is the worst soundtrack EVUR!!
I Wouldn't Say It's Bad...
The theme for this film is a bit reoccurring and the finished effort has a sameness to it. There is a small roster of guest artists, David Sanborn, Pavarotti belting the brief "Nessun Dorma" and Bryan Adams on the hit song "I Finally Found Someone." "All My Life" is a Barbra solo song that uses the same melody as "I Finally Found Someone," in fact it's that melody that is the reoccurring theme throughout this soundtrack. The mastering of this disc isn't really that good, especially for 1996 when digital mastering was reaching it's zenith.
About Marvin Hamlisch
First emerging in the mid-'70s, Marvin Hamlisch was one of the top composers in film, theater, and popular music. As holder of numerous gold record awards for his soundtrack and cast recordings, and the composer of some of the most well-known songs ever cut by Barbra Streisand and Lesley Gore, among many others, he was among the few "stars" in the world of popular music, composition, and songwriting to achieve major public recognition after the emergence of rock music in the '60s.

Born in New York in 1944, Marvin Hamlisch grew up on Manhattan's Upper West Side. His father was an accordionist and bandleader specializing in dance music and Hamlisch showed a fascination with music at an early age. At age five, Hamlisch was mimicking the music he heard on the radio on the piano, and he began lessons a year later. At age seven, he auditioned for the Juilliard School of Music by transcribing the then-current hit "Goodnight Irene" into different keys spontaneously, on demand from the panel judging him. He was accepted, becoming the youngest student in Juilliard's history; he later graduated from Queens College in New York.

In his teens, Hamlisch's performing talent seemed to beckon a career in the concert hall, but he proved psychologically unsuited to being a concert pianist, owing to terrible anxiety that proved difficult to overcome as a boy. He turned instead to composition, an activity that he had always pursued privately. While still at Juilliard, he worked as a music counselor at an upstate camp, where some of his songs were performed; one of the songs he originally wrote for a show at the camp, "Travelin' Man," was recorded by Liza Minnelli on her debut album. However, Hamlisch's first hit came when he was 21 years old, from Lesley Gore, in the form of "Sunshine, Lollipops and Rainbows," which rode the Billboard charts for 11 weeks in 1965, peaking at number 13. (The song, in Lesley Gore's version, later figured prominently in a Simpsons episode parodying the film Thelma & Louise when the police chief puts some chase music on in his cruiser).

Minnelli helped Hamlisch land a spot as the arranger on the Broadway productions of Funny Girl and Fade In -- Fade Out, and it was in that capacity that he first made his way in the theater world. On Henry, Sweet Henry and later on Golden Rainbow, he arranged the dance music, while he also served as the rehearsal pianist for The Bell Telephone Hour on television.

Hamlisch broke into the movie business as a result of a party he attended where he overheard producer Sam Speigel saying that he needed music for a film adaptation of John Cheever's story The Swimmer. Hamlisch went to work on his own and presented the producer with a main theme and was engaged to do the score for the movie. He subsequently entered the orbit of Woody Allen during the latter's early days in cinema, writing the music for Allen's debut film, Take the Money and Run (1969), and his second movie, Bananas (1971). Hamlisch's other early film music efforts involved such movies as The April Fools, Save the Tiger, Move, Kotch, and Fat City, films that were more interesting to the critics than to the public, in terms of their impact -- his song from Kotch, "Life Is What You Make It," was also nominated for an Academy Award in 1971. He would have to wait a few years to become known by the public for his film music, but Hamlisch remained active in theater, writing the incidental music and dance arrangements for the musical comedy Minnie's Boys, a feature based on the early careers of the Marx Brothers. His connection with the Marxes became much closer when Hamlisch was chosen by Groucho Marx to be his pianist and straight man (sort of the successor to George Fenneman) in his stage act, which he brought to night clubs and college campuses.

The mid-'70s would prove to be Hamlisch's heyday as a composer and a major force in popular culture. In 1973, Hamlisch was engaged to score The Way We Were, a high-profile romantic drama starring Barbra Streisand and Robert Redford. Streisand initially balked at using Hamlisch's title song (authored with lyricists Marilyn and Alan Bergman); it became one of the singer's biggest chart hits, her first million-selling single, and one of her most recognizable songs. Not only did the song win the Oscar, but so did Hamlisch's entire score.

Having generated one of the biggest movie-related pop hits of the first half of the decade, Hamlisch pulled off an even more prodigious feat the next year with his score for The Sting. Built on the music of Scott Joplin, the music from The Sting helped spearhead a whole revival of interest in Joplin's work, which resulted not only in a hit album for Hamlisch (The Entertainer) but huge sales for rival recordings of Joplin's music by figures such as Joshua Rifkin, among others. Hamlisch also won his second Oscar for The Sting.

Hamlisch also ventured into composing music for television in 1975 with his theme music for two series that illustrated the range of the medium's vision at the time: Beacon Hill, a highly derivative series inspired by the success of the British class system drama Upstairs, Downstairs, and The Hot L Baltimore, an envelope-ripping sitcom (adapted from a play) about life at a seedy hotel populated by characters who, at the time, would have come from the wrong sides of most viewers' tracks. Neither lasted, but Hamlisch made a more significant contribution to the small screen in 1976 when he wrote the music for the NBC adaptation of John Osborne's The Entertainer, starring Jack Lemmon.

That same year, Hamlisch scored perhaps the biggest hit of his career with A Chorus Line, his very first attempt at writing a Broadway musical, co-authored with lyricist Edward Kleban. Opening on Broadway in May of 1975, it became the most successful musical of the decade, winning multiple awards in the bargain and running well into the '90s. One of the score's songs, "What I Did for Love," has been recorded hundreds of times by artists including Johnny Mathis, Kenny Rogers, Jim Nabors, and the Three Degrees. Hamlisch chose that point in his career to try and revive his performing career with a cabaret act that played well throughout the country and as a pianist in appearances with some of the country's major orchestras.

In between his performing career and his writing for the stage and screen, Hamlisch managed to work in appearances on albums by such diverse figures as Aretha Franklin, the Carpenters, and Peter Allen, among many others. Hamlisch scored another hit as a composer, albeit not of the dimensions of A Chorus Line, with They're Playing Our Song. Co-written with his wife, Carole Bayer Sager, it was a semi-autobiographical musical about a married songwriting team, which yielded a hit cast album as well. The couple also won an Oscar nomination for the song "Nobody Does It Better," written for the James Bond movie The Spy Who Loved Me (1977) and a Top Five hit single for vocalist Carly Simon. The early '80s saw Hamlisch as busy as ever, writing the music to the Neil Simon comedies Chapter Two, Seems Like Old Times, and I Ought to Be in Pictures, and the score for the dramatic period musical film Pennies from Heaven, as well as playing on his wife's albums. His music for the films Sophie's Choice, Ice Castles ("Through the Eyes of Love"), Same Time Next Year ("The Last Time I Felt Like This"), and Shirley Valentine ("The Girl Who Used to Be Me") was also nominated for Academy Awards. Hamlisch was somewhat less visible as a composer in terms of new work after the early '80s, but was a producer and arranger for recordings by John Williams and the Boston Pops Orchestra, Liza Minnelli, and Barbra Streisand in the '90s, among others. He continued to work with musical productions and as a conductor of many U.S. symphony orchestras until his death on August 6, 2012, a week before he was to be named Principal Pops Conductor of the Philadelphia Orchestra. ~ Bruce Eder
ORIGIN

New York, NY

GENRE

BORN

June 2, 1944