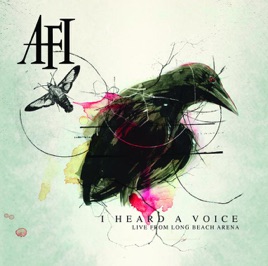 EDITORS' NOTES
AFI's December 2006 appearance at Long Beach Arena in California was the biggest show the veteran band had played up to that time. More than 13,000 fans filled the stadium. Since breaking through to mainstream rock radio, AFI had mastered the art of the big rock song, and tracks like "Girl's Not Grey," "The Leaving Song Pt. II," and "Silver and Cold" were tailor-made for this setting. Here, the songs electrify the gigantic venue, and this audio recording perfectly captures the waves of crowd noise as the massive audience sings along to each big hit. Though the setlist primarily draws from the group's post-2003 albums, earlier songs feel particularly epic in this environment. For example, "The Days of the Phoenix" plays like a passionate punk anthem for a crowd united underneath the dark and scary backdrop of the 2000s. Lead vocalist Davey Havok proves inexhaustible in this setting, even as each new song seems to demand every ounce of his energy. Special credit should likewise be given to guitarist Jade Puget, whose brilliant guitar work jumps from the surface of "Dancing Through Sunday."
EDITORS' NOTES
AFI's December 2006 appearance at Long Beach Arena in California was the biggest show the veteran band had played up to that time. More than 13,000 fans filled the stadium. Since breaking through to mainstream rock radio, AFI had mastered the art of the big rock song, and tracks like "Girl's Not Grey," "The Leaving Song Pt. II," and "Silver and Cold" were tailor-made for this setting. Here, the songs electrify the gigantic venue, and this audio recording perfectly captures the waves of crowd noise as the massive audience sings along to each big hit. Though the setlist primarily draws from the group's post-2003 albums, earlier songs feel particularly epic in this environment. For example, "The Days of the Phoenix" plays like a passionate punk anthem for a crowd united underneath the dark and scary backdrop of the 2000s. Lead vocalist Davey Havok proves inexhaustible in this setting, even as each new song seems to demand every ounce of his energy. Special credit should likewise be given to guitarist Jade Puget, whose brilliant guitar work jumps from the surface of "Dancing Through Sunday."
| | TITLE | | TIME |
| --- | --- | --- | --- |
| | | | |
| | | | |
| | The Leaving Song, Pt. 2 (Live) | | |
| | | | |
| | | | |
| | The Days of the Phoenix (Live) | | |
| | Endlessly, She Said (Live) | | |
| | | | |
| | | | |
| | | | |
| | | | |
| | Dancing Through Sunday (Live) | | |
| | This Time Imperfect (Live) | | |
| | | | |
| | | | |
| | | | |
| | God Called In Sick Today (Live) | | |
| | | | |
18 Songs, 1 Hour 9 Minutes
Released:

Jan 1, 2007

℗ 2007 Interscope Records
Ratings and Reviews
R-E-S-P-E-C-T to AFI
Although the production quality of AFI's albums has ramped up remarkably over the years, the band has gratefully not given up and relied upon mixers rather than effort and musicianship. This live album exemplifies the bandmembers' passion for music and their performance energy. The only qualm I can voice about the album is the overpowering fan screaming in every song; it tends to mar the guitar work to a significant degree. Nevertheless, the album is a strong effort.
surprised but pleased
I have heard a number of AFI songs on the radio, but never really been a fan. However my respect for them has increased greatly since hearing the quality of this live album. Any artist these days who can put on a live performance that challenges that of the studio version is fine by me. I am most surprised and very pleased. Hopefully we can hear great live performances out of other artist as well, and not just the over edited stuff that's on cd's. A live performance shows a bands true talent, and I think AFI passed with flying colors.
I wish they had the video of it.
I have this whole concert on my iPod. They're even better live than recorded. They're so spirited onstage!!!