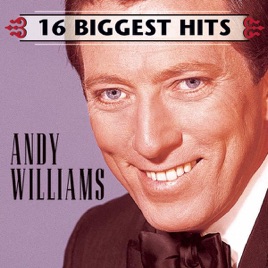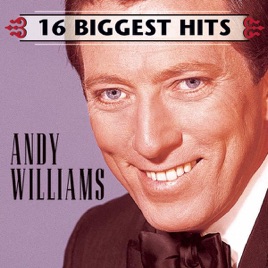 16 Biggest Hits: Andy Williams
| | TITLE | | TIME |
| --- | --- | --- | --- |
| | | | 2:22 |
| | | | 2:36 |
| | | | 2:28 |
| | | | 2:37 |
| | | | 2:42 |
| | The Village of St. Bernadette | | 3:18 |
| | | | 2:44 |
| | Can't Get Used to Losing You | | 2:22 |
| | | | 2:45 |
| | | | 2:53 |
| | Quiet Nights of Quiet Stars (Corcovado) | | 3:00 |
| | | | 2:52 |
| | | | 2:34 |
| | (Where Do I Begin) Love Story | | 3:10 |
| | | | 2:32 |
| | | | 2:59 |
16 Songs, 43 Minutes
Released:

Jun 27, 2000

℗ Originally released 1957, 1958, 1959, 1962, 1963, 1964, 1965, 1966, 1967, 1969, 1971, (P) 1972, 2000 Sony Music Entertainment Inc.
Ratings and Reviews
Andy Williams Yes
Music to watch girls go by is such a good song.
Andy Williams - 16 Biggest Hits
Andy Williams is timeless. His smooth and soaring voice can take the listener on a musical voyage that few other artists are capable of. Aside from his iconic Moon River, my favorites are (Where Do I Begin) Love Story and The Second Time Around (not on this collection). He has many many more than 16 "greats" but this is an excellent collection. Andy Williams is an American treasure.
About Andy Williams
An engaging crooner, TV personality, and entrepreneur, Andy Williams was one of the most bankable and popular singers of his era. With his laid-back delivery, supple voice, and amiable charm, Williams rode a wave of success that took him from a childhood vocal act with his brothers to worldwide fame as a solo artist, eventually finding latter-day success as a theater impresario in Branson, Missouri. Though he started out as a crooner in the post-Frank Sinatra style, his wide-ranging taste in music (as evidenced by the guests on his '60s variety show) found him embracing artists and songs across generational and stylistic boundaries; and he can be heard on record interpreting songs that range from traditional pop to rock to bossa nova, country, and beyond. From the pre-rock & roll era onward, Williams was one of the most recognizable singers of his day.

Born in Wall Lake, Iowa, Williams sang in his church choir and later formed a quartet with his three brothers. The group performed on radio throughout the Midwest, then moved to Los Angeles to make it in show business. The Williams Brothers Quartet appeared on Bing Crosby's 1944 hit "Swinging on a Star" and appeared with comedienne Kay Thompson during the late '40s.

Andy Williams finally began his solo career in 1952, making several appearances on Steve Allen's The Tonight Show before signing a contract with Archie Bleyer's Cadence Records in 1955. He hit the Top Ten in 1956 with his third single for the label, "Canadian Sunset." One year later, his soft-toned cover of the Charlie Gracie rockabilly nugget "Butterfly" hit number one (it's still his biggest hit). Additional Top Ten entries "Are You Sincere," "Lonely Street," and "The Village of St. Bernadette" followed before Williams moved to Columbia in 1961.

Despite another big hit in 1963, "Can't Get Used to Losing You," Williams failed to generate much action on the singles charts during the 1960s. Instead, his highly rated variety program on NBC-TV spurred interest in the ever-growing LP market for adult and middle-of-the-road audiences. The popular 1962 album Moon River & Other Great Movie Themes featured the song he's most identified with, and the following year's Days of Wine and Roses hit the top of the album charts. Nine more LPs hit the Top Ten for Andy Williams during the '60s, many organized around loose themes -- Broadway, ballads, and one album that featured members of his family. Though 1971's Love Story was a platinum success that sparked a Top Ten hit for the title song, his television show was canceled that year.

Andy Williams remained very popular during the '70s, especially for British audiences. His single "Solitaire" hit the Top Ten there in 1973, though it didn't even chart in America. Two of his subsequent albums also performed well, but only in Britain. He released relatively few LPs during the 1980s, but returned to the pop world in the early '90s when he founded his own theater/resort in the home-grown entertainment capital of Branson, Missouri. Williams continued to headline shows there for 20 years, although he announced from its stage during a Christmas 2011 show that he had been diagnosed with cancer. It finally took his life on September 25, 2012. ~ John Bush
ORIGIN

Wall Lake, IA

GENRE

BORN

December 3, 1928