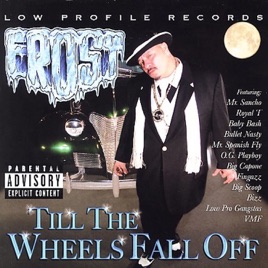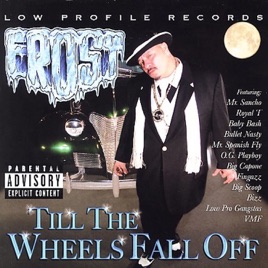 Till the Wheels Fall Off
Frost
| | TITLE | | TIME |
| --- | --- | --- | --- |
| | | | |
| | Down Your Block (Feat. Fingazz) | | |
| | Take a Ride (Feat. Mr. Sancho, Bullet Nasty) | | |
| | Baby Girl (Feat. Mr. Sancho, Baby Bash) | | |
| | City of Angels (Feat. Fingazz, Big Scoop) | | |
| | I Need Your Love (Feat. Mr. Sancho, Fingazz) | | |
| | In the Back of My Low Low (Feat. Big Capone, Fingazz | | |
| | | | |
| | Para Mi Familia (Feat. Mr. Sancho) | | |
| | If You Leave Me (Feat. Mr. Sancho) | | |
| | Ride With Me (Feat. Mr. Sancho, Bizz) | | |
| | | | |
| | Going Down (Feat. Big Scoop, Fingazz) | | |
| | Eastside Rendevouz (Feat. Royal T, O.G Playboy) | | |
| | Www.Lowplofilerecords.Com Mix | | |
15 Songs, 54 Minutes
Released:

Sep 26, 2006

℗ 2013 Low Profile Records, Inc.
About Frost
Frost -- originally known as Kid Frost -- was a pioneer in the field of Latin hip-hop, cutting some of its very first records and helping to bring exposure to other bilingual MCs. Frost was born Arturo Molina Jr. on May 31, 1964; while he spent some time with his family on military bases in Guam and Germany, he was raised primarily in East L.A. He started rapping in 1982, and became an accomplished breakdancer as well, joining the top-notch Uncle Jamm's Army crew. He adopted the name Kid Frost in tribute to Ice-T, whom he often battled at parties and clubs as the West Coast hip-hop scene was first taking shape. During this era, he released several 12" singles, including "Rough Cut" (with N.W.A's DJ Yella) and "Terminator." He subsequently left rap for a time, but returned in the late '80s, when he hooked up with producer/DJ Tony G (born Gonzales). Their collaboration on the 1990 single "La Raza" broke Kid Frost to a wide audience, and became a much-loved anthem for Chicano hip-hop fans. Paced by his smooth, laid-back flow, his good-time debut album, Hispanic Causing Panic, was released on Virgin that year, and was one of the first full-lengths in Latin hip-hop history, along with Mellow Man Ace's Escape From Havana the preceding year.

In the wake of "La Raza," Kid Frost assembled a collective of bilingual rappers dubbed Latin Alliance, which also featured A.L.T., Lyrical Engineer, and Markski; the group released its lone album in 1991. The following year, Kid Frost issued his second album, East Side Story, a loose concept record that spun off the singles "No Sunshine" and "Thin Line." Virgin subsequently dropped him, however, and after shortening his name to the more mature Frost, he signed with Eazy-E's Ruthless label shortly before the rapper's untimely death from AIDS. 1995's Smile Now, Die Later reinvented Frost as a hardcore urban rapper rhyming over Latin-inflected G-funk beats. It became his first album to reach the Top 40 of the R&B charts, and the single "East Side Rendezvous" was a minor success. Frost followed it up in 1997 with When HELL.A. Freezes Over, but subsequently parted ways with Ruthless. He resurfaced on the smaller independent label Celeb, where he released two albums, That Was Then, This Is Now, Vols. 1 & 2, over 1999-2000. Still active over a decade after his debut album, Frost released the aptly titled Still Up in This S#*+! on the indie label Hit-a-Lick in 2002; it was later picked up by Koch for distribution. The same year, he masterminded a compilation of Latino rappers for 40 Ounce Records titled Raza Radio. Since that time, he has released two albums under his name including Welcome to Frost Angeles in 2005 and Till the Wheels Fall Off in 2006. ~ Steve Huey
HOMETOWN

East Los Angeles, CA

GENRE

BORN

May 31, 1964
Millions of songs.
Zero ads.
New subscribers only. Plan automatically renews after trial.