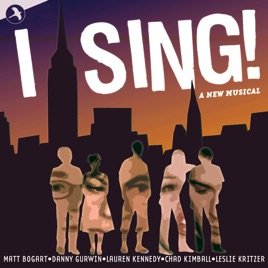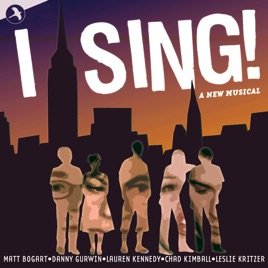 I Sing! (The York Theatre Production)
Various Artists
TITLE
TIME

Chad Kimball, Danny Gurwin, Lauren Kennedy, Leslie Kritzer & Matt Bogart

7:40

I Won't Let It Happen to Me

Matt Bogart

0:58

Chad Kimball, Leslie Kritzer & Matt Bogart

3:05

Leslie Kritzer

0:54

Danny Gurwin & Lauren Kennedy

4:20

How Do You Love a Girl Like That?

Matt Bogart

3:04

Lauren Kennedy, Leslie Kritzer & Matt Bogart

5:09

Chad Kimball

3:03

Danny Gurwin

1:11

Danny Gurwin, Lauren Kennedy & Matt Bogart

3:44

The Dressing Room Shuffle

Chad Kimball & Leslie Kritzer

3:00

Danny Gurwin & Lauren Kennedy

3:02

Chad Kimball

0:42

Leslie Kritzer

3:30

Chad Kimball, Danny Gurwin, Lauren Kennedy, Leslie Kritzer & Matt Bogart

9:32

It's Just a Little Awkward

Chad Kimball, Danny Gurwin, Lauren Kennedy, Leslie Kritzer & Matt Bogart

4:31

Chad Kimball & Leslie Kritzer

2:53

Danny Gurwin & Matt Bogart

6:47

Two Days Later / Daddy's Girl

Chad Kimball & Leslie Kritzer

3:51

Chad Kimball & Danny Gurwin

5:10

Lauren Kennedy

3:02

Danny Gurwin & Lauren Kennedy

1:32

Chad Kimball, Leslie Kritzer & Matt Bogart

4:03

Leslie Kritzer & Matt Bogart

1:13

Matt Bogart

3:32

Chad Kimball, Danny Gurwin, Lauren Kennedy, Leslie Kritzer & Matt Bogart

2:21
26 Songs, 1 Hour, 31 Minutes

℗ 2004 JAY Productions Ltd.
I Sing makes me want to sing!
I havent seen the actual theatre production but from this soudtrack I know that its good. To me its really original, but if I had to compare it to something I'd say its like RENT but without the AIDS but still I little riscay. Regardless if you like muscials this is a must.
FINALLY
ahhh i am so excited! yesss!
I Sing!
This musical is amazing. You really do need to listen to the whole soundtrack to get the jist of the show. I started out by just buying I Sing. I soon began to crave the rest of the soundtrack. It is well worth the money.