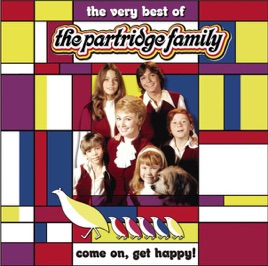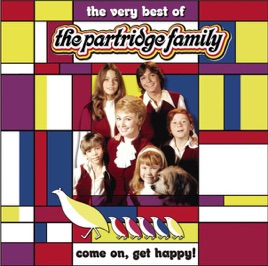 Come On Get Happy! The Very Best of the Partridge Family
| | TITLE | TIME | PRICE |
| --- | --- | --- | --- |
| | David Cassidy | 1:05 | Album Only |
| | | 2:53 | $0.99 |
| | I Woke Up In Love This Morning | 2:42 | $1.29 |
| | Baby I Love, Love, I Love You | 2:22 | $1.29 |
| | Point Me In the Direction of Albuquerque | 3:51 | $1.29 |
| | I Can Feel Your Heartbeat | 2:06 | $1.29 |
| | | 3:05 | $1.29 |
| | | 2:44 | $1.29 |
| | | 2:51 | $1.29 |
| | | 2:38 | $1.29 |
| | | 3:52 | $1.29 |
| | | 2:20 | $1.29 |
| | Doesn't Somebody Want to Be Wanted | 2:49 | $1.29 |
| | Looking Through the Eyes of Love | 3:06 | $1.29 |
| | It's One of Those Nights (Yes Love) | 3:36 | $1.29 |
| | | 2:23 | $1.29 |
| | | 2:40 | $1.29 |
17 Songs

℗ 1974, 2005 Arista Records LLC.
Customer Reviews
Partridge Classics
This hit's collection is perfect for any Partridge fan, like myself.
Great, Classic
Ok these guys and girls are great, Ok i'm 14 and i love them!!!! BUY IT!!! "I think I love you" is the best song by them MUST BUY!
About The Partridge Family
The Partridge Family was the '70s successor to the Monkees. Both were totally fictional rock/pop "bands" produced by Screen Gems, the television branch of Columbia Pictures. While the Monkees (TV series and band concept) were styled as mid-'60s counter-culture zaniness à la the Beatles' film Hard Days Night, the Partridge Family was strictly wholesome with traditional family values despite the lite quasi-hip tone of the show. The top-rated series first-aired on ABC from 1970 to 1974, premiering September 25, 1970. Besides the face and voice of David Cassidy ,one of the other draws of the show was the uncanny deadpan timing of Danny Bonaduce as Danny Partridge and the simmering neurosis of the group's manager Reuben Kincaid as played by Dave Madden. When sharing a scene together, the two were hysterical.

Starring stage and screen veteran Shirley Jones and then up-and-coming actor David Cassidy, The Partridge Family was loosely based on real-life family pop/rock band the Cowsills ("Hair," "The Rain, The Park & Other Things," "Indian Lake," "Love American Style"). The other Partridge siblings were Susan Dey as Laurie, Suzanne Crough as Tracy, and Jeremy Gelbwaks as Chris during the first season. Gelbwaks' parents felt uncomfortable with the ensuing mania that surrounded the show and took the youngster out of the cast. He was replaced in the role by Brian Foster. The only members of the cast heard on the records are lead vocalist Cassidy and Shirley Jones on background vocals. All of the Partridge Family records were originally released on Bell Records. The harmonies on the Family's records were quite similar to another Bell act, the 5th Dimension.

As crucial as Cassidy proved to the success of the show, it may come as a surprise that the producers were skeptical about hiring him because they were wary of the fact that Shirley Jones was his stepmother. Jones assured them that she and Cassidy were on good terms. At the height of the show's popularity, Cassidy received 30,000 letters per week.

In the premiere episode, the Partridge siblings ask their mom Shirley to help them make a record label demo. Recording "I Think I Love You," the family gets signed to a record label and has a number one record their first time out. "I Think I Love You," written by Tony Romeo and producer by Wes Farell, actually did become a number one million-selling pop hit, holding down the spot for three weeks beginning November 21, 1970.

Other Partridge Family hits were: "Doesn't Somebody Want to Be Wanted," another million-seller hitting number six pop in early 1971; "I'll Meet You Halfway," which hit number nine pop in spring 1971; and "I Woke Up in Love This Morning" from summer 1971. Besides "Breaking Up Is Hard to Do," none of the other Partridge Family singles broke the Pop Top 30. The huge album sales were fueled by the show's practice of fully featuring two songs per episode. As with the Monkees, top L.A. session players the Wrecking Crew (bassist Joe Osborn, drummer Hal Blaine, and keyboardist Larry Knechtel) were recruited to play on the Patridge Family hits. The Crew can also be heard on the background music of the TV series.

Though he contributed a song or two to the Partridge Family songbook ("Love Is All That I Ever Needed"), Cassidy felt creatively stifled and wanted to have a musical identity outside of the show. Getting a deal with Bell, his first solo single,"Cherish," was a number nine pop million-seller and hit number one on the adult contemporary charts in November 1971.

The Cherish LP was released around February 1972. In the mid-'70s, he signed with RCA Records, though none of the singles charted.

Of course, with a phenomenally successful Top Ten TV show comes the opportunity for a merchandising bonanza. There were Partridge Family games, magazines, coloring books, music and paperback books, pillow cases, toy guitars, dolls, lunch boxes, beach towels, paper dolls, and a line of children's clothing, which generated about 500 million dollars in licensing revenue for the studio. With so much money being generated from his visage, Cassidy wanted a piece of the profits. With no provision in the original contract for merchandising revenue sharing, the producers rebuffed his request. In an effort to compensate for this loss and to cash in on his own fame, Cassidy began playing weekend concerts in front of tens of thousands of fans. The exhaustive schedule had Cassidy dragging himself onto The Partridge Family set on Monday mornings. Then a loophole was found in the contract. Since Cassidy was a minor when he signed the contract, the terms were deemed null and void. With this revelation, Cassidy was able to get a more appealing contract, ask for and receive a salary increase, as well as a piece of the merchandising pie, making him the highest paid entertainer of that time. As the show became increasingly popular, Cassidy became more at odds with the squeaky clean image of the Keith Partridge character. To alleviate the dichotomy, Cassidy did a scathing interview in Rolling Stone, basically knocking the show, admitting to his marijuana use and groupie sex. He also posed for a frontal, semi-nude poster that was included in the issue. To no avail, the show's ratings remained high. After four seasons, Cassidy decided to call it quits, and the producers, deciding that there was no show without him, stopped production on the show.

After the run of the series was over, Cassidy appeared in a critically acclaimed episode of the NBC anthology series Police Story. This led to Columbia Television producing David Cassidy: Man Undercover for the network. The combination of bad scripts and inability of some of his fans to not see him as anybody other than Keith Partridge caused the series to be short lived. Despondent over the loss of his father, actor Jack Cassidy, in a penthouse fire on December 11, 1976, and the unresolved issues in their relationship, depleted finances (he made 8 million dollars between 1970 and 1974, by 1980 his assets totaled 100,000 dollars), and his failing career, Cassidy suffered a bout with depression and substance abuse. Having hit rock bottom and through the support of his friends, the entertainer sought professional counseling. Back on track, Cassidy began performing in theater starring in George M. Cohan's Little Johnny Jones in 1981, Joseph and the Amazing Technicolor Dreamcoat in 1983, Blood Brothers with Petula Clark, with his half-brother and former teen idol Shaun Cassidy in Blood Brothers on Broadway, and Time on London's West End. Going back in the recording studio, he recorded a fall 1990 pop hit, "Lyin' to Myself," for Enigma. He wrote and sang the theme song for NBC's The John Larroquette Show and developed a sitcom pilot for Fox, Ask Harriett, that was similar to '80s Tom Hanks/Peter Scolari sitcom Bosom Buddies.

In 1994 Cassidy's memoir "C'mon, Get Happy...Fear and Loathing on the Partridge Family Bus (Warner Books ,out of print) detailed the "sexcapades," his alcohol and drug abuse, and his depression when he was no longer a star. He was most bitter about the money others made from his image. Though in the '90s, he collected residuals on cable channel Nickelodeon's Nick at Nite broadcasts of the show and royalties from Partridge Family records reissued on Razor & Tie.

In 1996, Cassidy landed a two-year contract for the special effects laden Las Vegas musical EFX. He also appeared at the MTV Music Awards with Susan Dey and hosted specials on VH1. He released two albums in the '90s: Didn't You Used to Be..." (Scotti Bros., 1992) and Old Trick, New Dog (Slamajama, 1998). A 1999 tour was scheduled for the entertainer, but it was postponed due to a foot injury he suffered from the physically taxing 1,000-plus performances of EFX.

Most of the cast made guest appearances on other TV shows but eventually drifted into private life. Danny Bonaduce, after much-publicized travails, had a successful career as a radio DJ with stints in Philadelphia, Chicago, and New York. During the mid-'90s, he had his own nationally syndicated talk show, Danny, produced by Columbia Pictures Television. One segment was a Partridge Family reunion sans Cassidy and Dey. Susan Dey starred in the feature films Looker, First Love, various TV movies, and the hit NBC show L.A. Law. On June 18, 1999, Jones received a Lifetime Achievement Award from the Fifth Annual Temecula Valley International Film Festival. That same year, she hosted a Disney Channel special with platinum-selling new age group Mannheim Steamroller, Mannheim Steamroller Meets the Mouse.

Berated by some, just as the Monkees were ("the Fabricated Four," a snide variation of the Beatles' press-tagged nom de plume, the Fab Four) for not being a "real" band, the Partridge Family (the TV show and the record releases) have outlasted their contemporary critics, selling over 25 million records and leaving a lasting legacy of fan clubs and enduring rock/pop/bubblegum music. ~ Ed Hogan
Top Songs by The Partridge Family
See All
Top Albums by The Partridge Family
See All