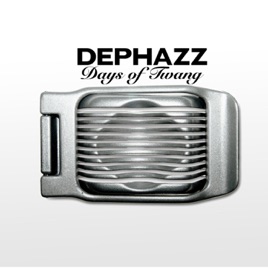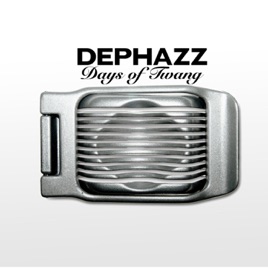 | | TITLE | TIME |
| --- | --- | --- |
| | | 0:32 |
| | | 3:15 |
| | | 3:51 |
| | | 3:14 |
| | | 2:44 |
| | | 2:33 |
| | | 4:15 |
| | | 2:26 |
| | | 3:26 |
| | | 2:02 |
| | | 3:39 |
| | | 1:58 |
| | | 3:12 |
| | | 2:39 |
| | | 3:46 |
| | Devil's Music Reprise #58 | 0:58 |
| | How High the Hat (Monophonic Remix) | 5:28 |
| | Hell Alright (Franksen & Bassface Sascha Remix) | 5:34 |
18 Songs, 55 Minutes

℗ 2007 Kriztal Entertainment
This group is fabulous!
Not exactly, jazz, not exactly trip-hop or even electronica or lounge, but ecclectic and innovative. This album can be played over and over again without ever getting bored, but you WILL go hunting for other music they've created.
Kaleidoscopic Time Travel
I wonder how much more meaningful Days of Twang is to someone who has been with rock n roll from the start. Having heard it all, starting in the early to mid 1950s, it seems to me that Dephazz knows the entire canon and incorporates it all (everything inside and well outside rock n roll)...yet creates something entirely new. And how wonderful is Hell Alright? Totally wonderful. It's at the top of my list this month.
great beats
a fantastic buy... funky, groovy tunes!
About De-Phazz
The prolific and long-running De-Phazz (also known as DePhazz) is a contemporary lounge project led by Peter "Pit" Baumgartner, a German-Austrian producer who has surrounded himself with a shifting cast of collaborators that includes vocalists Barbara Lahr, Karl Frierson, and Pat Appleton. Beginning with Detunized Gravity (1997), Baumgartner and company have explored various forms of lounge music, much of it balancing samples with live instrumentation, with innumerable cross-sections of vintage jazz and soul, easy listening, and Latin music. De-Phazz tracks like "No Jive" and "The Mambo Craze" have appeared on dozens of compilations with "lounge," "chill," and "café" in the title. Though much of the De-Phazz catalog could be termed studio creations, it also contains collaborative, acoustic, and live projects such as Big (recorded with the Radio Bigband Frankfurt, 2009), Naive (2013), and Private (2016). No stranger to outside work, Baumgartner remixed Ella Fitzgerald's "Wait 'til You See Him" for the first Verve Remixed compilation, as well as tracks by the likes of Kool & the Gang, a-ha, and Blank & Jones. ~ Andy Kellman