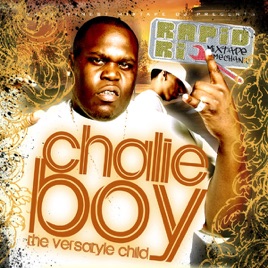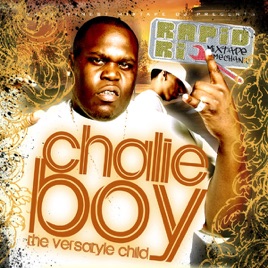 | | TITLE | TIME |
| --- | --- | --- |
| | | 2:41 |
| | | 1:35 |
| | | 1:33 |
| | | 2:55 |
| | | 0:27 |
| | | 4:36 |
| | | 3:40 |
| | | 2:31 |
| | | 3:47 |
| | | 5:21 |
| | | 0:32 |
| | | 3:02 |
| | | 3:14 |
| | | 3:20 |
| | | 4:02 |
| | | 3:35 |
| | | 3:48 |
| | | 1:13 |
| | | 4:11 |
| | | 4:18 |
| | | 4:57 |
| | | 1:12 |
| | | 4:36 |
| | | 2:55 |
24 Songs, 1 Hour, 14 Minutes

℗ 2006 Dirty 3rd Records
this CD is a must have TEXAS classic
chalie boy is the most underestimated rapper from the south. He is the next Big Moe, but way sicker. THis FOOL CAN RAP. Rapid Ric brings the mixtape mechanix to a whole new level.
HOLL ON
DIS IS TIGHT BUT ITUNES 4REALS YALL SLACKIN HE GOTS MORE THAN 1 CD YALL NEED GET THA REST K
Chalie Boy
From the D-Town to H-Town and all my texas swangers, this is it for us boys man, chalie boy is the next one to step up to plate and feel that r&b vibe the Big Moe(RIP) has been providing us for the years. These dude can hold a note and can flow. I do agree that Itunes need to step their game up and put out more his cd and not just him the whole Texas movement. I agree the whole cd to me is great especially if you got the thump in your trunk then Bumpa Grill is the perfect track, plus I know its not on here, but if you want something get you right with the ladies play Fuc'n you track it has real nice old school slow jam feel to it.
About Chalie Boy
Chalie Boy is a Southern rapper and singer from Central Texas who made his major-label debut in 2009 with the breakout hit single "I Look Good." Born Charles Williams in the vicinity of Calvert (the hometown of his father) and Hearne (the hometown of his mother), two small cities in Robertson County, Texas, he began singing in his church choir at the age of three and cites musical influences that include seminal rappers UGK, Run-D.M.C., and Grandmaster Flash & the Furious Five, as well as blues legends Bobby "Blue" Bland, B.B. King, and Johnnie Taylor. As a rapper, he joined the stable of Dirty 3rd Records in 2000 and initially established himself on the mixtape scene as a member of the Freestyle Kingz. Full-length solo efforts such as Making My Way (2004) and Versatyle Child (2006) paved the way for a major-label recording deal with Battery/Jive. His first single, "I Feel Good," was first popular on the Houston radio station KBXX and the Dallas stations KBFB and KKDA before getting nationwide airplay. As the song became a breakout hit for Chalie Boy, a remix was released featuring well-known Southern rappers Slim Thug, Juvenile, and Bun B. The song eventually peaked at number 20 on Billboard's Hot R&B/Hip-Hop Songs chart. Although Chalie Boy didn't release an album for Jive, he maintained a steady mixtape release schedule with independent titles like Life of an Entertainer (2010), a third volume in his Versatyle Child series (2011), and Chalie (2014). ~ Jason Birchmeier