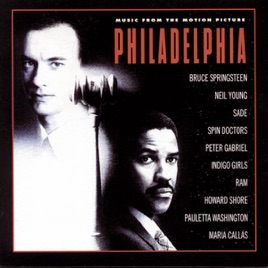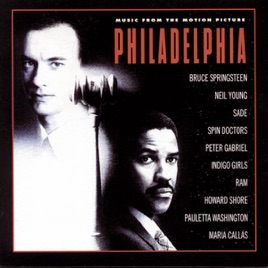 Philadelphia (Music From the Motion Picture)
Various Artists
TITLE
TIME

Streets of Philadelphia

Bruce Springsteen

4:12
5:26

It's In Your Eyes

Pauletta Washington

3:43

Ibo Lele (Dreams Come True)

Ram

4:13

Please Send Me Someone to Love

Sade

3:41

Have You Ever Seen the Rain?

Spin Doctors

2:39

I Don't Wanna Talk About It

Indigo Girls

3:37

La Mamma Morta

Maria Callas

4:48
4:03
4:04
10 Songs, 40 Minutes
Released:

Jan 4, 1994

℗ 1975 EMI Records. 1993 Bruce Springsteen.1993 Sony Music Entertainment (UK) Ltd. 1993, 2008 SONY BMG MUSIC ENTERTAINMENT.
Ratings and Reviews
Neil Young steals it
This album is mainly known for Bruce Springsteen's Academy Award winning song 'Streets of Philadelphia', but Neil Young's 'Philadelphia' steals it. The song is worth the price of album alone. BUY IT NOW
Neil Young, period
I completely agree with the prior review. Neil Young's "Philadelphia" is an amazingly crafted song, and should have won the Academy Award. It captures the sadness, and the humanity with its hauntingly beautiful melody. It sounds simple, but isn't. It truly is worth the price of the album.
Ram Is amazing
Ram's Ibo Lele is the best song on the entire cd, I bought this just for this amazing song