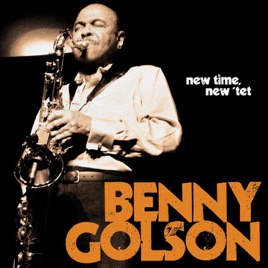 EDITORS' NOTES
Pushing 80, saxophonist and composer Benny Golson leads a new sextet on this pleasing 2009 release. Golson was a key member of Art Blakey & The Jazz Messengers and led the Jazztet with trumpeter Art Farmer in the '60s. New Time, New 'Tet includes originals along with a varied set of covers by composers as different as Thelonious Monk ("Epistrophy"), El Debarge, from the '80s R&B group DeBarge, ("Love Me In a Special Way"), and Giuseppe Verdi ("Verdi's Voice"). The band — trumpeter Eddie Henderson, trombonist Steve Davis, pianist Mike LeDonne, bassist Buster Williams, and drummer Carl Allen — handles Golson's postbop stylings with great aplomb. (Henderson and Williams were both members of Herbie Hancock's Mwandishi-era group, a sextet with a very different sound.) The group's refined-but-not-fussy approach is often low-key, while retaining a bluesy, soulful bite. Golson's arranging skills are on full display on the album's reincarnation of "Gypsy Jingle-Jangle," and the band shows its lush side on the gorgeous ballad, "From Dream to Dream." Special guest Al Jarreau lends his vocals to a version of Golson's often-covered "Whisper Not."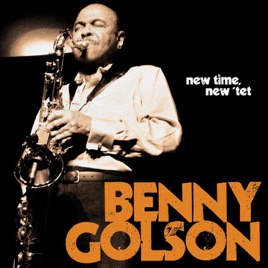 EDITORS' NOTES
Pushing 80, saxophonist and composer Benny Golson leads a new sextet on this pleasing 2009 release. Golson was a key member of Art Blakey & The Jazz Messengers and led the Jazztet with trumpeter Art Farmer in the '60s. New Time, New 'Tet includes originals along with a varied set of covers by composers as different as Thelonious Monk ("Epistrophy"), El Debarge, from the '80s R&B group DeBarge, ("Love Me In a Special Way"), and Giuseppe Verdi ("Verdi's Voice"). The band — trumpeter Eddie Henderson, trombonist Steve Davis, pianist Mike LeDonne, bassist Buster Williams, and drummer Carl Allen — handles Golson's postbop stylings with great aplomb. (Henderson and Williams were both members of Herbie Hancock's Mwandishi-era group, a sextet with a very different sound.) The group's refined-but-not-fussy approach is often low-key, while retaining a bluesy, soulful bite. Golson's arranging skills are on full display on the album's reincarnation of "Gypsy Jingle-Jangle," and the band shows its lush side on the gorgeous ballad, "From Dream to Dream." Special guest Al Jarreau lends his vocals to a version of Golson's often-covered "Whisper Not."
10 Songs, 1 Hour 10 Minutes
Released:

Jan 1, 2009

℗ 2009 Concord Music Group, Inc.
About Benny Golson
Benny Golson is a talented composer/arranger whose tenor playing has continued to evolve with time. After attending Howard University (1947-1950) he worked in Philadelphia with Bull Moose Jackson's R&B band (1951) at a time when it included one of his writing influences, Tadd Dameron on piano. Golson played with Dameron for a period in 1953, followed by stints with Lionel Hampton (1953-1954), and Johnny Hodges and Earl Bostic (1954-1956). He came to prominence while with Dizzy Gillespie's globetrotting big band (1956-1958), as much for his writing as for his tenor playing (the latter was most influenced by Don Byas and Lucky Thompson). Golson wrote such standards as "I Remember Clifford" (for the late Clifford Brown), "Killer Joe," "Stablemates," "Whisper Not," "Along Came Betty," and "Blues March" during 1956-1960. His stay with Art Blakey's Jazz Messengers (1958-1959) was significant, and during 1959-1962 he co-led the Jazztet with Art Farmer. From that point on Golson gradually drifted away from jazz and concentrated more on working in the studios and with orchestras including spending a couple of years in Europe (1964-1966). When Golson returned to active playing in 1977, his tone had hardened and sounded much closer to Archie Shepp than to Don Byas. Other than an unfortunate commercial effort for Columbia in 1977, Golson has recorded consistently rewarding albums (many for Japanese labels) since that time including a reunion with Art Farmer and Curtis Fuller in a new Jazztet. Through the years he has recorded as a leader for Contemporary, Riverside, United Artists, New Jazz, Argo, Mercury, and Dreyfus among others. Returning once again to the spirit of the original Jazztet, Golson released New Time, New 'Tet on Concord Records in 2009. ~ Scott Yanow
HOMETOWN

Philadelphia, PA

GENRE

BORN

January 25, 1929
50 million songs.
Zero ads.
New subscribers only. Plan automatically renews after trial.