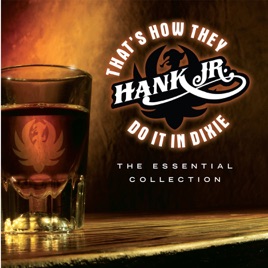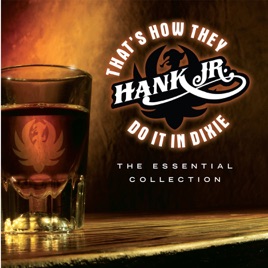 That's How They Do It In Dixie - The Essential Collection
TITLE
TIME

That's How They Do It In Dixie

Big & Rich, Gretchen Wilson, Hank Williams, Jr. & Van Zant

3:16
4:02

All My Rowdy Friends Are Coming Over Tonight

2:58

A Country Boy Can Survive

4:17

Whiskey Bent and Hell Bound

3:10

There's a Tear In My Beer

Hank Williams, Jr. & Hank Williams

2:52

If Heaven Ain't a Lot Like Dixie

2:47
2:43
2:51
3:58
4:42
3:25
12 Songs, 41 Minutes
Released:

Jun 26, 2006

℗ 2006 Curb Records, Inc.
Ratings and Reviews
Wow
I was blow away with a such a magnificent ablum.
ALWAYS A 5 STAR
Hank always gets a 5 star rating from me!! Love all the songs!! Hes the man! Doesn't get anymore downhome than HW,J!!
i want to vomit
my title explains my feelings toward this song.
About Hank Williams, Jr.
The offspring of famous musicians often have a hard time creating a career for themselves, yet Hank Williams, Jr. is one of the few to develop a career that is not only successful, but markedly different from his legendary father. Originally, Hank Jr. simply copied and played his father's music, but as he grew older, he began to carve out his own niche and it was one that owed as much to country-rock as it did to honky tonk. In the late '70s, he retooled his image to appeal both to outlaw country fans and rowdy Southern rockers, and his makeover worked, resulting in a string of Top Ten singles -- including the number one hits "Texas Women," "Dixie on My Mind," "All My Rowdy Friends (Have Settled Down)," "Honky Tonkin'," and "Born to Boogie" -- that ran into the late '80s.

Hank Jr. never was above capitalizing on his father's name, yet his tributes and name-dropping often seemed affectionate, not crass. Also, Bocephus -- as his father nicknamed him when he was a child -- was a passionate cheerleader for patriotic American values; he even wrote a pro-Gulf War song during 1991. All of these actions helped make him an American superstar during the '80s, becoming one of the most recognizable popular culture figures of the era. As new country took over the airwaves in the '90s, Williams slowly disappeared from the charts and his concerts stopped selling as well as they did ten years earlier, yet he retained a devoted core audience throughout the decade.

The son of Hank and Audrey Williams, Hank Jr. was born in Shreveport, Louisiana, in 1949. Less than four years later, his father died, leaving behind a huge legacy. When Hank Jr. was eight years old, Audrey decided to push her son into the spotlight, positioning him as the rightful heir to his father's legacy. Dressed in a white Nudie suit, he would sing Hank Sr.'s biggest hits on package tours, and by the time he was 11, he had made his first appearance on the Grand Ole Opry. After a few years of touring, Hank Jr.'s voice broke in 1963. As soon as his voice changed, Audrey had her son sign a contract with MGM Records.

Hank Jr. recorded his father's "Long Gone Lonesome Blues" as his debut single, and the record was a hit upon its early 1964 release, climbing to number five. Later that year, he sang all the material for the Hank Williams, Sr. biopic Your Cheatin' Heart and starred in the film A Time to Sing. Though he immediately had a hit, he wasn't able to follow it up with another Top Ten hit until 1966, when his self-penned "Standing in the Shadows" reached number five. By that time, he had begun to grow tired of his reputation as a Hank Williams imitator and was trying to create his own style, as "Standing in the Shadows" proved. Following that single, he began to explore rock & roll somewhat, occasionally performing under the name Rockin' Randall.

Despite his half-hearted rock & roll attempts, Williams continued to concentrate on country music, turning out a string of hit singles, including the number one "All for the Love of Sunshine" and a number of inspirational cuts released under the name Luke the Drifter, Jr., a reference to his father's alter ego. Though his career was doing well, Hank Jr. began falling into drug and alcohol abuse after he turned 18 years old. His personal life became progressively more complicated, culminating in a suicide attempt in 1974. Following the attempt, Williams moved to Alabama, where he not only got his life together, but he changed his musical direction as well. Hooking up with Southern rockers like Charlie Daniels and the Marshall Tucker Band's Toy Caldwell, he recorded Hank Williams, Jr. & Friends, which fused hardcore country with rock & roll. Though he wasn't scoring as many hits as he had in the early '70s, his music was becoming more original and focused.

Just as his career was being revived, tragedy beset Williams. While he was climbing a mountain in Montana in 1975, he fell 442 feet down the side of the mountain. His injuries were serious -- his skull was split and his face was crushed -- but he survived. Following extensive reconstructive cosmetic surgery, he had to relearn how to speak and sing. Williams' recovery period lasted a full two years. When he re-emerged in 1977, he aligned himself with the outlaw country movement, as Waylon Jennings produced Hank Jr.'s comeback effort, The New South. It took several years before Williams began to have hits again -- his biggest hit in the late '70s was a cover of Bobby Fuller's "I Fought the Law," which reached number 15 -- but in the final six months of 1979 he had two Top Ten singles, "Family Tradition" and "Whiskey Bent and Hell Bound," which began a virtually uninterrupted streak of 29 Top Ten hits that ran into 1988.

Throughout the '80s, Hank Jr. was one of the most popular, and controversial, figures in country music. Following his image makeover, he appealed primarily to young and rowdy crowds with his hell-raising anthems and jingoistic ballads. Though he had established his own distinctive style, he continued to name-check and pay tribute to his father, and these salutes became as much a part of his act as his redneck rockers. Both the wild music and the party-ready atmosphere of his concerts made Hank Jr. an immensely popular musician and helped him cross over into the rock & roll audience. Williams' career really began to take off in 1981, when he had three number one hits -- "Texas Women," "Dixie on My Mind," and "All My Rowdy Friends (Have Settled Down)" -- and Rowdy began a streak of 15 gold or platinum albums that ran until 1990. During that time, he won several awards, including back-to-back Country Music Association Entertainer of the Year in 1987 and 1988.

By the end of the decade, Hank Jr.'s persona was becoming a little tired, especially in light of the new breed of clean-cut new country singers who had taken over Nashville. Williams could still have a hit -- such as "There's a Tear in My Beer," which was an electronic duet between him and his father -- but by the end of 1990 he was no longer hitting the Top Ten and by the middle of the decade he had trouble reaching the Top 40. Despite his declining record sales, Hank Jr. remained a popular concert draw into the latter half of the '90s, as well as a relatively prolific character in the studio. His string of new albums tapered off in the early 2000s, with 2003's I'm One of You marking his final album for several years. Hank Jr. returned toward the decade's end, however, with 127 Rose Avenue appearing in 2009. Arriving in 2012, Old School New Rules, which featured guest appearances by Brad Paisley and Trace Adkins, was the first release for Williams on his own Bocephus Records, an independent label based in Nashville, and marked how much Williams had taken over control of all aspects of his work and career. Four years later, Williams returned to the big time by signing with Nash Icon -- the subsidiary of Big Machine designed for country heritage acts -- and releasing It's About Time in January 2016. ~ Stephen Thomas Erlewine
ORIGIN

Shreveport, LA

GENRE

BORN

May 26, 1949