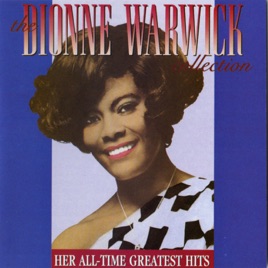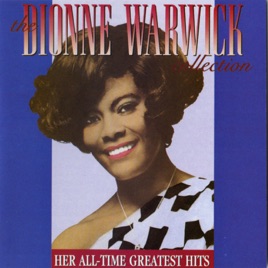 The Dionne Warwick Collection: Her All-Time Greatest Hits
Dionne Warwick
| | TITLE | | TIME |
| --- | --- | --- | --- |
| | | | |
| | | | |
| | | | |
| | | | |
| | You'll Never Get to Heaven If You Break My Heart | | |
| | | | |
| | | | |
| | | | |
| | (Here I Go Again) Lookin' With My Eyes | | |
| | Are You There (With Another Girl) | | |
| | Message to Michael (Message to Martha) | | |
| | Trains and Boats and Planes | | |
| | I Just Don't Know What to Do With Myself | | |
| | | | |
| | | | |
| | | | |
| | | | |
| | Theme from "Valley of the Dolls" | | |
| | Do You Know the Way to San Jose | | |
| | (There's) Always Something There to Remind Me | | |
| | | | |
| | | | |
| | I'll Never Fall In Love Again | | |
| | The Green Grass Starts to Grow | | |
24 Songs, 1 Hour 12 Minutes
Released:

Jan 1, 1989

℗ 2005 Warner Special Products. Manufactured & Marketed by Warner Strategic Marketing
Ratings and Reviews
Bobby Bee on Dionne (My #2)!!
People hear me say that and wonder "his #2?" with all the other singers to pick from DIONNE is his No.2??
Yes! And I'll tell you why... I was brought up in the era of song "interpreters" Jerry Butler, Barry White, Levi Stubbs..and the same applies for my female Top 5 but let's just focus on my Top 3 and I Thank God that I now own MOST of their work..In order..Aretha, Dionne & Patti..moreo nt he other 2 at another time Ms.Warwick YOU'RE MY #2!!
Missing Dionne Warwick Music
Dionne Warwick's Friends album recorded in 1985 is missing from her catalogue of music on iTunes. Why is it not available for purchase? It was an important album when the music was first released.
Dionne Warwick Collection
Ahhh, this brings back fun memories of singing these songs with girlfriends on the front stoop. Or of me trying to sing like Dionne in the mirror with a fake microphone. I love this album...this great album of memories.