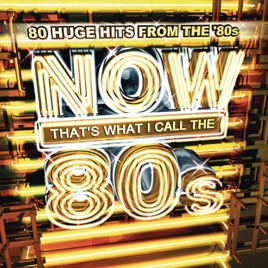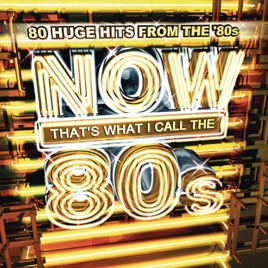 Now That's What I Call the 80s
Various Artists
TITLE
TIME
PRICE

Billie Jean (Single Version)

Michael Jackson

4:52
Album Only

M

4:52
Album Only

Escape (The Pina Colada Song)

Rupert Holmes

4:35
Album Only

Video Killed the Radio Star

The Buggles

3:26
Album Only

Blondie

3:30
Album Only

The Romantics

2:56
Album Only

Hit Me With Your Best Shot

Pat Benatar

2:50
Album Only

Kool & The Gang

3:41
Album Only

REO Speedwagon

3:20
Album Only

Kim Carnes

3:46
Album Only

Rick Springfield

3:13
Album Only

Daryl Hall & John Oates

3:09
Album Only

Billy Squier

3:36
Album Only

Juice Newton

3:23
Album Only

Red Rider

4:21
Album Only

The J. Geils Band

3:35
Album Only

Tommy Tutone

3:43
Album Only

Go Gos

2:31
Album Only

The Human League

3:56
Album Only

The Motels

3:14
Album Only

Steve Miller

3:39
Album Only

Survivor

4:03
Album Only

Missing Persons

4:25
Album Only

A Flock of Seagulls

5:01
Album Only

Toni Basil

4:12
Album Only

The Pointer Sisters

3:53
Album Only

Rock This Town (Single Version)

Stray Cats

3:22
Album Only

Sexual Healing (Single Version)

Marvin Gaye

3:57
Album Only

Toto

4:55
Album Only

I Know There's Something Going On

Frida

4:03
Album Only

Do You Really Want to Hurt Me

Culture Club

4:21
Album Only

Duran Duran

3:24
Album Only

She Blinded Me With Science

Thomas Dolby

5:06
Album Only

Let's Dance (feat. John Frusciante & Maynard James Keenan)

David Bowie

4:07
Album Only

The Tubes

3:55
Album Only

Kajagoogoo

3:41
Album Only

Total Eclipse of the Heart (Single Version)

Bonnie Tyler

4:25
Album Only

The Plimsouls

3:32
Album Only

Spandau Ballet

5:32
Album Only

One Thing Leads to Another

The Fixx

3:14
Album Only

Herbie Hancock

3:40
Album Only

Lionel Richie

4:18
Album Only

Billy Joel

3:14
Album Only

Girls Just Want to Have Fun

Cyndi Lauper

3:48
Album Only

Billy Idol

4:44
Album Only

Kenny Loggins

3:46
Album Only

Berlin

3:50
Album Only

Night Ranger

5:00
Album Only

Dan Hartman

3:49
Album Only

What's Love Got to Do With It

Tina Turner

3:46
Album Only

Corey Hart

3:54
Album Only

John Waite

4:30
Album Only

Wake Me Up Before You Go-Go

Wham!

3:50
Album Only

Animotion

3:58
Album Only

Don't You (Forget About Me)

Simple Minds

6:31
Album Only

Everybody Wants to Rule the World

Tears for Fears

4:06
Album Only

Katrina & The Waves

3:56
Album Only

Heart

3:39
Album Only

Huey Lewis & The News

3:53
Album Only

Ready for the World

3:38
Album Only

Starship

4:54
Album Only

Mr. Mister

4:43
Album Only

Gloria Estefan & Miami Sound Machine

4:13
Album Only

Robert Palmer

4:00
Album Only

Level 42

3:42
Album Only

The Outfield

3:35
Album Only

Higher Love (Single Version)

Steve Winwood

4:14
Album Only

Cameo

4:17
Album Only

The Bangles

3:21
Album Only

Everybody Have Fun Tonight

Wang Chung

4:41
Album Only

(I Just) Died In Your Arms

Cutting Crew

4:43
Album Only

Lisa Lisa & Cult Jam

5:01
Album Only

Whitesnake

4:33
Album Only

Heaven Is a Place On Earth

Belinda Carlisle

4:08
Album Only

Salt-N-Pepa

4:15
Album Only

Breathe

4:17
Album Only

Bobby McFerrin

4:51
Album Only

Poison

4:17
Album Only

Paula Abdul

3:48
Album Only

Great White

5:22
Album Only
80 Songs

℗ 2008 SONY BMG MUSIC ENTERTAINMENT / CAPITOL RECORDS, INC. / VIRGIN RECORDS AMERICA, INC. / UMG RECORDINGS, INC.
Customer Reviews
single purchases
To buy any song that says "album only" nex to it....just click on the ARROW next to the album name...it will take you to the original album where you buy that single song.......(for everyone that get's frustrated with the album only thing..smile)
Album Only!?!?!
I don't want to spend forty bucks for songs I already own to get the two I want on their own. Why iTunes, Why!?!?