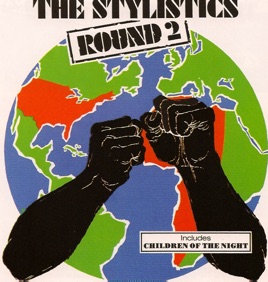 EDITORS' NOTES
The Stylistics cemented their reputation as the prettiest and most affable group on the scene with their 1972 sophomore album, Round 2. "You'll Never Get to Heaven (If You Break My Heart)" and "I'm Stone in Love with You" pick up where the first round of Stylistics hits left off, only this time the songs feel even softer, even cleaner, even catchier. A rendition of Carole King's "It's Too Late" implies that The Stylistics might be soul music's answer to the singer/songwriter movement, although Thom Bell's arrangement dramatizes King's simple tune in ways that she'd probably never envisioned. By the same token, it's not hard to imagine King doing an earthy, piano-driven version of "Break Up to Make Up," which is still one of The Stylistics' best songs. Bell brought moments of cinematic grandeur to likeminded groups like The O'Jays and The Spinners, but The Stylistics were really at their best when guided by nothing more than slow-motion, featherbed harmonies, as on "You're Right as Rain."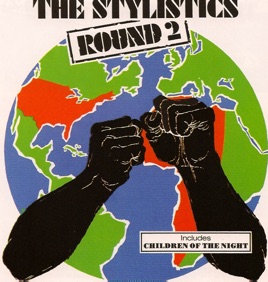 EDITORS' NOTES
The Stylistics cemented their reputation as the prettiest and most affable group on the scene with their 1972 sophomore album, Round 2. "You'll Never Get to Heaven (If You Break My Heart)" and "I'm Stone in Love with You" pick up where the first round of Stylistics hits left off, only this time the songs feel even softer, even cleaner, even catchier. A rendition of Carole King's "It's Too Late" implies that The Stylistics might be soul music's answer to the singer/songwriter movement, although Thom Bell's arrangement dramatizes King's simple tune in ways that she'd probably never envisioned. By the same token, it's not hard to imagine King doing an earthy, piano-driven version of "Break Up to Make Up," which is still one of The Stylistics' best songs. Bell brought moments of cinematic grandeur to likeminded groups like The O'Jays and The Spinners, but The Stylistics were really at their best when guided by nothing more than slow-motion, featherbed harmonies, as on "You're Right as Rain."
| | TITLE | | TIME |
| --- | --- | --- | --- |
| | I'm Stone In Love With You | | |
| | | | |
| | | | |
| | | | |
| | | | |
| | You'll Never Get to Heaven (If You Break My Heart) | | |
| | | | |
| | | | |
| | | | |
| | | | |
10 Songs, 38 Minutes
Released:

Jan 1, 1972

℗ 1972 Amherst Records, Inc.
Ratings and Reviews
They did it again !!
Russell Thompkins...simply great..If you don't know the Stylistics, get to know these gentlemen...their music goes well with a cold beer or a glass of chardonnay !!
Maybe their best regular release
It's hard to settle for a Stylistics studio album when so many compilations offer all the hits from "Round 2" and then some, but if one is seeking the constancy of an album artist, this could be the group's finest half-hour. The extra effort pays off to the point they nearly steal "You'll Never Get to Heaven..." from Dionne Warwick (and Burt Bacharach), and have no trouble establishing credibility with the likes of "Children of the Night". Producer Thom Bell really began to compete with former mentors Gamble & Huff with "Round 2", as he matched their knack for combining dramatically orchestrated R&B with heartfelt vocals and occasional social commentary. Thom Bell and The Stylistics would slowly perfect their strengths during the group's peak, and those successes can be found on multiple greatest-hits offerings, but this is likely the best album effort from a group rightfully known for its radio singles.
What more can be said other than awesome?
This takes me right back to my high school days and I am just as pleased today as I was way back when. Excellent - excellent and more excellent.
About The Stylistics
After the Spinners and the O'Jays, the Stylistics were the leading Philly soul group produced by Thom Bell. During the early '70s, the band had 12 straight Top Ten hits, including "You Are Everything," "Betcha by Golly, Wow," "I'm Stone in Love With You," "Break Up to Make Up," and "You Make Me Feel Brand New." Of all their peers, the Stylistics were one of the smoothest and sweetest soul groups of their era. All of their hits were ballads, graced by the soaring falsetto of Russell Thompkins, Jr. and the lush yet graceful productions of Bell, which helped make the Stylistics one of the most successful soul groups of the first half of the '70s.

The Stylistics formed in 1968, when members of the Philadelphia soul groups the Monarchs and the Percussions joined forces after their respective band dissolved. Thompkins, James Smith, and Airrion Love hailed from the Monarchs; James Dunn and Herbie Murrell were from the Percussions. In 1970, the group recorded "You're a Big Girl Now," a song their road manager Marty Bryant co-wrote with Robert Douglas, a member of their backing band Slim and the Boys, and the single became a regional hit for Sebring Records. The larger Avco Records soon signed the Stylistics, and single eventually climbed to number seven in early 1971.

Once they were on Avco, the Stylistics began working with producer/songwriter Thom Bell, who had previously worked with the Delfonics. The Stylistics became Bell's pet project and with lyricist Linda Creed, he crafted a series of hit singles that relied as much on the intricately arranged and lush production as they did on Thompkins' falsetto. Every single that Bell produced for the Stylistics was a Top Ten R&B hit, and several -- "You Are Everything," "Betcha by Golly, Wow," "I'm Stone in Love With You," "Break Up to Make Up," and "You Make Me Feel Brand New" -- were also Top Ten pop hits.

Following "You Make Me Feel Brand New" in the spring of 1974, the Stylistics broke away from Bell and began working with Van McCoy, who helped move the group towards a softer, easy listening style. In 1976, they left Avco and signed with H&L. The group's American record sales declined, yet they remained popular in Europe, particularly in Great Britain, where "Sing Baby Sing" (1975), "Na Na Is the Saddest Word" (1975), "Can't Give You Anything" (1975), and "Can't Help Falling in Love" (1976) were all Top Five hits. The Stylistics continued to tour and record throughout the latter half of the '70s, as their popularity steadily declined. In 1980, Dunn left the group because of poor health, and he was followed later that year by Smith. The remaining Stylistics continued performing as a trio on oldies shows into the '90s. ~ Stephen Thomas Erlewine
ORIGIN

Philadelphia, PA

GENRE

FORMED

1968