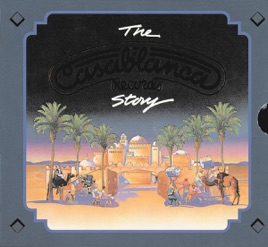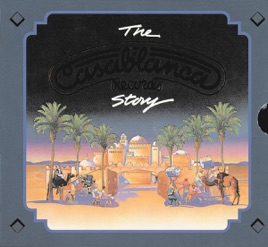 The Casablanca Records Story
Various Artists
4.1, 97 Ratings

Partial Album
TITLE
TIME

1

Give Up the Funk (Tear the Roof off the Sucker)

Parliament

Take Me Home (12" Version)

Cher

I Feel Love (12" Version)

Donna Summer

Ain't Nothin' Gonna Keep Me from You

Teri DeSario

In the Navy (Single Version)

Village People

I Found Love (Now That I've Found You)

Love & Kisses

Thank God It's Friday (Single Version)

Love & Kisses

2

MacArthur Park Suite: MacArthur Park / One of a Kind / Heavens Knows / MacArthur Park (Reprise)

Donna Summer

Music, Harmony and Rhythm

Brooklyn Dreams

San Francisco (You've Got Me)

Village People

In Hollywood (Everybody Is a Star)

Village People

Let's Go All the Way (Down) [Extended Breakdown Version]

Brenda & The Tabulations

Put Your Feet to the Beat

Ritchie Family

Pleasure Island (Single Version)

Paul Jabara

Like an Eagle (Single Version)

Dennis Parker

I Just Want to Be (DJ Promo Only Version)

Cameo

I Just Wanna Dance with You (12" Mix)

Starpoint

Chase (Soundtrack Version)

Giorgio Moroder

Walk the Night (12" Version)

Skatt Bros

Don't Stop, Get Off (Single Version)

The Sylvers

You Ought to Be Dancing (B-Side Version)

People's Choice

Dance, Freak and Boogie (B-Side Version)

Nightlife Unlimited

Pleasure Principle (Single Version)

Parlet

On the Radio (Long Version)

Donna Summer

Just as Long as We're Together (In My Life There Will Never Be Another)

Gloria Scott

Star Wars Theme / Cantina Band

Meco

7

Touch Me Baby / Love Is the Ultimate

Ultimate

Do That to Me One More Time

Captain & Tennille

KC and the Sunshine Band & Teri DeSario

After Dark (Single Version)

Patty Brooks

Flashdance...What a Feeling (Remix)

Irene Cara
47 Songs, 5 Hours
Released:

Sep 13, 1994

℗ 1994 The Island Def Jam Music Group
Ratings and Reviews
Okay, Explain This One To Me...
iTunes is able to feature this "Boxed Set" which only scratches the surface of the REAL Casablanca Story, which really started with the explosion of disco. Some of the bigger artists are represented here, but where's the Grandaddy of all the Casablanca albums, the complete THANK GOD IT'S FRIDAY soundtrack? Only Love and Kisses' irresistible title cut, Cameo's "Find My Way" and the edited version of Patti Brooks's "After Dark" can be found here, along with the Donna Summer cuts. No D.C. LaRue ("Do You Want The Real Thing?") none of Paul Jabara's tracks, and not even the Commodores' "Too Hot To Trot." C'mon, iTunes! This is okay, but you can do better, right?
Please: More Love & Kisses Music!!
I hope iTunes can have more Love & Kisses and Alec R. Costandinos music
SWEET!
MACHO MACHO MAN! I WANT TO BE A MACHO MAN! haha i love it