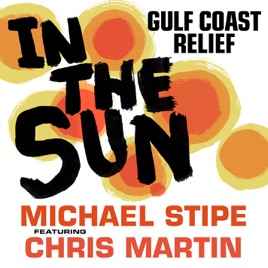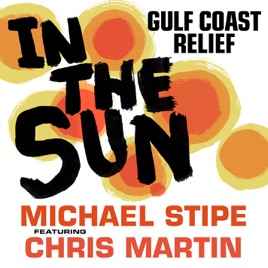 TITLE
TIME

In the Sun (Gulf Coast Relief) [feat. Chris Martin]

In the Sun (Gulf Coast Relief) [feat. Chris Martin] [JAW Breakers Remix]

In the Sun (Gulf Coast Relief) [feat. Joseph Arthur]

In the Sun (Gulf Coast Relief)

In the Sun (Gulf Coast Relief) [with Coldplay] [Recorded Live At Austin City Limits]

In the Sun (Gulf Coast Relief) [Free Acoustic Couch Rehearsal]

Michael Stipe & Joseph Arthur
6 Songs, 29 Minutes
Released:

Feb 5, 2006

℗ 2006 In The Sun Foundation; 2006 Capitol Texas Public Telecommunications Council
Ratings and Reviews
GOOD_ MORE MARTIN
great song...but let's be honest...chris martin needs to be singing the whole thing. b/c aka coldplay is the best band in the world. buy this song.
Great Song
I've been familiar with the Joseph Arthur version for quite some time and I think I like Stipe's "remixed" versions better. The track that combines both Stipe and Arthur is incredible. I also liek the version with Coldplay and Chris Martin.

Heard the sogn on "Grey's Anatomy" like an hour ago and already bout this. A Must Buy!
Great Song
very inspirational and beautiful.

couldn't wait to get my hands on this.

It's been my fav song since December, and am excited to see 5 other versions made.
About Michael Stipe
As the frontman for R.E.M., arguably the most important and influential American rock band of the post-punk era, Michael Stipe transformed himself from enigmatic cult hero into mainstream icon. Famed for his confoundingly opaque lyrics and notoriously mumbled delivery, the once-introverted Stipe translated his growing fame into an outlet to champion his social and political concerns, emerging as one of popular music's most respected figures, as well as the acknowledged forefather of the alternative rock movement. Born John Michael Stipe in Decatur, GA, on January 4, 1960, he was a military brat whose life was forever changed by Patti Smith's Horses album; Television's Marquee Moon and Wire's Pink Flag were also massive influences on his musical sensibility, and during high school he joined a punk cover band. While studying painting and photography at the University of Georgia, Stipe befriended aspiring guitarist Peter Buck, and with bassist Mike Mills and drummer Bill Berry, they formed R.E.M. in 1980. Honing an atmospheric, jangly pop sound often reminiscent of the Byrds, R.E.M. toured relentlessly prior to issuing their debut single, "Radio Free Europe," on the tiny Hib-Tone label in mid-1981; the record's success on college radio attracted the attention of IRS Records, which released the band's Chronic Town EP a year later.

R.E.M.'s first full-length album, 1983's Murmur, cemented their reputation as critics' darlings and made Stipe an underground icon -- his cryptic, often unintelligible lyrics were analyzed with Talmudic fervor, and his thrift-store image was copied by countless acolytes. Despite little mainstream airplay, 1984's Reckoning reached the Top 30 and with the darkly beautiful follow-up Fables of the Reconstruction, the band earned increasing MTV visibility for the videos "Can't Get There From Here" and "Driver 8." Stipe himself directed the video for "Fall on Me," the lead single from R.E.M.'s fourth LP, 1986's Lifes Rich Pageant; thanks to producer Don Gehman, Stipe's vocals resonated with newfound clarity, revealing a growing awareness with sociopolitical concerns (among them environmental issues and American foreign policy). 1987's Document was R.E.M.'s commercial breakthrough, buoyed by the Top Ten hit "The One I Love"; with Green, the band's debut for new label Warner Bros., Stipe for the first time ever allowed one of his lyrics ("World Leader Pretend") to be reprinted on the jacket sleeve. Released on Election Day 1988, the album was R.E.M.'s most pointedly polemic to date, although the hits "Stand" and "Pop Song 89" also reflected the band's wry sense of humor.

Following the Green tour, R.E.M. took an extended break, during which Stipe focused on his film company C-00, produced material for local discoveries like Vic Chesnutt and the Chickasaw Mudd Puppies, and lent guest vocals to a variety of projects. R.E.M. returned in 1991 with the chart-topping Out of Time, which generated the Top Ten hits "Losing My Religion" and "Shiny Happy People"; the elegiac masterpiece Automatic for the People followed and as alternative rock took over the pop charts, the band (and Stipe in particular) was widely acknowledged among the chief inspirations behind a generation of new artists. While touring in support of 1995's Monster, Stipe was temporarily sidelined by hernia surgery; he returned to complete the tour and two years later, R.E.M. resurfaced with New Adventures in Hi-Fi. Outside of his musical activities, in 1998 Stipe published the photo collection Two Times Intro: On the Road With Patti Smith; he also worked with his new feature film production company, Single Cell, which in 1999 yielded the acclaimed Being John Malkovich and American Movie. ~ Jason Ankeny
HOMETOWN

Decatur, GA

GENRE

BORN

January 4, 1960