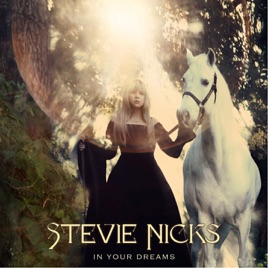 EDITORS' NOTES
In 2011, Stevie Nicks is making music that sounds like prime Stevie Nicks. She isn't trying to jump on any bandwagons. She isn't making up for lost time. She unearths a song she wrote in 1976 for the opening track, "Secret Love," which features Mick Fleetwood on drums, and she invites Lindsey Buckingham to join her for "Soldier's Angel." From there, Nicks plays what would be radio-friendly pop-rock in the late '70s through the '90s. Which is exactly what Nicks should be doing. No one can mix folk, rock and pop quite like her. "In Your Dreams" is a nicely focused pop song with layered vocals and an easeful rhythm that others only dream about. Producer Dave Stewart, formerly of Eurythmics, knows Nicks' Fleetwood Mac history and a thing or two about authentic textures. With guitarists Waddy Wachtel and Mike Campbell supporting her, Nicks is free to focus on her vocals, which are as strong as ever. "Italian Summer" is about a vacation. "New Orleans" pays tribute to the beleaguered city. "Ghosts Are Gone" is driving hard rock. The Deluxe Version includes videos for "Secret Love" and "Cheaper Than Free."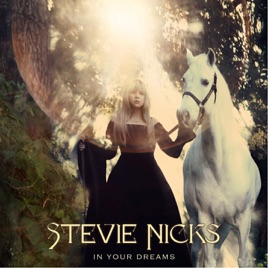 In Your Dreams (Deluxe Version)
EDITORS' NOTES
In 2011, Stevie Nicks is making music that sounds like prime Stevie Nicks. She isn't trying to jump on any bandwagons. She isn't making up for lost time. She unearths a song she wrote in 1976 for the opening track, "Secret Love," which features Mick Fleetwood on drums, and she invites Lindsey Buckingham to join her for "Soldier's Angel." From there, Nicks plays what would be radio-friendly pop-rock in the late '70s through the '90s. Which is exactly what Nicks should be doing. No one can mix folk, rock and pop quite like her. "In Your Dreams" is a nicely focused pop song with layered vocals and an easeful rhythm that others only dream about. Producer Dave Stewart, formerly of Eurythmics, knows Nicks' Fleetwood Mac history and a thing or two about authentic textures. With guitarists Waddy Wachtel and Mike Campbell supporting her, Nicks is free to focus on her vocals, which are as strong as ever. "Italian Summer" is about a vacation. "New Orleans" pays tribute to the beleaguered city. "Ghosts Are Gone" is driving hard rock. The Deluxe Version includes videos for "Secret Love" and "Cheaper Than Free."
| | TITLE | TIME |
| --- | --- | --- |
| | | 3:15 |
| | | 4:32 |
| | | 3:58 |
| | | 5:36 |
| | | 5:34 |
| | Moonlight (A Vampire's Dream) | 5:26 |
| | | 5:58 |
| | | 5:16 |
| | | 5:16 |
| | | 6:06 |
| | | 5:26 |
| | | 4:38 |
| | Cheaper Than Free (feat. Dave Stewart) | 3:38 |
| | | 3:26 |
| | Cheaper Than Free (feat. Dave Stewart) | 3:39 |
15 Songs, 1 Hour, 11 Minutes

℗ 2011 Reprise Records
Ratings and Reviews
FIRST!!!
I have been a huge Stevie Nicks fan since my dad listened to Fleetwood Mac while he rocked me thirty years ago! I have only just begun to listen to her amazing craft on this album but am sure to wear it out. LOVE it!
BEST EVER!!!
Love, love, love!!! So HAPPY she is back!! Please don't keep your genius away for another 10 years!!
Dreams come true!
This CD/Album is simply Stevie's best solo work. It's written, sung, and performed beautifully. It brings you to tears, puts a smile on your face and gets you totally excited. It's romantic, dark, sexy and very very touching. Dave Stewart and Stevie have created a masterpiece. As a long time fan, i couldn't be more thrilled. It's wonderfully produced, and each songs brings out a slew of emotions....you can mellow out AND rock out to this CD. it's both current and classic. It's quite simply an amazing album!
About Stevie Nicks
Famed for her mystical chanteuse image, singer/songwriter Stevie Nicks enjoyed phenomenal success not only as a solo artist but also as a key member of Fleetwood Mac. Stephanie Lynn Nicks was born May 26, 1948, in Phoenix, Arizona; the granddaughter of a frustrated country singer, she began performing at the age of four, and occasionally sang at the tavern owned by her parents. Nicks started writing songs in her midteens, and joined her first group, the Changing Times, while attending high school in California.

During her senior year, Nicks met fellow student Lindsey Buckingham, with whom she formed the band Fritz along with friends Javier Pacheco and Calvin Roper. Between 1968 and 1971, the group became a popular attraction on the West Coast music scene, opening for Jimi Hendrix, Janis Joplin, and Creedence Clearwater Revival. Ultimately, tensions arose over the amount of attention paid by fans to Nicks' pouty allure, and after three years Fritz disbanded; Buckingham remained her partner, however, and soon became her lover as well.

After moving to Los Angeles, the duo recorded its 1973 debut LP, Buckingham Nicks. Despite a cover that featured the couple nude, the album flopped; however, it caught the attention of the members of Fleetwood Mac, who invited Buckingham and Nicks to join their ranks in 1974. In quick time, the revitalized group achieved unparalleled success: after the LP Fleetwood Mac topped the charts in 1975, the band recorded 1977's Rumours, which sold over 17 million copies and stood for several years as the best-selling album of all time.

Major hit singles like "Dreams" and "Rhiannon" made Nicks a focal point of Fleetwood Mac, and in 1981 she took time off from the group to record her solo debut, Bella Donna, which hit number one on the strength of the Top 20 hits "Stop Draggin' My Heart Around" (a duet with Tom Petty & the Heartbreakers), "Leather and Lace" (a duet with Don Henley), and "Edge of Seventeen (Just Like the White Winged Dove)." After a return to Fleetwood Mac for the 1982 album Mirage (which featured her hit "Gypsy"), Nicks released her second solo effort, The Wild Heart, highlighted by the Top Five smash "Stand Back." Rock a Little, which featured the single "Talk to Me," followed in 1985.

After a long hiatus (during which time Nicks was treated for a chemical dependency problem), Fleetwood Mac reunited for the album Tango in the Night; The Other Side of the Mirror, Nicks' first solo record in four years, followed in 1989. After a series of lineup changes and dropping sales figures, she left Fleetwood Mac in 1993 and issued Street Angel a year later. In 1997, she rejoined the reunited Fleetwood Mac on tour and on the album The Dance. In 1998 Nicks, along with her Fleetwood Mac bandmates, was inducted into the Rock and Roll Hall of Fame, the same year that her three-disc Enchanted box set landed in stores.

Nicks returned to the studio in 2001 with friends Macy Gray, Sarah McLachlan, Sheryl Crow, and Dixie Chick Natalie Maines for the solo album Trouble in Shangri-La, and again in 2003 for the Fleetwood Mac reunion album Say You Will. Reprise released the CD/DVD Crystal Visions: The Very Best of Stevie Nicks in 2007, but it wasn't until 2011 -- almost a decade to the day after Trouble in Shangri-La's release -- that Nicks returned with a new solo album. Produced by Dave Stewart and Glen Ballard, In Your Dreams found her singing a mix of Bob Dylan-inspired folk songs, Italian love ballads, and rock anthems. In Your Dreams debuted at six on Billboard's Top 200 and generated an adult contemporary hit in "Secret Love." Nicks rejoined Fleetwood Mac in 2013 for the Extended Play release and a reunion tour that eventually blossomed into a full reunion with Christine McVie. In 2014, Nicks released 24 Karat Gold: Songs from the Vault, a collection of newly recorded versions of old songs; it debuted at seven on the Billboard charts. In 2015, she continued to tour with the reunited Fleetwood Mac and the following year her first two albums, Bella Donna and The Wild Heart, were given deluxe reissues. ~ Jason Ankeny
ORIGIN

Phoenix, AZ

GENRE

BORN

May 26, 1948