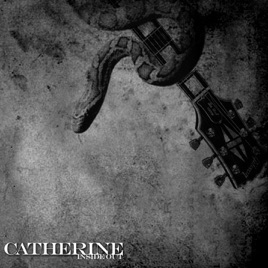 | | TITLE | | TIME |
| --- | --- | --- | --- |
| | | | |
| | | | |
| | | | |
| | | | |
| | | | |
| | | | |
| | | | |
| | | | |
| | | | |
| | | | |
| | Nobody Likes a Friend Who's Dead | | |
| | | | |
| | | | |
13 Songs, 42 Minutes
Released:

Mar 16, 2010

℗ 2009 Rise Records
Ratings and Reviews
DUUUUUUUUUUUDE... siiiiiiiiiiick
How am I the first one to comment?!
Okay anyways this album is sick from start to finish. These guys are legit metalcore, by which I mean they are a hardcore band at heart with metal playing chops. I would call "Inside Out" a prime example of the genre, something that the metal kids and the hardcore kids can both rock out to. It is intricate and fairly technical at times, there are clever nuances and fits and stops, there are harmonized thrash riffs and chug chug breakdowns, and it creates a very distinct mood of doom and gloom with a glimmer of hope at the end of the tunnel. If I had to compare Catherine to another metalcore band, I would say they are like a younger version of Darkest Hour. Catherine has kind of a bouncier, less serious energy about them but they are still pissed off; I guess you could say they have a slightly more punk rock attitude/approach (not that they are sloppy because they are not at all, I just mean they sound like they're having fun) whereas Darkest Hour strives to be epic and deadly serious at every turn.
There is a little clean singing on this album, which is nothing new to Catherine, and it is fairly decent but not especially distinct. I would not say that the clean vocals have any tendency toward emo/screamo singing, and if anything I'd say they sound closer to those in '90s punk like Face to Face or Strung Out only slightly higher pitched/younger sounding. The screaming, which is much more prominent than the singing, is notable for being not the most abrasive in the genre. It is more forceful and to the point it is terror-inducing, definitely leaning more toward the hardcore shouting style than death metal growling or black metal witch shrieking.
What I like best about "Inside Out" is the riffing. It is very consistent, at times very menacing and at other times just fun, and there are no filler tracks. It does not suffer from an over reliance on breakdowns though it does have its slower chug chug moments as I previously mentioned. I had only a passing familiarity with Catherine prior to this album. I had just a few tracks from off The Naturals, but I would call it a safe bet that this is their best album. My favorite track is definitely "Turbulence" probably followed by "Nobody Likes a Friend Who's Dead."
Far be it from me to suggest selling out, but if this band would ditch the screaming, use the clean singing only and dumb down their lyrics for mass consumption, they could blow up really big and maybe even get radio play. That said, if you are a metalcore fan, a metal fan or a hardcore fan I would highly recommend picking up this album. Not for fans of boring old four chord rock, if that's what you want go listen to Good Charlotte... and btw why are you even reading this? How did you even find this band if that's what you're into?
LATER!!
About Catherine
In the early phases of their career, the Chicago-based group Catherine was frequently dismissed as being little more than a second-rate Smashing Pumpkins knockoff. The fact that Catherine drummer Kerry Brown was married to Pumpkins bassist D'Arcy did little to weaken this allegation, along with the notable point that the two bands would occasionally borrow members from one another in the recording studio. In hindsight, however, Catherine probably did not deserve to be pigeonholed in so simple a manner. Although their earlier releases did at times bear a resemblance to Billy Corgan's crew, Catherine eventually discovered their own sound as the '90s progressed, distancing themselves from strictly guitar-based alternative rock in favor of a more psychedelic-tinged indie pop feel toward the end of their existence.

Catherine's original lineup slowly came together during the late '80s and early '90s, with founding members Neil Jendon and Jerome Brown providing the band with their name (for reasons unknown even to them). Along with a drum machine, they were joined by bassist Cliff Fox for their first release, the Sparkle/Charmed 7" single, which was put out on the local Limited Potential label. Drummer Kerry Brown was added soon afterward and the drum machine was shelved; with new guitarist Mark Rew also aboard, the group released the Billy Corgan-produced Sleepy EP in 1994. The EP was embraced in college markets, which prompted the group to sign with TVT for their debut album, Sorry! Due to touring constraints, Fox left the band shortly after the release of Sorry! and was replaced by Keith Brown (Kerry's brother). Catherine's tour in support of the album found them opening for the likes of the Pumpkins, Dig, and Letters to Cleo; as a result of this widened exposure, Sorry! went on to become a fairly large college hit. In 1996, group founders Neil Jendon and Jerome Brown both left the band, a situation that left Rew as the primary singer/songwriter for the final Catherine release, Hot Saki & Bedtime Stories. Rew proceeded to recruit a handful of new musicians for the ensuing tour, but ultimately decided to lay the Catherine name to rest in 1998. ~ Steve Bekkala
ORIGIN

Chicago, IL

GENRE

FORMED

1985