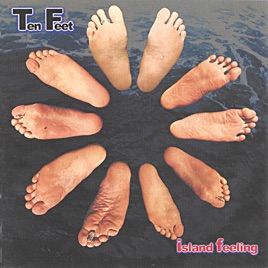 | | TITLE | | TIME |
| --- | --- | --- | --- |
| | | | 1:21 |
| | One Nation (Woy-Yoy Song) | | 3:50 |
| | Just When I Needed You the Most | | 3:19 |
| | Island Feeling (Booty Remix) | | 3:30 |
| | | | 4:08 |
| | | | 3:19 |
| | | | 4:29 |
| | | | 3:50 |
| | | | 4:17 |
| | | | 2:34 |
| | | | 3:56 |
| | | | 4:14 |
| | | | 4:51 |
| | Island Feeling (Original Version) | | 3:51 |
14 Songs, 51 Minutes
Released:

Jan 1, 2000

℗ 2000 DeLos Santos-Kekoa Records c/o Robert Sterling Music Publishing
Ratings and Reviews
Island Feeling-Ten Feet
Originally a team of five friends who loved to surf together each day after school on the beautiful shores of Waikiki, Ten Feet began as a backyard group singing "kanakapila" style in the state of Hawaii on the island of Oahu. Early on in their career, the boys were searching for a name for their group when a friend suggested "Ten Feet." When asked why, the friend responded that the group had five members, each with two feet.... thus the name of "Ten Feet" for the group of five surfing friends was first established and eloquently cast onto sands of Hawaii Nei!

By 1997 they started playing larger venues, including the Waikiki Shell, where they opened for up the late Israel Kamakawiwo'ole at the Jammin' Hawaiians Concert. After spending four years performing and building up a fan base, Ten Feet finally went into the recording studio. Their first hit song, "Island Feeling" made it's premiere November 1999 on the Reggae music compilation, "Roots Reggae Vol. 2" (Quite Storm Records / Universal Records), and became a smash hit on the islands, topping listener request charts on many local radio stations. "Island Feeling" debuted on Billboards magazine's rank #15 in the Independent Record Category and #26 in the Heat Seakers Category and most impressively ranked #3 on the World Music Category; which was one of the highest rankings ever given to a local band from Hawaii. In an effort to satisfy the appetite of their fans waiting for the release of their full length CD, the song "Islands in the Stream" was next released in the year 2000. It too became a smash hit and only added to the demand for the full length CD.

Since then Ten Feet has continued their success performing on the mainland at "The House of Blues" and "Paramount's Great America Theme Park Amphitheatre". They were voted the most requested band in Saipan; bringing out crowds of over 10,000 people for their Independence Day Celebration. Ten Feet also took home four Island Music Awards at the 2000 Hawaiian Music Awards Ceremony; including "Song of the Year," "Group of the Year," "New Artist of the Year" and "Best Album of the Year." They were also awarded the 2000 Na Hoku Hanohano award for "Contemporary Album of the Year." As history had it for the group of five surfing friends, in just four years Ten Feet had evolved into a household name in the state of Hawaii and has a become a leader and a pioneer in the Island Music scene thus giving their "Island Feeling" to all who come to Hawaii and listen to their great island music!

A must have
This is a sweet sounding collection of easy going Polynesian vibes....all Poly's should have this downloaded
definitely buy this album!
i'm a kama'aina (hawaii resident) who has been out of the islands for four years and this is definitely the perfect album to listen to when you're feeling nostalgic for home. "windward skies" and "islands in the stream" are classics. i would totally recommend this album!
About Ten Feet
Known for their powerful live shows, the Japanese indie trio 10-Feet plays eclectic, loosely punk-based music that includes influences ranging from ska and bossanova to hip-hop and metal. The band was established in 1997 in Kyoto by Takuma (vocals/guitar), Naoki (bass/vocals), and Kouichi (drums), all of them had previous experience playing in various-styled musical units — Takuma joked about 10-Feet's formation being "the problem child of each band getting together." They spent about three years tearing up local clubs before taking on Japan at large, and in 2000, 10-Feet kicked out a nameless debut demo and moved to Tokyo. They had no warm welcome there, though: the first singles "April Fool" and May I Help You? were released by the indie label Buddy in 2001, and for the following Japanese tour, the bandmembers had to live in their van. Their debut album Springman came out in 2002 and was supported by a successful tour, but after that, 10-Feet still had to face a setback, returning to Kyoto and quitting their label. They started one on their own instead, giving it the fitting name Badass; its` first release was their single "Nil?" in 2003. Soon, 10-Feet were able to sell out their first solo gig, performing at the famous Shibuya AX, and released their second album, Realife (2004), in Korea in 2007, thus beginning a steady Japanese release pattern. 4Rest followed in 2005 and Twister in 2006, along with a remix EP 7 Feet (2007) for which the band played its tunes with popular artists such as Minmi and Kj from Dragon Ash. In 2007, the band run into some spectacular problems — first Takuma came down with a throat illness, and then their comeback gig was canceled because Kyoto was hit by a typhoon — but 10-Feet still got back on track, releasing the album Vandalize in 2008 and playing not just Japan, but Taiwan and the States that year. The sixth full-length, Life Is Sweet, was delivered in 2009.