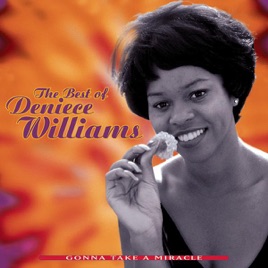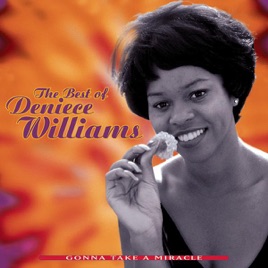 Gonna Take a Miracle: The Best of Deniece Williams
| | TITLE | TIME | PRICE |
| --- | --- | --- | --- |
| | | 5:56 | $1.29 |
| | | 3:37 | $1.29 |
| | | 4:06 | $1.29 |
| | That's What Friends Are For | 4:26 | $1.29 |
| | | 4:00 | $1.29 |
| | Baby, Baby, My Love's All for You | 4:09 | $1.29 |
| | | 3:26 | $1.29 |
| | | 7:59 | $1.29 |
| | | 5:57 | $1.29 |
| | It's Gonna Take a Miracle | 4:09 | $1.29 |
| | | 4:29 | $1.29 |
| | | 4:24 | $1.29 |
| | | 3:54 | $1.29 |
| | Too Much, Too Little, Too Late (feat. Johnny Mathis) | 2:58 | $1.29 |
| | | 4:25 | $1.29 |
| | Let's Hear It for the Boy | 4:19 | $1.29 |
16 Songs

℗ 1996 Sony Music Entertainment Inc.
Customer Reviews
Silly
Mrs.Williams follows in the footsteps of another great female artist the late Mrs.Minnie Riperton. They both have great vocal range. Which you don't see much today. You will enjoy all of her songs.
Priceless!
Reminds me of Minnie Ripperton but she has cut her own voice!
About Deniece Williams
One of the most distinctive vocalists who arrived during the soul era, Deniece Williams is known for soaring, four-octave soprano voice, late-'70s and early-'80s R&B classics such as "Free" and "Silly," and the 1984 number one pop hit "Let's Hear It for the Boy." Born June Deniece Chandler in Gary, Indiana, she grew up singing in a Pentecostal church, which forbid the congregation to listen to anything but gospel music. Outside of wanting a 1959 Thunderbird, she had no serious ambitions but was deeply interested in music. Her favorite singers were Carmen McRae (for her diction) and Nancy Wilson, who, for Williams, exemplified class and elegance. However, her she also looked up to her parents, both of whom sang. From 1968 through 1970, Williams recorded a handful of singles for the Chicago-based Lock and Toddlin' Town labels as Deniece (or Denise) Chandler. None of them charted, but "I'm Walking Away" and "Mama, I Wish I Stayed Home" became Northern soul cult classics.

In need of employment and with college on the back burner, the fledgling singer was introduced to personal hero Stevie Wonder by John Harris, her cousin from Detroit, who happened to be on tour as a valet for Wonder (and was also his childhood friend). Her cousin arranged for Williams to meet Wonder backstage at a concert. Six months later, Williams was flown into Detroit by Wonder for an audition. Among the 26 who auditioned, Williams, who sang "Teach Me Tonight," was one of three hired by Wonder. The three became known as Wonderlove. Her touring with Wonder lasted for several years, a period in which she recorded background vocals for Talking Book, Fulfillingness' First Finale, and Songs in the Key of Life, Wonder-produced Syreeta and Minnie Riperton sessions, and other releases by the likes of Esther Phillips and Roberta Flack.

Williams' solo career gained serious momentum after she left Wonderlove and teamed up with Maurice White, the leader of Earth, Wind & Fire. Under White's direction, Williams learned the business of music and was able to unwind and express herself musically. Signed to major-label Columbia, Williams released her first album, This Is Niecy, in 1976. Co-produced by White and Charles Stepney, it featured the Billboard R&B number two single "Free," which also crossed over to number 25 on the Hot 100. "Cause You Love Me Baby" and "That's What Friends Are For" also charted.

In 1977, the follow-up Song Bird was released, and it featured the number 13 single "Baby, Baby My Love's All for You." The following year the singer scored her first number one song on both the R&B and Hot 100 charts with "Too Much, Too Little, Too Late," a duet with the legendary Johnny Mathis. The next single, "You're All Need to Get By," was also recorded with Mathis and went Top Ten. Still working with White, Williams scored another smash hit in 1981 with "Silly," co-written and co-produced by Williams with help from famed Philly soul figure Thom Bell. The single became a Top Ten gem. The following year, Williams and Bell returned to number one with another sweet ballad, "It's Gonna Take a Miracle."

Williams' biggest hit of all came two years later with "Let's Hear It for the Boy." Featured on the Footloose soundtrack, it introduced her to a new audience. The single was produced by music virtuoso George Duke, who initially thought the song was too pop and would not work. However, Duke's production savvy proved to be as paramount as Williams' vocals. Three months after the release of Footloose, "Let's Hear It for the Boy" became the title track of Williams' seventh proper solo album, which also featured the stunning "Black Butterfly," a prelude to the uplifting contemporary gospel material Williams recorded for the Sparrow label. During the latter half of the '80s, she won Grammy awards in the categories of Best Female Soul Gospel Performance (for "I Surrender All"), Best Duo or Group Gospel Performance (for the Sandi Patti duet "They Say"), and Best Female Gospel Performance (for "I Believe in You").

Throughout the following decades, Williams recorded every few years. She released three full-lengths on as many labels during the '90s. During the 2000s, she recorded only Love, Niecy Style, an album of covers produced by Bobby Eli that featured appearances from old friends Stevie Wonder, Philip Bailey, and George Duke. Each one of her '70s and '80s solo albums was reissued by a handful of labels, most prominently the U.K.'s BBR, which also assembled the extensive Black Butterfly: The Essential Niecy in 2016. ~ Craig Lytle
ORIGIN

Gary, IN

BORN

Jun 3, 1950
Top Songs by Deniece Williams
See All
Top Albums by Deniece Williams
See All
Top Music Videos by Deniece Williams
See All