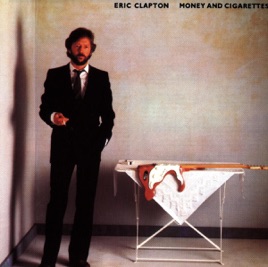 EDITORS' NOTES
The first album Eric Clapton recorded after emerging from a prolonged battle with alcoholism, 1983's Money and Cigarettes got its title from the fact that Clapton felt those were the only things he had left at that point in his life. To start a process of musical rebuilding, Clapton hired a rhythm section from the Deep South (drummer Roger Hawkins and bassist Donald "Duck" Dunn) and retained the services of two of his favorite guitarists: British whiz Albert Lee and American stylist Ry Cooder. Clapton's renewed energy is evident from the outset of "Everybody Outghta Make a Change." As a vocalist and a guitarist, he's a man revived, even though it's clear he was still negotiating his way in the world after a scarring battle. "Ain't Going Down" is emblematic of the album's outlook: "But I ain't got time, I just could not live that way/I've got to step outside myself/I've still got something left to say." You can feel the pleasure Clapton took in playing with an assembled group of R&B aces. The atmosphere of delight is evident not only in the wily rendition of "Crosscut Saw" but in the surging swing of "The Shape You're In," "Man Overboard," and "I've Got a Rock 'N' Roll Heart."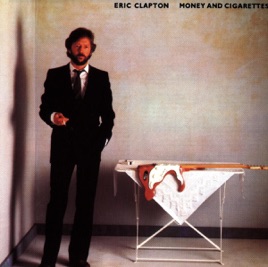 EDITORS' NOTES
The first album Eric Clapton recorded after emerging from a prolonged battle with alcoholism, 1983's Money and Cigarettes got its title from the fact that Clapton felt those were the only things he had left at that point in his life. To start a process of musical rebuilding, Clapton hired a rhythm section from the Deep South (drummer Roger Hawkins and bassist Donald "Duck" Dunn) and retained the services of two of his favorite guitarists: British whiz Albert Lee and American stylist Ry Cooder. Clapton's renewed energy is evident from the outset of "Everybody Outghta Make a Change." As a vocalist and a guitarist, he's a man revived, even though it's clear he was still negotiating his way in the world after a scarring battle. "Ain't Going Down" is emblematic of the album's outlook: "But I ain't got time, I just could not live that way/I've got to step outside myself/I've still got something left to say." You can feel the pleasure Clapton took in playing with an assembled group of R&B aces. The atmosphere of delight is evident not only in the wily rendition of "Crosscut Saw" but in the surging swing of "The Shape You're In," "Man Overboard," and "I've Got a Rock 'N' Roll Heart."
| | TITLE | | TIME |
| --- | --- | --- | --- |
| | Everybody Oughta Make a Change | | 3:17 |
| | | | 4:10 |
| | | | 4:02 |
| | I've Got a Rock 'N' Roll Heart | | 3:13 |
| | | | 3:47 |
| | | | 5:31 |
| | | | 2:47 |
| | | | 3:31 |
| | | | 4:16 |
| | | | 2:48 |
10 Songs, 37 Minutes
Released:

Feb 1, 1983

℗ 1983 Reprise Records
Ratings and Reviews
2 out of 10 ain't too bad
Money and Cigarettes is not one of my favorite EC albums (Slowhand, 461 Ocean Blvd. are 1 and 2). However, after a few listens, this disc kinda grows on you. As far as commercial hits go, I'd rank Ain't Going Down and I've Got a Rock 'N' Roll Heart in my Top 20 Clapton songs. The guitar on Ain't Going Down is underrated, and the pace of I've Got a Rock 'N' Roll Heart is near perfect in terms of song as a whole. So which 18 others would be on my "commercial" Top 20? Layla, Wonderful Tonight, Promises, Cocaine, Tears In Heaven, I Can't Stand It, I Shot The Sheriff, Willie and the Hand Jive, After Midnight, She's Waiting, Forever Man, Lay Down Sally, Let It Rain, Let It Grow, My Father Eyes, Pretending, Tulsa Time, and No Alibis. Not necessarily in that order. And these are solo career only. That's all I got.
Classic Clapton
This disc has always perplexed me. It is one of his better albums, all the songs are good, Clapton in his groove, yet it didn't sell well, (mtv era?), and are any of these songs on any of his live recordings? Nevertheless, if you are a Clapton fan and haven't heard it, it is well worth the money to have Money and Cigarettes in your collection.
Just My Favorites Please...........
I'm just a casual Clapton fan, as much of his stuff is too slow paced and bluesy for my tastes, but this album has stuck in my head over the years. For the most part, to really appreciate this album, you really need to be a hard core Clapton fan, in which case you probably have this album. As for me, having had it in the past on vinyl, most of the tracks have worn on me and I came back only for my favorites which are; Ain't Goin Down, Slow Down Linda and The Shape You're In.
About Eric Clapton
By the time Eric Clapton launched his solo career with the release of his self-titled debut album in mid-1970, he was long established as one of the world's major rock stars due to his group affiliations -- the Yardbirds, John Mayall's Bluesbreakers, Cream, and Blind Faith -- which had demonstrated his claim to being the best rock guitarist of his generation. That it took Clapton so long to go out on his own, however, was evidence of a degree of reticence unusual for one of his stature. And his debut album, though it spawned the Top 40 hit "After Midnight," was typical of his self-effacing approach: it was, in effect, an album by the group he had lately been featured in, Delaney & Bonnie & Friends.

Not surprisingly, before his solo debut had even been released, Clapton had retreated from his solo stance, assembling from the D&B&F ranks the personnel for a group, Derek & the Dominos, with whom he played for most of 1970 and recorded the landmark album Layla and Other Assorted Love Songs. Clapton was largely inactive in 1971 and 1972, due to heroin addiction, but he performed a comeback concert at the Rainbow Theatre in London on January 13, 1973, resulting in the album Eric Clapton's Rainbow Concert (September 1973). But Clapton did not launch a sustained solo career until July 1974, when he released 461 Ocean Boulevard, which topped the charts and spawned the number one single "I Shot the Sheriff."

The persona Clapton established over the next decade was less that of guitar hero than arena rock star with a weakness for ballads. The follow-ups to 461 Ocean Boulevard, There's One in Every Crowd (March 1975), the live E.C. Was Here (August 1975), and No Reason to Cry (August 1976), were less successful. But Slowhand (November 1977), which featured both the powerful "Cocaine" (written by J.J. Cale, who had also written "After Midnight") and the hit singles "Lay Down Sally" and "Wonderful Tonight," was a million-seller. Its follow-ups, Backless (November 1978), featuring the Top Ten hit "Promises," the live Just One Night (April 1980), and Another Ticket (February 1981), featuring the Top Ten hit "I Can't Stand It," were all big sellers.

Clapton's popularity waned somewhat in the first half of the '80s, as the albums Money and Cigarettes (February 1983), Behind the Sun (March 1985), and August (November 1986) indicated a certain career stasis. But he was buoyed up by the release of the box set retrospective Crossroads (April 1988), which seemed to remind his fans of how great he was. Journeyman (November 1989) was a return to form. It would be his last new studio album for nearly five years, though in the interim he would suffer greatly and enjoy surprising triumph. On March 20, 1991, Clapton's four-year-old son was killed in a fall. While he mourned, he released a live album, 24 Nights (October 1991), culled from his annual concert series at Royal Albert Hall in London, and prepared a movie soundtrack, Rush (January 1992). The soundtrack featured a song written for his son, "Tears in Heaven," that became a massive hit single.

In March 1992, Clapton recorded a concert for MTV Unplugged which, when released on an album in August, became his biggest-selling record ever. Two years later, Clapton returned with a blues album, From the Cradle, which became one of his most successful albums, both commercially and critically. Crossroads, Vol. 2: Live in the Seventies, a box set chronicling his live work from the '70s, was released to mixed reviews. In early 1997, Clapton, billing himself by the pseudonym "X-Sample," collaborated with keyboardist/producer Simon Climie as the ambient new age and trip-hop duo T.D.F. The duo released Retail Therapy to mixed reviews in early 1997.

Clapton retained Climie as his collaborator for Pilgrim, his first album of new material since 1989's Journeyman. Pilgrim was greeted with decidedly mixed reviews upon its spring 1998 release, but the album debuted at number four and stayed in the Top Ten for several weeks on the success of the single "My Father's Eyes." In 2000, Clapton teamed up with old friend B.B. King on Riding with the King, a set of blues standards and material from contemporary singer/songwriters. Another solo outing, entitled Reptile, followed in early 2001. Three years later, Clapton issued Me and Mr. Johnson, a collection of tunes honoring the Mississippi-born bluesman Robert Johnson. Released in 2005, Back Home, Clapton's 14th album of original material, reflected his ease with fatherhood. Also in 2005, Clapton unexpectedly teamed with Jack Bruce and Ginger Baker for a Cream reunion that included May concerts at London's Royal Albert Hall and shows at New York's Madison Square Garden in October, with the former being compiled for a live release that fall.

This turned out to be the first of many reunions and looks back for Clapton. In 2006, he elevated the profile of his latter-day idol J.J. Cale by recording an album-long duet, The Road to Escondido. The following year he released his autobiography -- accompanied by a new career compilation called The Complete Clapton -- which focused more on his trials with addiction and subsequent recovery than his musical career. In 2008, Clapton began playing regular shows with his old Blind Faith partner Steve Winwood, gigs that were captured on the 2009 double-live set Live from Madison Square Garden. Winwood also appeared on Clapton's next studio album, 2010's Clapton, which was a collaboration-heavy affair also featuring Cale, Sheryl Crow, Allen Toussaint, and Wynton Marsalis. In 2011, Clapton returned the favor to Marsalis by collaborating on the live concert album Play the Blues: Live from Jazz at Lincoln Center.

Clapton parted ways with Warner after Clapton, and he chose to set up his own Bushbranch imprint on Gary Hoey's independent label Surfdog. His first album for the label was Old Sock, largely a collection of old songs the guitarist loved. It reached the Top Ten in the U.S. and Great Britain. In the fall of 2013, Warner Bros. released Crossroads Guitar Festival 2013, and his Unplugged album was expanded and remastered by Rhino. Early the following year, Clapton announced that a new album, The Breeze: An Appreciation of J.J. Cale, would be issued in July, one year on from the passing of his key inspiration. The tribute album included contributions from artists such as Willie Nelson, John Mayer, Tom Petty, and Mark Knopfler. A collection of his Warner recordings called Forever Man saw a spring 2015 release. Clapton returned in May of 2016 with I Still Do, his third album for Surfdog. It found him reuniting with Slowhand producer Glyn Johns; the album debuted at six on the Billboard Top 200. Later that year, Clapton released Live in San Diego, a double-disc album featuring a 2007 concert with J.J. Cale. ~ Stephen Thomas Erlewine
HOMETOWN

Ripley, Surrey, England

GENRE

BORN

March 30, 1945