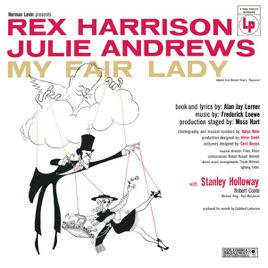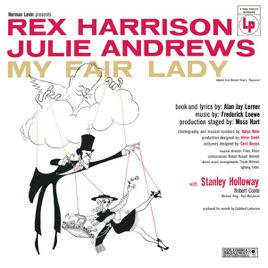 TITLE
TIME

My Fair Lady Orchestra & Franz Allers

Rex Harrison, Franz Allers & My Fair Lady Orchestra

Julie Andrews, My Fair Lady Ensemble, Reid Shelton, Glenn Kezer, James Morris, Herb Surface, Franz Allers & My Fair Lady Orchestra

With a Little Bit of Luck

Stanley Holloway, Gordon Dilworth, Rod McLennan, David Thomas, My Fair Lady Ensemble, Franz Allers & My Fair Lady Orchestra

Rex Harrison, Franz Allers & My Fair Lady Orchestra

Julie Andrews, Franz Allers & My Fair Lady Orchestra

Rex Harrison, Julie Andrews, Robert Coote, Glenn Kezer, Franz Allers & My Fair Lady Orchestra

I Could Have Danced All Night

Julie Andrews, Philippa Bevans, Franz Allers & My Fair Lady Orchestra

My Fair Lady Ensemble, Franz Allers & My Fair Lady Orchestra

On the Street Where You Live

John Michael King, Franz Allers & My Fair Lady Orchestra

Robert Coote, Rex Harrison, Philippa Bevans, Glenn Kezer, Franz Allers & My Fair Lady Orchestra

Julie Andrews, John Michael King, Franz Allers & My Fair Lady Orchestra

Get Me to the Church On Time

Stanley Holloway, My Fair Lady Ensemble, My Fair Lady Orchestra & Franz Allers

Rex Harrison, Franz Allers & My Fair Lady Orchestra

Julie Andrews, Franz Allers & My Fair Lady Orchestra

I've Grown Accustomed to Her Face

Rex Harrison, My Fair Lady Orchestra & Franz Allers

A Post-Recording Conversation

Goddard Lieberson, Rex Harrison, Julie Andrews, Franz Allers & Alan Jay Lerner

Playback: Alan Jay Lerner and Frederick Loewe

Goddard Lieberson, Alan Jay Lerner & Frederick Loewe
18 Songs, 1 Hour 2 Minutes
Released:

Dec 31, 1955

℗ Originally released 1956 SONY BMG MUSIC ENTERTAINMENT (P) 1994, 2002 SONY BMG MUSIC ENTERTAINMENT
Ratings and Reviews
julie andrews fan 4 life
i am only 19 years old, but i have loved music all my life. i grew up watching all of julie's GREAT movies and musicals. i also love "my fair lady". i was shocked when i learned that julie(who in my opinion, has the BEST voice ever to grace film and stage.) was passed up for the movie role. i was absolutely THRILLED when i found this on itunes! julie does an absolutely amazing job. it's so much better than audrey hepburn's performance. did you know that they actually had to hire a professional singer to sing for the movie? this soundtrack has never left my ipod. BUY IT! YOU WON'T BE DISAPPOINTED!
Julie IS Eliza
This is quite possibly the best soundtrack ever made. Julie Andrews IS Eliza!!! No offense to Marni Nixon and Audrey Hepburn, who were quite good together as Eliza in the movie (Marni dubbed Audrey's singing voice), I think Julie should have played her. Julie Andrews and Rex Harrison are FABULOUS together!
Julie Andrews IS Eliza Doolittle
Julie did such an incredible job as Eliza on stage both in London and New York, that when she was passed over for the role on the big screen, the Academy retaliated by snubbing Audrey Hepburn and denying her even an Oscar nomination.
Julie's flawless voice will never be duplicated, nor outdone.