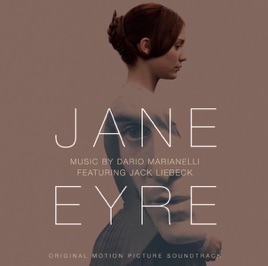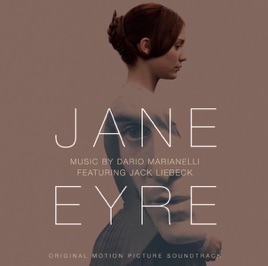 Jane Eyre (Original Motion Picture Soundtrack) [feat. Jack Liebeck]
| | TITLE | TIME |
| --- | --- | --- |
| | Wandering Jane (feat. Jack Liebeck & Jack Liebeck) | 3:01 |
| | A Thorough Education (feat. Jack Liebeck & Jack Liebeck) | 2:24 |
| | Arrival At Thornfield Hall (feat. Jack Liebeck & Jack Liebeck) | 1:18 |
| | The End of Childhood (feat. Jack Liebeck & Jack Liebeck) | 1:13 |
| | White Skin Like the Moon (feat. Jack Liebeck & Jack Liebeck) | 2:43 |
| | A Game of Badminton (feat. Jack Liebeck & Jack Liebeck) | 0:58 |
| | In Jest or Earnest (feat. Jack Liebeck & Jack Liebeck) | 2:06 |
| | Do You Never Laugh, Miss Eyre? (feat. Jack Liebeck & Jack Liebeck) | 1:21 |
| | A Restless Night (feat. Jack Liebeck & Jack Liebeck) | 1:59 |
| | Waiting for Mr. Rochester (feat. Jack Liebeck & Jack Liebeck) | 2:06 |
| | Yes! (feat. Jack Liebeck & Jack Liebeck) | 2:01 |
| | Mrs. Reed Is Not Quite Finished (feat. Jack Liebeck & Jack Liebeck) | 2:23 |
| | The Wedding Dress (feat. Jack Liebeck & Jack Liebeck) | 2:11 |
| | An Insuperable Impediment (feat. Jack Liebeck & Jack Liebeck) | 2:59 |
| | Jane's Escape (feat. Jack Liebeck & Jack Liebeck) | 2:17 |
| | Life On the Moors (feat. Jack Liebeck & Jack Liebeck) | 1:23 |
| | The Call Within (feat. Jack Liebeck & Jack Liebeck) | 3:42 |
| | Awaken (feat. Jack Liebeck & Jack Liebeck) | 4:25 |
| | My Edward and I (feat. Jack Liebeck & Jack Liebeck) | 3:53 |
19 Songs, 44 Minutes

℗ 2011 Focus Features under exclusive license to Sony Music Entertainment UK Limited
Customer Reviews
Amazing!
The music is amazing something classic is what this world needs instead nasty things
A Gem!
Dario Marianelli's Jane Eyre is so far this year's finest score. It gave me chills and this rarely happens...it made me cry (okay it happens quite a bit but chills and tears together is a rarity). I thought the score is indeed flawless. The sound quality is fantastic. The violin solos are heart-warming and wrenching. The score is haunting (I especially love the combination of strings and haunting vocals). I thought Marianelli nailed it and I will say it now (though it's a bit early) but don't be surprised if he gains another Oscar for this amazing score. But we are still in March and Desplat has stuff coming up and other composers, too. But as of now, and today, it is my favorite score of 2011 so far.
Gorgeous
Just picked this up today at B&N. I played it twice over in the car running around today and loved every minute. Just finished the book two days ago and am anxiously awaiting the film to open in my area. The soundtrack has made me even more anxious to see it!
About Dario Marianelli
An Italian composer of film and concert music, Dario Marianelli is perhaps best known for his collaborations with movie director Joe Wright, which include Pride and Prejudice (2005), Atonement (2007), and Anna Karenina (2012). All three of those scores were nominated for Academy Awards, with Atonement taking home the statue in 2008.

A native of Pisa, Marianelli started studying piano and singing as a chorister at the age of six. When his voice broke, he devoted himself to playing piano and composing. He studied privately while taking exams as an external student in nearby Florence, Lucca, and Livorno before moving to England. There, he studied at the Guildhall School of Music and Drama, then spent three additional years at the National Film and Television School. His film career dates back to 1994 with his score for Paddy Breathnach's Ailsa.

Over the next decade, Marianelli composed music for such films as the action-comedy I Went Down (1997), director Julian Temple's Pandaemonium (2000), David Thewlis' Cheeky (2003), and Terry Gilliam's The Brothers Grimm (2005). Also released in 2005, Pride and Prejudice, starring Keira Knightley, marked his first score for director Joe Wright. Among other accolades, including nominations from the European Film Awards and International Film Music Critics Association, it was nominated for the Oscar for Best Original Score.

Marianelli's music could be heard in films such as V for Vendetta (2006) and The Brave One (2007) before he reunited with Wright for Atonement, which received a staggered worldwide release in the second half of 2007 and early 2008. Marianelli won an Academy Award for the film in February 2008. The two collaborated again on 2009's The Soloist, after which Marianelli provided music for films such as Eat Pray Love (2010), Lasse Hallström's Salmon Fishing in Yemen (2011), and the 2011 version of Jane Eyre, starring Mia Wasikowska. In 2013, he earned his third Oscar nomination for the Wright-directed Anna Karenina (2012).

Scores to follow included the animated film The Boxtrolls (2014), the biographical adventure Everest (2015), and his fifth film with Joe Wright, 2017's Darkest Hour, about Winston Churchill. Marianelli then stepped in for Paddington's Nick Urata for Paddington 2, which saw a U.S. release in January 2018. ~ Marcy Donelson & Blair Sanderson
ORIGIN

Pisa, Italy

GENRE

BORN

June 21, 1963