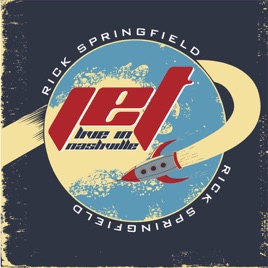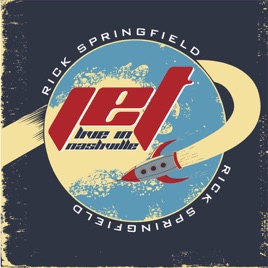 | | TITLE | | TIME |
| --- | --- | --- | --- |
| | Jet (Live in Nashville, TN) | | |
1 Song, 3 Minutes
Released:

Oct 20, 2009

℗ 2009 Gomer Records / DKE Records
Ratings and Reviews
Best live performer
Hands down, Rick is the best live performer touring today and this is a great cover. He also does does an incredible cover of Jimi Hendrix's "Red House."
Rick's t he best
I too have seen him live and an newly impressed everytime! I'm glad he released his cover of "Jet" cause it's so fun live in concert. Rick has withstood the test of time, creating, writing, singing, releasing new cds and making a difference to many. Thanks Rick!
Catch Him If You Can
Rick is amazing in concert, you will leave wanting to see him again. His cover of Jet is right on. Looking forward to his new CD.
About Rick Springfield
Although Rick Springfield's music was frequently dismissed as vapid teen idol fare, his best moments have actually withstood the test of time far better than most critics would ever have imagined, emerging as some of the most well-crafted mainstream power pop of the 1980s. A singer-turned-soap opera star-turned-singer, Springfield was born Richard Springthorpe on August 23, 1949, in Sydney, Australia, to a military man; the family moved around Australia and England a great deal during Springfield's childhood, and he sought his escape from the difficulty of making friends in books and music. He formed a band in high school and eventually joined a '50s revival group called Rock House, moving on from there to join the teenybopper band Zoot in 1968. Zoot became one of the most popular groups in Australia until 1971, scoring several hits. Springfield went solo after the breakup and garnered his first U.S. success the following year with a re-recording of his Australian hit "Speak to the Sky"; the song reached number 14 in the U.S., but would prove to be his last major success for quite some time. Subsequent '70s albums stiffed, and record company difficulties prevented Springfield from recording after 1976.

In the meantime, Springfield had begun taking acting classes. He signed a contract with Universal Studios in 1980 and appeared on several television programs. Although Universal dropped him shortly thereafter, he was able to secure a recording contract with RCA on the strength of his demos; in the midst of recording his debut for the label, he was signed to play the young, eligible Dr. Noah Drake on General Hospital in 1981. Springfield's popularity skyrocketed, setting the stage for the release of Working Class Dog later that year. Powered by the classic single "Jessie's Girl," which eventually hit the top of the charts, and the Top Ten follow-up "I've Done Everything for You," Working Class Dog was a smash success, and Springfield eventually returned to his first love of music when concerts conflicted with his television career. The follow-up, Success Hasn't Spoiled Me Yet, was released in 1982, spawning the Top Ten smash "Don't Talk to Strangers." 1983's Living in Oz offered more of the same, including the Top Ten "Affair of the Heart," although it betrayed signs that the gears were beginning to wear down on the Springfield machine.

He made the leap to the big screen in 1984 with Hard to Hold, which was much more successful at the box office than with critics; the soundtrack spawned his last Top Ten hit to date, "Love Somebody." His career seemed to bottom out afterward, although he recorded several more albums over the rest of the '80s, and continued to land television roles into the '90s. In 1999, Springfield returned with a new album, Karma. Shock/Denial/Anger/Acceptance and Day After Yesterday followed in 2004 and 2005, respectively. In 2007, Springfield released the holiday-themed Christmas with You, along with the Early Sound City Sessions collection. The following year, a live DVD documenting his ultra-popular '80s concerts (Beat of the Live Drum) was issued, as well as an album of all new material, Venus in Overdrive. A year later, he released the children's album My Precious Little One: Lullabies for a New Generation. In 2012, he returned to major labels, signing with Universal's Hip-O for a new album called Songs for the End of the World.

In early 2013, Springfield's profile got a boost when he appeared in Dave Grohl's documentary Sound City, in which Springfield spoke of his experiences recording at the California studio that gave the film its name. Springfield also appeared on the film's companion album, Sound City: Real to Reel, performing the song "The Man That Never Was" with members of Grohl's band the Foo Fighters. Springfield looked back at his career on an album of songs and stories, 2015's Stripped Down, but the record was overshadowed by his acclaimed performances in the second season of True Detective and, especially, his role in Jonathan Demme's Ricki & the Flash, where he held his own with Meryl Streep. Next up was the February 2016 release of Rocket Science, a studio album that featured songwriting collaborations with Jay DeMarcus of Rascal Flatts and Tad Kubler of the Hold Steady. Springfield returned in January 2018 with Snake King, a heavy blues album for Frontiers. ~ Steve Huey
HOMETOWN

Sydney, New South Wales, Australi

GENRE

BORN

August 23, 1949