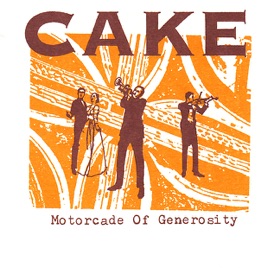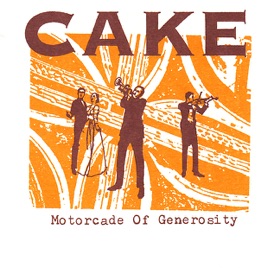 Motorcade of Generosity
Cake
| | TITLE | | TIME |
| --- | --- | --- | --- |
| | | | |
| | | | |
| | | | |
| | | | |
| | | | |
| | | | |
| | | | |
| | | | |
| | Jesus Wrote a Blank Check | | |
| | | | |
| | | | |
| | | | |
| | | | |
13 Songs, 43 Minutes
Released:

Feb 7, 1994

℗ 2008 Upbeat Records
Ratings and Reviews
Maybe the Best Alternative Album Ever
This is the first full lengh disc from Cake... Absolutely amazing song-writing with catchy music. I've never heard anything like this record before, and doubt I will again.
Album Hi-lights include
Jolene - this hypnotic balllad is better live, but still extremely powerful.
You Part The Waters - The Chorus hits so hard it hurts.
I Bombed Korea - An ironic tune with beautiful imagery wrapped around a horific experience by the narriator.
Let them eat CAKE!
Great album, and extra props to CAKE for being ECO-FRIENDLY! -- The actual copy of this album is "Printed on 100% recycled paper with non-toxic vegetable dyes"
Cake worth having over & over again!
Now that Cake has left the major label miasma, the band has begun reissuing lost nuggets, and this debut disc still seems fresh to me, even 15 years later. Wow time flies, but the quirky cool sounds from Sacramento don't age. The irreverant lyrics and especially that funky drumming from Todd Roper keep it all together. I do detect some sort of remastering effort that carefully clips & compresses, tweaks the treble, boosts the bass and seperates the sonics or something. Perhaps the band felt they needed to professionalize the mix a bit, and bring this recording out of the ol' school analog lo-fi loopiness that I loved the first time around. Maybe I'll have to dig out my cassette , but this will do for now.