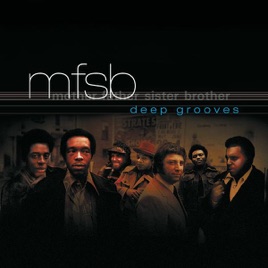 | | TITLE | | TIME |
| --- | --- | --- | --- |
| | | | 3:33 |
| | | | 6:53 |
| | | | 6:29 |
| | | | 4:16 |
| | | | 4:21 |
| | | | 7:09 |
| | Love Is the Message (Love Groove Bonus) | | 5:13 |
| | Love Has No Time or Place | | 6:18 |
| | | | 3:49 |
| | | | 3:43 |
| | | | 3:42 |
| | | | 11:29 |
12 Songs, 1 Hour, 6 Minutes
Released:

Apr 6, 1999

℗ 1973, 1975, 1999 Sony Music Entertainment Inc.
About MFSB
Best known for recording the hit theme to Soul Train, MFSB were the pre-eminent instrumental outfit of Philadelphia soul, backing numerous Kenny Gamble/Leon Huff productions while recording regularly on their own throughout the '70s. The group's name stood for Mother Father Sister Brother, and prior to their formation in 1971 as the house band at Gamble and Huff's Sigma Sound studios, some of the core personnel had been working together as early as 1968. Guitarists Norman Harris and Bobby Eli, bassist Ronnie Baker, and drummer Earl Young had an uncredited dance hit with "The Horse," the instrumental flip side of singer Cliff Nobles' "Love Is All Right." As the Horse dance craze swept Philadelphia, the group also backed singers the Fantastic Johnny C and (as the James Boys) Jesse James, while also issuing singles as the Music Makers and Family.

With the rise of the lush, orchestrated Philly soul sound at the dawn of the '70s, business was booming at Gamble and Huff's Philadelphia International, and there was plenty of session work to be had. Harris, Eli, Baker, and Young formed an important part of the label's regular studio group; other prominent musicians included guitarists Roland Chambers and James Herb Smith, bassist Larry Moore, drummers/percussionists Karl Chambers, Miguel Fuentes, Quinton Joseph, and Larry Washington, saxophonist Zach Zachary, organist/keyboardist Lenny Pakula, and vibraphonist Vince Montana, plus a rotating cast of strings, horns, and other personnel that depended on availability and were often directed by Don Renaldo. MFSB provided backing on a bevy of Philadelphia International hits, most prominently for the O'Jays and Harold Melvin & the Blue Notes, as well as other Philly soulsters like the Stylistics and the Spinners. They began cutting their own sessions in 1973, releasing a self-titled debut full of extended, sometimes jazzy soul grooves.

Later in 1973, TV host Don Cornelius approached Gamble about writing an original theme for his newly nationally syndicated dance show Soul Train. Gamble convened MFSB in the studio with arranger Bobby Martin and supporting vocal group the Three Degrees, and the theme song that grew out of the session proved hugely popular when it debuted on the show. Gamble pushed Cornelius to release it as a single, and when it finally appeared in early 1974 under the title "T.S.O.P." ("The Sound of Philadelphia"), it rocketed to the top of both the pop and R&B charts; it also won a Grammy for Best R&B Instrumental. The accompanying MFSB album, Love Is the Message, was a gold-selling Top Ten hit (and a number one R&B album); moreover, the title track became an underground hit on the New York disco scene several years later. The group's next album, 1975's Universal Love, produced another R&B hit in "T.L.C. (Tender Lovin' Care)," and moved MFSB further into the emerging disco movement with tracks like "Sexy" and "Let's Go Disco."

MFSB recorded five more albums for Philadelphia International over the remainder of the '70s, becoming a full-fledged disco group when they began working heavily with arranger/producer Dexter Wansel in 1978. The previous year, they contributed a cover of the Nite-Liters' "K-Jee" to the mammoth-selling Saturday Night Fever soundtrack, but the late '70s brought mostly diminished commercial returns. The title track of MFSB's final album, 1980's Mysteries of the World, was a hit in the U.K., but with the heyday of both Philly soul and disco slipping away, the group disbanded in 1981. ~ Steve Huey
ORIGIN

Philadelphia, PA

GENRE

FORMED

1971
45 million songs.
Three months on us.
New subscribers only. Plan automatically renews after trial.