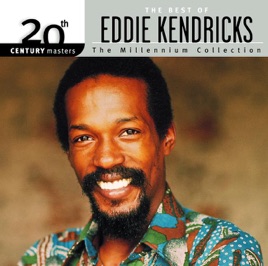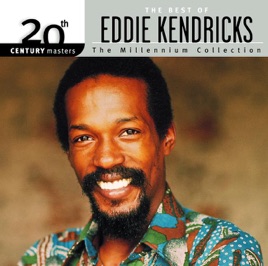 20th Century Masters - The Millennium Collection: The Best of Eddie Kendricks
Eddie Kendricks
TITLE
TIME

Tell Her Love Has Felt the Need

Eddie Kendricks, Leonard Caston, James Carmichael & David Van dePitte

Girl You Need a Change of Mind

Get the Cream Off the Top

A Nite At The Apollo Live! The Way You Do The Things You Do / My Girl

Daryl Hall & John Oates, David Ruffin & Eddie Kendricks
12 Songs, 52 Minutes
Released:

Jan 1, 2000

℗ 2000 Universal Motown Records, a division of UMG Recordings, Inc.
Ratings and Reviews
Poppy jazzzzz has no class
No matter how many times I put on a classic soul tune in my car my daughter complains. Two weeks later some no talent producer has sampled the song and there she sits claiming how great the song is. We live in a generation where no one can play an instrument. And few can sing without a digital auto-correction program for their out of tune voice. I like Fergie. I even buy her records. But you need to get a life if you're going to compare her to Eddie Kendricks. You're wrote a review dissing a soul music legend and you can't compose a coherent thought!! Wow. You must be really special. I'll bet your english teacher couldn't wait for you to show up for class each day.
Eddie takes me back.....
If i close my eyes when listening to Eddie Kendricks it takes me back to the 70's. The music was awesome. It was a musical time that makes you cry for it because you miss it. Eddie Kendricks....The Essence of cool.....I wish more of the tunes had made it on to this album, but i'll take this for now.
Love Eddie
This album is not a full collection of all the songs that really made Eddie popular. There were many songs from "Slick" and "People...hold on!" that could've been added. "Eddie's love" "Baby" "Let me run into your lonely heart" many songs that sum up his career. I have all these songs already. But I'm glad "Intimate friends" was added on. I want to hear the 3minute 45disc version. And also the unedited version of "Girl you need a change of mind" but other than that love Eddie mild collection. Needs more more of his solo work.