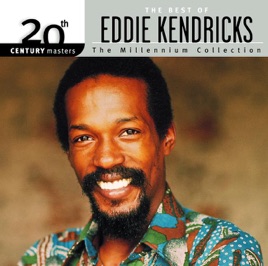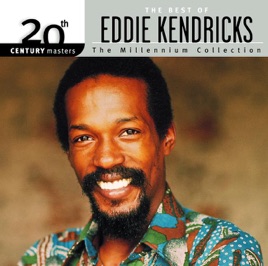 20th Century Masters - The Millennium Collection: The Best of Eddie Kendricks
Eddie Kendricks
TITLE
TIME

Tell Her Love Has Felt the Need

Eddie Kendricks, Leonard Caston, James Carmichael & David Van dePitte

Girl You Need a Change of Mind

Get the Cream Off the Top

12

A Nite At The Apollo Live! The Way You Do The Things You Do / My Girl

Daryl Hall & John Oates, David Ruffin & Eddie Kendricks
12 Songs, 52 Minutes
Released:

Jan 1, 2000

℗ 2000 Universal Motown Records, a division of UMG Recordings, Inc.
About Eddie Kendricks
Known for both his years with the Temptations and his major solo hits of the 1970s, Eddie Kendricks was among the many soul legends who did his part to put Motown on the map. The expressive vocalist (who often sang in a falsetto), born Edward James Kendrick, grew up in Birmingham, Alabama, but it was Detroit's Motown label that made him a star. Kendricks was still living in Alabama in the late '50s when he formed the Primes with Kell Osborne and Temptation-to-be Paul Williams. After moving from Alabama to Detroit, the Primes caught the attention of a Motor City group known as the Distants, whose members included Temptations-to-be Otis Williams, Elbridge Bryant, and Melvin Franklin. The Primes broke up after being together only a few years, and the Temptations (originally known as the Elgins) were formed when, in 1961, members of the Primes and the Distants came together.

With a lineup that included former Primes members Kendricks and Paul Williams, and former Distants members Otis Williams (who was unrelated to Paul), Melvin Franklin, and Elbridge Bryant, the Temptations signed with the little-known Motown subsidiary Miracle. The Temptations, who went through many personnel changes over the years, didn't become successful right away, but by the mid-'60s, they had become huge thanks to such smashes as the Kendricks-led "The Way You Do the Things You Do" and "My Girl." The group enjoyed one mega-hit after another in the mid- to late '60s, including "The Girl's Alright with Me" and "Get Ready." Kendricks also did a little songwriting and created many of the group's vocal arrangements.

By the time the Temptations scored their 11th number one R&B hit with "Just My Imagination," Kendricks had left to pursue a solo a career. Many fans questioned the wisdom of his leaving such a successful group, but he proved to be quite viable as a solo act thanks to early-'70s singles like "Keep on Truckin,'" a number one R&B hit, and "Boogie Down," which went to number two on the R&B chart. Other noteworthy solo hits followed, including "Shoeshine Boy," "Get the Cream Off the Top," "Happy" in 1975," and "He's a Friend" in 1976. Most of his solo albums came out on Motown, although Kendricks recorded for Arista and Atlantic during the late '70s and early '80s. By that time, however, his popularity had decreased considerably. The singer wasn't heard from much in the '80s, though in 1985, he did participate in the Artists United Against Apartheid's Sun City project and recorded Live at the Apollo with Daryl Hall, John Oates, and Temptation partner David Ruffin. Two years later, he and Ruffin released an album for RCA.

Sadly, the '90s would see the premature deaths of no less than three former members of the Temptations. First, Ruffin died of a cocaine overdose in 1991, followed by the deaths of Kendricks in 1992, and Melvin Franklin (from a brain seizure) in 1995. (Tragedy was nothing new to Temptations members: Paul Williams had committed suicide back in 1973). Kendricks was only 52 when he died of lung cancer in his native Birmingham on October 5, 1992. ~ Alex Henderson
HOMETOWN

Union Springs, AL

GENRE

BORN

December 17, 1939
Millions of songs.
Zero ads.
New subscribers only. Plan automatically renews after trial.