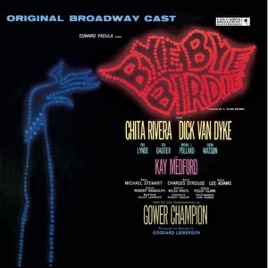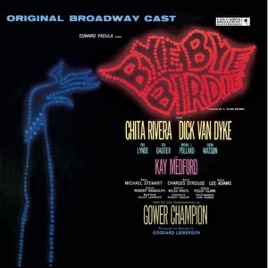 Bye Bye Birdie! (Original Broadway Cast)
Various Artists
TITLE
TIME

Dick Gautier, Paul Lynde, Chita Rivera, Dick Van Dyke, Susan Watson, Kay Medford & Michael J. Pollard

Chita Rivera & Dick Van Dyke

Dick Gautier, Paul Lynde, Chita Rivera, Dick Van Dyke, Susan Watson, Kay Medford & Michael J. Pollard

A Normal, Healthy, American Boy

Chita Rivera & Dick Van Dyke

Chita Rivera, Susan Watson, Sharon Lerit, Jessica Albright & C

Dick Gautier & Barbara Doherty

Hymn for a Sunday Evening (Ed Sullivan)

Paul Lynde, Susan Watson & Marijane Maricle

What Did I Ever See In Him?

Chita Rivera, Susan Watson & Allen Knowles

Dick Gautier & Susan Watson

Paul Lynde & Marijane Maricle

Dick Van Dyke & George Blackwell

Paul Lynde, Johnny Borden & Marijane Maricle

Chita Rivera & Dick Van Dyke
18 Songs, 47 Minutes
Released:

May 29, 2000

℗ Originally released 1960 Sony Music Entertainment / (P) 2000 Sony Music Entertainment
Ratings and Reviews
MY FAVORITE BAND EVER💗💗💗💗
,
This is the best!!!!
I love this album i was in this play yesterday and were doing a second one today!!!!! Im a featured dancer in all of the songs including Put On A Happy Face!!!!!!!
I love it
My school is doing this right now and best of all I'm Kim this soundtrack is amazing I'm honored to be Kim
LOVE LOVE LOVE
I LOVE the play Bye Bye Birdie!! Sooo amazing! My schools doing it this year! Can't wait!!