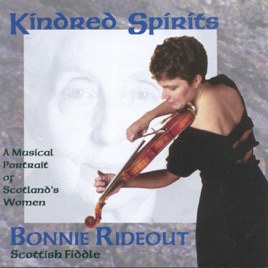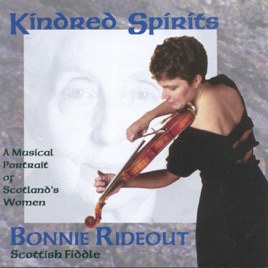 | | TITLE | | TIME |
| --- | --- | --- | --- |
| | Mrs. Gunn / Sweet Molly / Wise Maid | | |
| | Miss Gordon / Graigellachie Lassies / Mrs. Drummond | | |
| | Tunes from the Western Isle | | |
| | | | |
| | O'A' the Airts / My Luve Is Like a Red, Red Rose | | |
| | Roy's Wife O'Alldivaloch / Aldavloch | | |
| | | | |
| | Mrs Stewart's / My Wife's a Drunkard / Susan Cooper / A.S. Scott | | |
| | | | |
| | Brown Milkmaid / Bewitching Eyed Brown Maid | | |
| | | | |
| | | | |
12 Songs, 59 Minutes
Released:

Apr 1, 1996

℗ 1996 Maggie's Music, Inc.
About Bonnie Rideout
Bonnie Rideout grew up on a farm in Michigan, spent much of her childhood on Cliff Island, Casco Bay, ME, and studied classical violin at the University of Michigan. Her fiddling, however, reflects the musical traditions of her ancestral home of Scotland. The recipient of Instrumentalist of the Year and Record of the Year WAMA (Washington Area Music Association) awards in 2000, Rideout is a three-time winner of the United States National Scottish fiddle championship and the only American to be invited to demonstrate 18th century and Highland fiddle styles at the Edinburgh International Festival. The Washington Post praised Rideout for her "soulful, elegant, and virtuosic fiddle playing," while Rock'n Reel took a similar view, writing that Rideout's "playing is examplary throughout, with exhilaration and desolate beauty in equal measure." Rideout inherited her love of music from her mother, who played piano, and her father, who played ocarina. While searching for Christmas presents in her parent's closet, Rodeout "discovered" an old violin. Fascinated by the instrument, she devoted herself to learning the classical approach to the violin. Advancing quickly, she sharpened her playing skills while playing in public school orchestras and was accepted for private lessons at the University of Michigan. She also performed with the school's youth orchestra. Enrolling at the University of Michigan as a viola major, Rideout soon switched her areas of focus. She graduated in 1985 with degrees in violin performance and fine arts. Inspired by Scottish fiddler, Dr. John Turner, Rideout moved to Scotland where she played with several strathspey and reel societies. Veteran Scottish fiddlers Ron Gonnella, Bill Hardie, and Angus Cameron took her under their wing, exposing her to a wide range of Scottish fiddle styles. Rideout learned many tunes from Scottish farmer/fiddler Jim Falconer and his wife, Katherine. While serving as musician-in-residence at Armadale Castle on the Isle of Skye, she taught herself many tunes from a collection assembled in the 18th century by Patrick MacDonald. Several of these pieces were featured on her debut album, "Soft May Morning." Currently residing in Alexandria, VA, Rideout alternates between solo performances and shows with her band the Bonnie Rideout Scottish Trio, featuring guitarist Bryan Aspey and percussionist Paddy League. Rideout has written four books for Mel Bay Publishing. ~ Craig Harris
Millions of songs.
Zero ads.
New subscribers only. Plan automatically renews after trial.