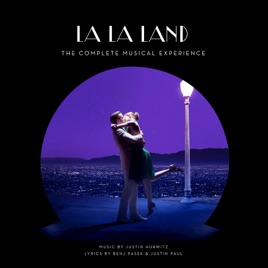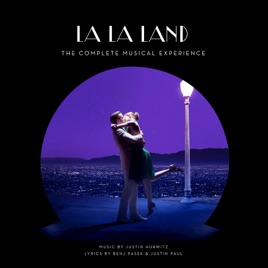 La La Land - The Complete Musical Experience
Various Artists
TITLE
TIME
PRICE

Another Day of Sun (With Radios)

La La Land Cast

4:34
$1.29

Justin Hurwitz

0:23
$1.29

Bathroom Mirror / You're Coming Right?

Justin Hurwitz

1:18
$1.29

Emma Stone, Callie Hernandez, Sonoya Mizuno & Jessica Rothe

4:19
$1.29

Justin Hurwitz

0:45
$1.29

Thelonious Monk

1:39
Album Only

Justin Hurwitz

0:31
$0.69

Justin Hurwitz

1:37
$1.29

D.A.

2:59
$0.69

D.A.

3:36
$0.69

Justin Hurwitz

0:44
$1.29

Ryan Gosling & Emma Stone

3:59
$1.29

There the Whole Time / Twirl

Justin Hurwitz

0:44
$1.29

Justin Hurwitz

2:11
$1.29

Justin Hurwitz

1:09
$1.29

Justin Hurwitz

1:50
$1.29

Justin Hurwitz

1:38
$1.29

Ryan Gosling

1:51
$1.29

Justin Hurwitz

0:28
$1.29

Mia & Sebastian's Theme (Late For the Date)

Justin Hurwitz

1:29
$1.29

Justin Hurwitz

4:19
$1.29

Justin Hurwitz

0:41
$1.29

Summer Montage / Madeline

Justin Hurwitz

2:04
$1.29

Justin Hurwitz

2:11
$1.29

Justin Hurwitz

1:38
$1.29

The Messengers

1:01
$0.69

City of Stars / May Finally Come True (feat. Ryan Gosling & Emma Stone)

Justin Hurwitz

4:09
$1.29

John Legend

3:10
$1.29

Justin Hurwitz

1:22
$1.29

Justin Hurwitz

1:30
$1.29

Justin Hurwitz

1:13
$1.29

Justin Hurwitz

0:36
$1.29

It's Over / Engagement Party

Justin Hurwitz

1:34
$1.29

The House In Front of the Library

Justin Hurwitz

0:31
$1.29

Audition (The Fools Who Dream)

Emma Stone

4:12
$1.29

Justin Hurwitz

0:50
$1.29

Justin Hurwitz

2:06
$1.29

Justin Hurwitz

7:40
$1.29

Justin Hurwitz

0:44
$1.29

Justin Hurwitz

3:39
$1.29

City of Stars (Humming) [feat. Emma Stone]

Justin Hurwitz

2:39
$1.29

Mia & Sebastian's Theme (Celesta)

Justin Hurwitz

1:26
$1.29

Eddie Wakes

2:47
$0.69

Audition (The Fools Who Dream) [Studio Version]

Emma Stone

3:29
$1.29
44 Songs

℗ 2017 Interscope Records
Customer Reviews
Even though I already own the other 2 soundtracks...
La La Land is taking my money once again! Now this is the version I've wanted from the beginning. I'm so glad to finally get the film versions of Another Day of Sun, Start a Fire and A Lovely Night. Even with some bonus tracks such as the 80s cover songs, studio version of Audition and some added score tracks. This album is worth the few extra dollars for the complete version.
As if it couldn't get any better, it just did!
The people at Lionsgate just read my mind. There was so much more music in the film than what was on the Original Motion Picture Soundtrack, including the score itself, and what did they do? They fused the two and added new songs in order of the film to make this musical masterpiece collection of songs from the Best film of 2016!!!!! Love love love it...and thank you to Justin Hurwitz and Damien Chazelle for sifting through 1900 demos to come out with this masterpiece of a soundtrack and score.