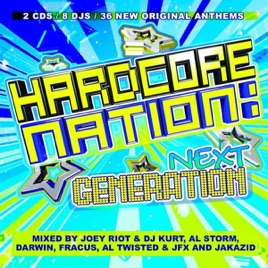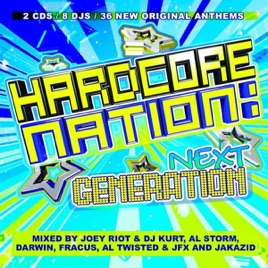 Hardcore Nation: Next Generation (Mixed by Joey Riot & DJ Kurt, Al Storm, Al Twisted & DJ JFX, Darwin, Fracus & JAKAZiD)
Various Artists
TITLE
TIME

World Domination (Exclusive Mix)

DJ Kurt

Don't Hold Your Breath (Lethal Vocal Mix)

DJ Kurt

The Power Within (feat. Kelly C)

Joey Riot

You're the Feelin' (Exclusive HN Mix)

Al Storm & Heaven 7

I Still Believe (feat. Lisa Abbott)

Impact & Orbit1

Blackout (Deejaybee & Diverse Remix)

Organ Donors

Turn It Up (feat. Vicky Fee)

Al Twisted & DJ JFX

Straight from the Underground

DJ Kurt

Beat On the Drumz (2008 Reactor Reconfiguration)

Al Twisted & Rob Da Rhythm

Hardcore Nation: Next Generation (Continuous Mix)

Al Storm, Al Twisted, DJ JFX, DJ Kurt & Joey Riot

Can You Feel It (Hardcore Nation Exclusive Mix)

Marc Smith

Perfection (feat. Scarlet)

Chaos

Another Night (Breakz Edit)

SMS

In Your Arms (feat. Lisa Abbott) [Orbit1 2008 Mix]

Fracus & Orbit1

Don't Say Goodbye (feat. Fran)

Buzzy, Darwin & InEffect

Hold Tight (feat. Kelly C) [Reese Remix]

Cynix

Epiphany (Ponder Remix) [feat. Kelly Southall]

Brain Blessed

Mystify Me (feat. Andy L)

Jakazid

Hold On to Me (Fracus Remix)

Fracus & Mozz

Hardcore Nation: Next Generation (Continuous Mix)

Darwin, Fracus & Jakazid
38 Songs, 4 Hours 54 Minutes
Released:

Feb 28, 2008

℗ 2008 Nukleuz Records
Ratings and Reviews
Proper Hardcore
Thanks to Nukleuz and the hard work of CDJay, these artists got exposure in a big way, and boy do they deserve it. :)
expecting a amateur effort?!
ok to the person who was expecting a amateur effort dj kurt and joey riot are well respected names in hardcore, think of this as a bonkers collection on the talent level. maybe a little more so.
but as such im surprised to see this on itunes, theres alot of great tracks on here and i would have thought a compilation of this caliber to only be available on juno or imo, either way great to see some "real" hardcore making its way to itunes :D.

Blew me away!
At first, I was wondering if I should buy the album... only buying 3 or 4 songs to get a good feel of the album's deliverance. I was suprised. I was expecting an adolecent atempt at ture hardcore. But, these mixes are explosive! Super-nova all the way. Not to mention that there are so many songs for such a low price! I enjoy the two Continuous Mixes that delievers long, lasting fun.