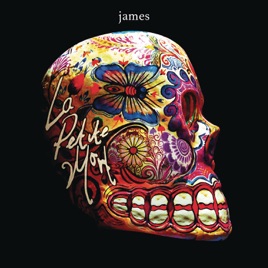 TITLE
TIME
PRICE
7:06
$1.29
4:29
$1.29
4:44
$1.29
5:13
$1.29
3:25
$1.29
5:56
$1.29
3:45
$1.29
3:37
$1.29
2:38
$1.29
4:57
$1.29

Whistleblowers (Bonus Track)

3:34
Album Only

Moving On (Official Video)

James

3:48
$1.99
12 Songs

℗ 2014 BMG Rights Management (UK) Ltd.
Customer Reviews
Triumphant release!
James is one of the most underrated bands in the planet. But, they consistently release one strong album after another. This latest release shows them at the top of their game!!!
James
I have listened to James since their inception. Their music is like no other band, not U2. Early stuff is smithdom, but they have evolved into a band that is hard to put words around. Just when you think they have maxed out their creativity and progressive style, they get better. They are definately the best band no one has heard of...Gene is second.
About James
As one of the first groups to be dubbed "the next Smiths," James became an institution on the British alternative music scene during the '80s and '90s with their pleasant folk-pop. Early in their career, James were praised by their idol Morrissey, which turned out to be both a blessing and a curse. The group was pegged as second-rate Smiths, yet continued to tour and record, eventually gaining a sizable following. In the late '80s, James, like many of their British peers, became involved in the acid house-inspired "baggy" scene and recorded the baggy-inspired "Sit Down," which became their breakthrough hit. Shortly after "Sit Down," James became more experimental, culminating in a collaboration with Brian Eno that resulted in their biggest American album, Laid, in 1993. James took four years to follow Laid, by which time their audience had returned to a cult following.

James formed in Manchester in 1982, when Paul Gilbertson (guitar), Jim Glennie (bass), and Gavan Whelan (drums) met Tim Booth (vocals) at Manchester University and asked him to join their fledgling band. During the next year, James became regulars on the local club circuit, and by 1983, they had signed to Factory, releasing their debut EP, Jimone, later that year. Two years later, their second EP, James 2, was released, and Morrissey, the lead singer of the Smiths, publicly endorsed the group, asking them to open for his band. By the summer of 1985, Larry Gott had replaced Gilbertson, and the group signed to Sire Records. Working with producer Lenny Kaye, the group recorded its debut, Stutter, that year, releasing it in early 1986 to generally positive reviews.

Over the next two years, James toured constantly, building up a solid fan base. They released their second album, the folky Strip-Mine, in 1988. The record failed to capitalize on their live following, and the band departed Sire the following year, signing with the independent Rough Trade. On their new label, James released the moderately successful "Sit Down" and the live album One Man Clapping, which climbed to number one on the indie charts. In 1990, Whelan was replaced by David Baynton-Power, and James expanded to a septet with the addition of keyboardist Mark Hunter, violinist Saul Davies, and trumpeter Andy Diagram. The new lineup signed to Fontana Records and released Gold Mother in the fall. Following a handful of minor hit singles, Gold Mother finally became a breakthrough success in the spring of 1991, when a re-recorded version of "Sit Down" -- now boasting a contemporary baggy beat -- climbed to number two on the U.K. charts and became a staple on U.S. modern rock radio. Although the success of "Sit Down" was a blessing, it also was a curse, as the single became all James were known for. The band began to rebel in concert, playing almost nothing but new material, and its next album, 1992's Seven, was perceived as a misguided stab at big arena rock.

For the follow-up to Seven, James stripped away Diagram and worked with producer Brian Eno. The resulting record, Laid, was a quieter, more ambitious album, and it received some of the band's best reviews. While the album was ignored in the U.K., it was an alternative rock hit in the U.S. on the strength of the title track, which became a crossover hit. During the Laid sessions, James recorded another album's worth of experimental music with Eno that was released in the fall of 1994 as Wah Wah. The album received mixed reviews and the group took an extended break throughout 1995, partly due to guitarist Gott's departure. In 1996, Tim Booth recorded a collaboration with composer Angelo Badalamenti (Twin Peaks, Blue Velvet) entitled Booth and the Bad Angel, which received generally positive reviews.

With guitarist Adrian Oxaal in tow, James returned in early 1997 with Whiplash, a more straightforward record that was greeted with mixed reviews. Released in 1999, Millionaires, recorded with new guitarist Michael Kulas, was initially released only in the U.K. Their spectacular follow-up, 2001's Pleased to Meet You, was also available only in the U.K. A few months later, frontman Tim Booth announced his departure from the band he founded nearly 20 years before, and James called it quits following a winter tour of the U.K. in December 2001. The break was short-lived, however, as the band re-formed in 2007 and embarked on a tour in support of the double-disc compilation Fresh as a Daisy: The Singles. The following year saw the release of Hey Ma, James' tenth studio album. The band returned in 2010 with a pair of "mini-albums" called The Night Before and The Morning After, respectively, before late 2011 brought a short, but novel, U.K. tour (the Orchestra of the Swan and the Manchester Consort Choir were their band were their backup bands). In 2012, the lavish and long-awaited box set The Gathering Sound was issued, and included previously unreleased audio material alongside long-unavailable video concert footage. Details of the Max Dingel-produced La Petite Mort emerged in February 2014, and this first post-Mercury studio album was released four months later in June. Dingel then returned to produce their 2016 record, Girl at the End of the World. Written in Scotland and recorded in London, the album was described by the band as "big but personal, abrasive but warming" and "ultimately uplifting." ~ Stephen Thomas Erlewine
ORIGIN

Manchester, England

FORMED

1982