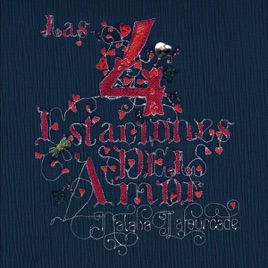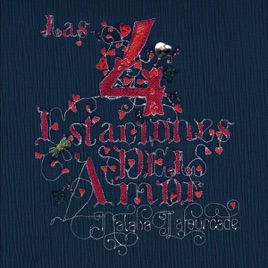 4 Songs, 28 Minutes
Released:

Jan 22, 2008

℗ 2007 SONY BMG MUSIC ENTERTAINMENT (MEXICO), S.A. DE C.V., Bajo Licencia En Exclusiva De MARIA NATALIA LAFOURCADE SILVA
Ratings and Reviews
Good Lovin' Music All Year Long!
I was very excited when I found out that Natalia LaFourcade was going to release this EP. I have been listening to it non-stop for a couple of weeks (a friend of mine brought it for me from Tijuana). The music really captures all the different moods of love, while maintaining a cohesive union from song to song. The strings arrangements are amazing, and Natalia does make a cameo from time to time with her soothing sweet voice. The EP lacks lyrics, with makes perfect sense, since it is hard to 'speak' love. It is better to just feel it. So do yourself a favor and pay $4.00 - a very small price for such a big and nice musical gift. Thank you Natalia!
The 4 Seaons of Love
I am very impressed with this EP because it really shows a little more of the talent that Natalia has. It is instrumental but the music is beautifully done and you can hear little hints of Natalia's voice humming . It is worth the 4 bucks for anyone who is a fan of Natalia Lafourcade.
Great Music!
Thank you Natalia, I am so impressed by her talent. So young and so talented it is just amazing. The music is so full of melody it is a joy to listen to. I hope she progresses in this direction for she could become a major music talent in the coming years.
About Natalia Lafourcade
One of the more colorful and charismatic pop artists to emerge in Mexico during the early 2000s, Natalia Lafourcade debuted in 2003 with a fascinating solo effort before switching to a rock band format, Natalia y la Forquetina, and proved herself worthy of acclaim in whatever guise she chose. Born Natalia Lafourcade Silva on February 26, 1984, in Mexico City, she took an early interest in music as her parents were musicians. She knew at an early age that she wanted to become an artist, and over the course of her childhood she studied accordingly: painting, theater, and music, including such instruments as flute, guitar, piano, and saxophone, as well as singing. Though she attended a Catholic middle school, Instituto Anglo Español, Lafourcade spent several years living with her mother in Coatepec, Veracruz, Mexico, where they both studied music. Some of her cited contemporary influences are Fiona Apple, Björk, Café Tacuba, and Zuco 103.

With time, Lafourcade was taken under the wing of Loris Ceroni, a well-regarded Italian producer perhaps best known for his work with Alejandra Guzman. Recording at Le Dune Estudios in Italy, he produced the bulk of what would later be released by Sony Norte as Natalia Lafourcade (2003), with the remainder of the album produced by Aureo Baqueiro back in Mexico. An eclectic, free-spirited album encompassing everything from gentle bossa nova-style acoustic guitar to hard-hitting dance beats, often within the same song, Natalia Lafourcade is a fascinating album of pop confetti anchored by well-written songs and charismatic singing. It found a captive audience in Mexico, generating four hit singles ("En el 2000," "Busca un Problema," "Elefantes," "Te Quiero Dar"), topping the album chart, and going three-times platinum. Moreover, it wasn't only consumers who were captivated by the album, as Lafourcade earned four Latin Grammy nominations for her debut effort: Song of the Year ("En el 2000"), Best New Artist, Best Rock Solo Vocal Album, and Best Rock Song ("En el 2000"). She also earned a standard Grammy nomination for Best Latin Pop Album.

In 2004, the following year, Lafourcade assembled a four-piece rock band, Natalia y la Forquetina, also comprising Alonso (drums, programming), Chanona (guitar, bass guitar), and Yuno (accordion, keyboards). Fernando Eimbcke, a filmmaker who had directed the video for "En el 2000," invited Lafourcade and her new band to record a song for the soundtrack to his film Temporada de Patos (2004). The song "Un Pato" is a reinterpretation of a traditional bossa nova, "O Pato," and it marked the debut of Natalia y la Forquetina. Meanwhile, the band worked on a full-length album with producer Emmanuel del Real, aka Meme, from the band Café Tacuba, and also with Baqueiro once again.

The resulting album, Casa (2005), is indeed the product of a genuine rock band, with surging electric guitars driving many of the songs. Though considerably more one-dimensional than Lafourcade's self-titled debut, and not quite as successful, Casa nonetheless spun off some hits, topped the album chart, went platinum in Mexico, and won a Latin Grammy for Best Rock Album by a Duo or Group with Vocal. Furthermore, the band arrangement facilitated Lafourcade's emergence as a concert performer, and indeed, she took Natalia y la Forquetina on the road, touring extensively throughout Mexico over the course of a year. Their last show was August 18, 2006, after which Lafourcade disbanded la Forquetina and resumed her solo career with the classical EP Las 4 Estaciones del Amor (2008). She then returned to pop with the Grammy-nominated Hu Hu Hu (2009) and Mujer Divina: Homenaje a Agustín Lara (2012), as well as Hasta la Raíz (2015). The latter recording hit the top of the Mexican albums chart and peaked at number on the Top Latin Albums list. It also won two Latin Grammys, including Album of the Year and Best Alternative Music Album. Its title track took home both the Song of the Year and Best Alternative Song awards. 2017's Musas (A Tribute to Latin American Folklore in Hands of the Macorinos, Vol. 1) not only placed in the Top Latin Albums Top Five but won a Latin Grammy for best Folk Album as well as the the award for Best Long Form Music Video for Musas: The Documentary. ~ Jason Birchmeier
HOMETOWN

Mexico City, Mexico

GENRE

BORN

February 26, 1984